With the Season kicking off tomorrow, it's been an eventful few days at Naija United.


It started with speculation of what Naija's strongest XI may be this season. Journalist Fabio Rossi tweeted this:

…and wrote this piece
here
for
1FF.com
questioning if Paul Obagbemiro may be the odd man out and be pushed out of the starting XI following the arrival of the two young stars Ojo Oladipupo and Nick Amos.
Obagbemiro snapped back as the club shared this quote.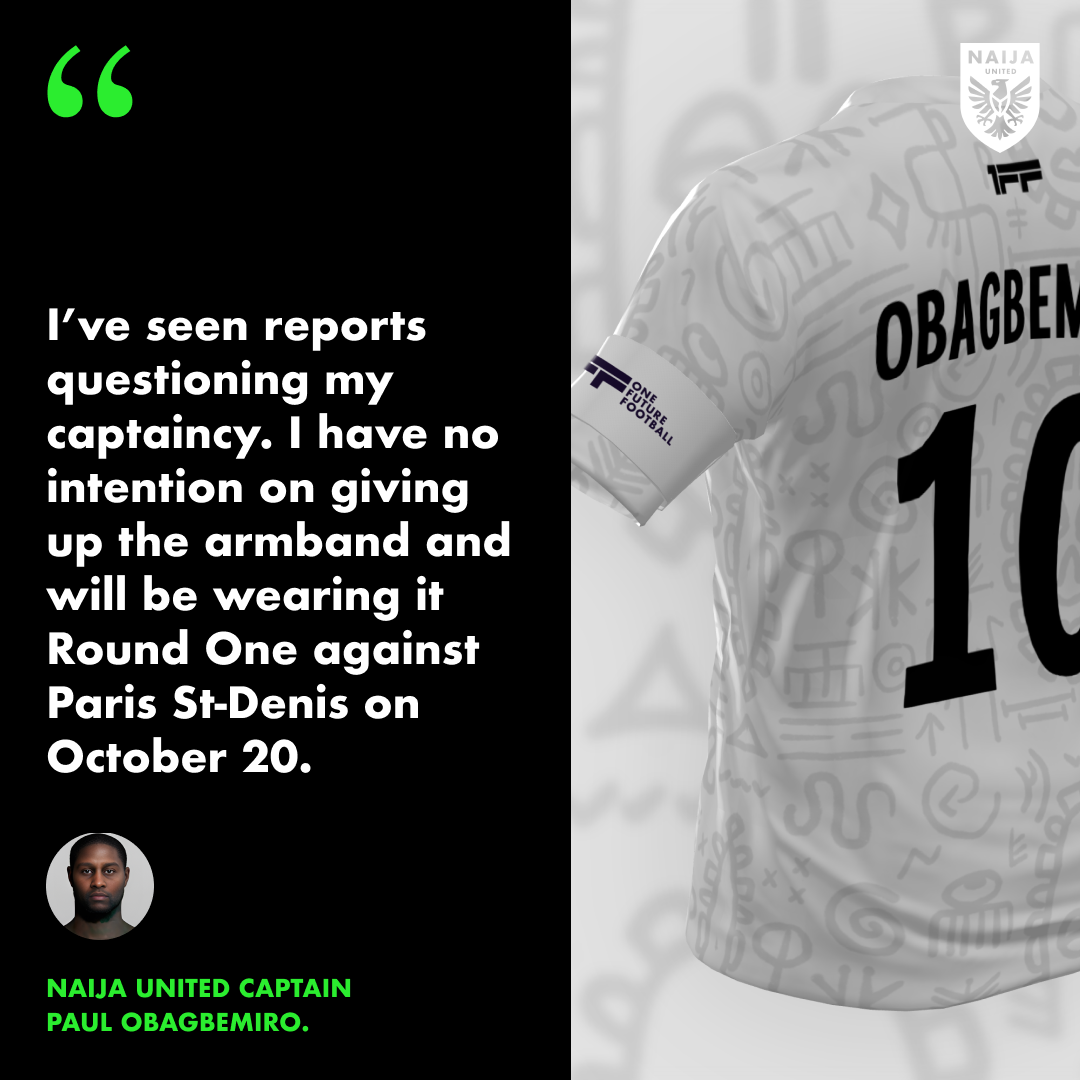 Naija United Head Coach Julius Martins broke his silence on Tuesday saying: "No one is bigger than the team, we have a lot of leaders and I haven't chosen who will wear the armband in Round 1"


Rossi wasn't finished and on Wednesday bagged an interview with Deji Akande.


Fabio: Deji, everyone wants to know who is going to be wearing the armband in Round 1.
Deji: It won't be Paul Obagbemiro. Season 2 is a new chapter for the club. Season 1 fell well below the standards we need to produce, and everything we've done in training points to a different direction.
Fabio: Wow, who do you want to captain the side in Season 2?
Deji: Not me haha, maybe Cristian Venditto but he's doing well enough without it. I'd say Charles Ogude, he's Nigerian, experienced and would love it.
And earlier today, the club finally came out with the official statement everyone was waiting for:


We thank Paul Obagbemiro for the time he Captained the Club and welcome our new captain for Season 2 - Charles Ogude.
Ogude's quote seems like a pretty direct hit on his former Captain, and still his team mate Obagbemiro "Naija no dey carry last. Last season was not good enough and I'm here to fix this club."
It'll be fascinating to see how this story plays out over the weeks ahead but Julius Martins won't have a lot of credit with fans after finishing last in Season One, and will hope this new appointment and his new stars will start a change of luck in Lagos.