One Future Football is the world's first global football league. It features 12 new super clubs with 264 new superstar players from 88 countries. Virtual football, real competition. Pick your team and cheer them on - all matches are free-to-view and fans earn team credits every time they watch their team and points every time their players play in matches. Find out more at
1ff.com
One Future Football Season 2 kicked off over the last week and the first two rounds were all about the big new draft picks, transfers and academy players making their mark.
Naija United had picked up the #1 Draft Pick; Nick Amos a pure box-to-box midfielder and Ojo Oladipupo a flying left winger in the style of Vinicius Junior out of their academy. But it was the two attackers that they let go to Paris St Denis and Bondi FC that burst onto the scene in a way that Micah Richards would be proud of.


Henry Babatunde scored the only goal for Paris St. Denis in their 1-0 win over Naija United, it took him just 29 minutes to show his old club what they're missing out on.
The other departed Naija forward Parfait Atangana scored 3 minutes into his first appearance for Bondi FC in their 2-2 draw with Brasil Amazônia.


Inter Nusantara won 2-1 in London, Bengaluru Phoenix showed Manhattan FC that Season 2 won't be easy for the beaten finalists and Palermo flexed their young talent with Ignacio Correa and Izan Sabate scoring in a 2-0 win over Riyadh Stars.


The game of the round came in LA where
Tokyo Youth Club
raced out to a 2-0 lead but were blown away by
FC Angelenos
and their Swedish winger
Albin Dahlin
who scored 3 of Angelenos' 5 goals as La Familia won 5-2.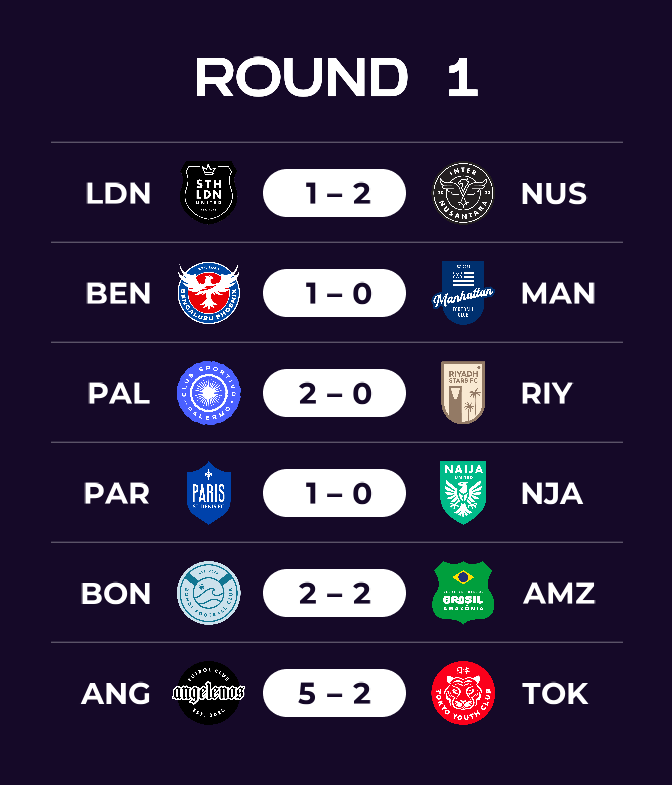 Round 2
The most eagerly anticipated game of Round 2 was the rematch of the Season One Final between Manhattan FC and Paris St. Denis - this time in New York City.
Paris have two new players in their starting XI since the Final - Jean Luc Duprat the academy graduate who was outstanding in Round 1 and was named in team of the week, and Henry Babatunde recruited in from Naija United. Manhattan starting pick #11 in The 1FF Draft - Tomasso Di Paolo at Right Back.
After a cagey first half, Luca Johnson fired Manhattan into the lead after an hour before Florian Grava won and despatched a generously awarded penalty. Manhattan steadied and had their chances before two goals in the closing moments of the match from Jung Sang-Min and another penalty to Grava secured a 3-1 victory for The Champions to savour on their trip back to France.
Elsewhere
Inter Nusantara
and
FC Angelenos
secured impressive home wins over
Tokyo Youth Club
and
South London United
to each start the season with perfect records.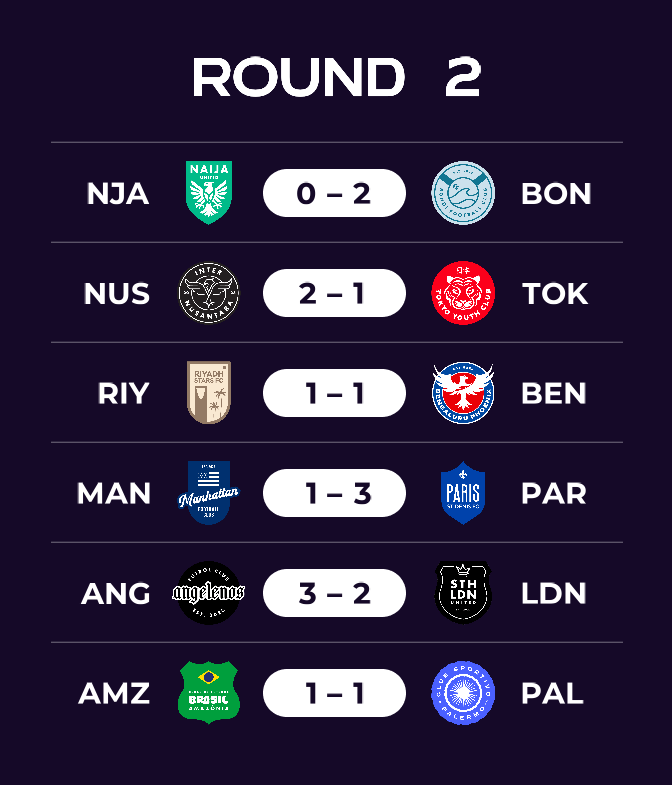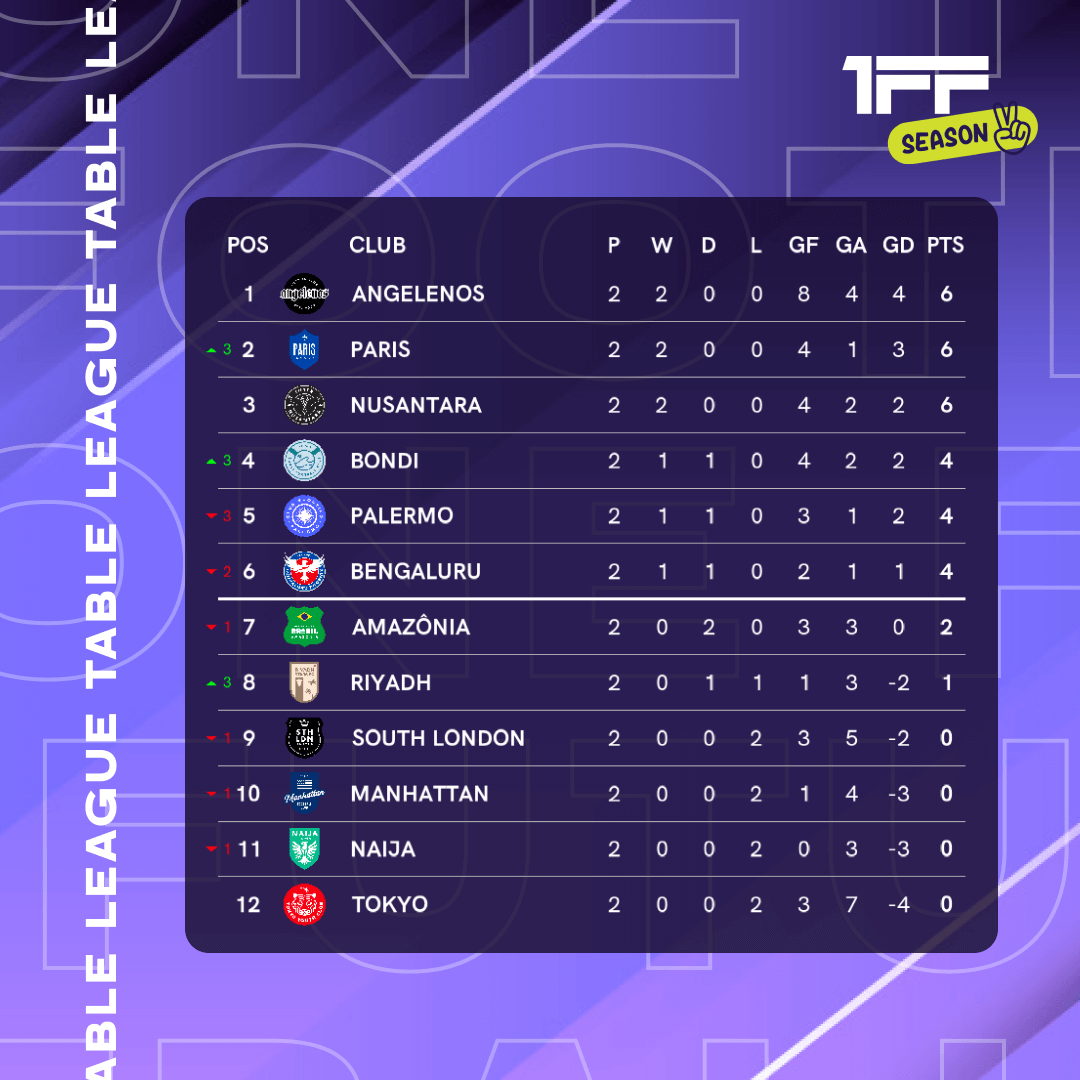 Game of the week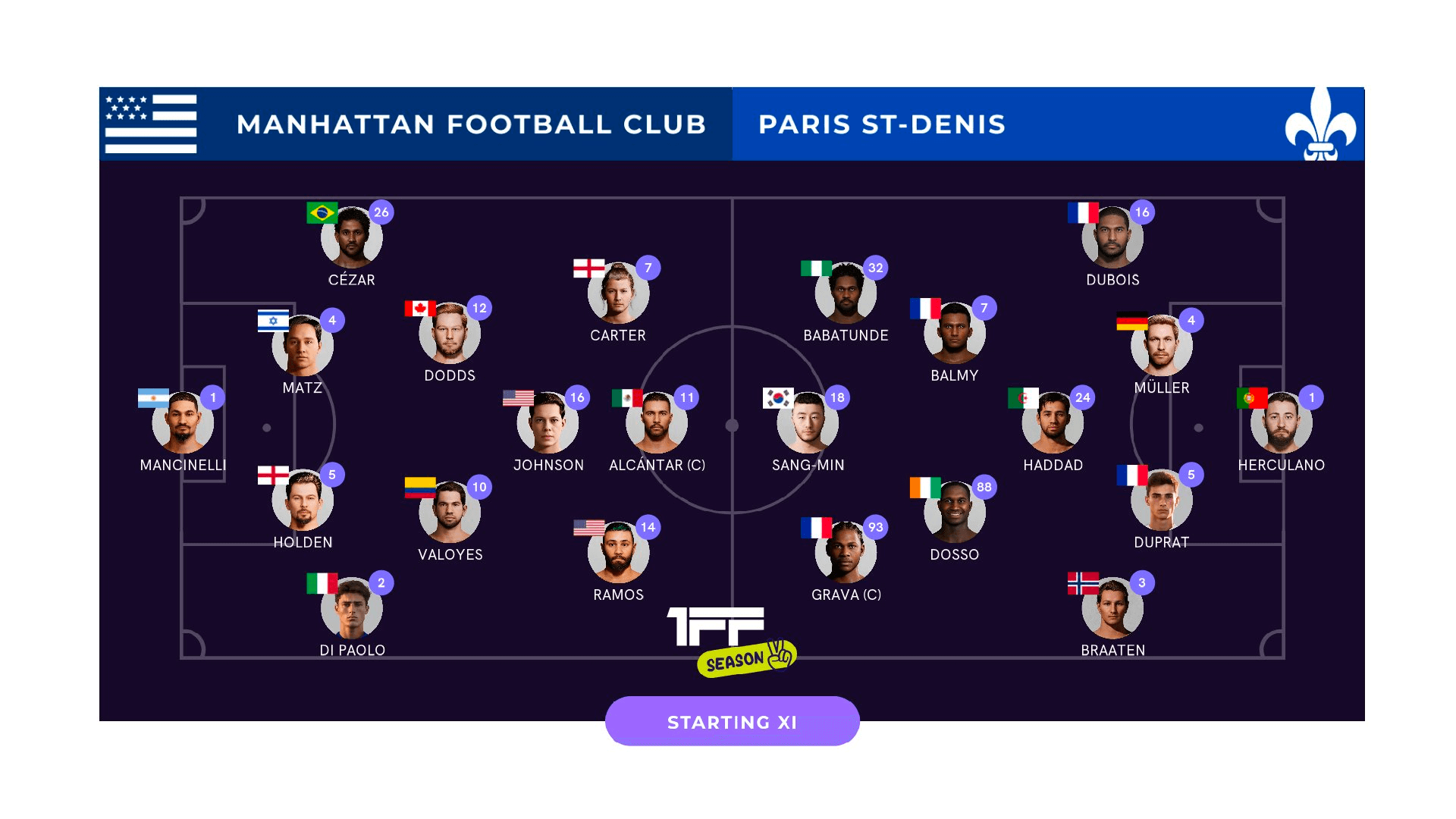 The rematch of the 1FF Season One Final.
Catch the highlights here.
Goals of the Round
If you put three entries in for Goal of the Round, you're much more likely to win it - Albin Dahlin's second in a 5-2 win took it out for Round 1.
📺 First Goal of The Round this season
Toyko's Oba came fresh out of the club's Academy and picked up Goal of the Round for Round 2 with this stunner.
📺 Watch here
Highest-Rated Players
Round 1
Albin Dahiln
was Player of the Round, Young Player of the Round and top goalscorer in Round 1.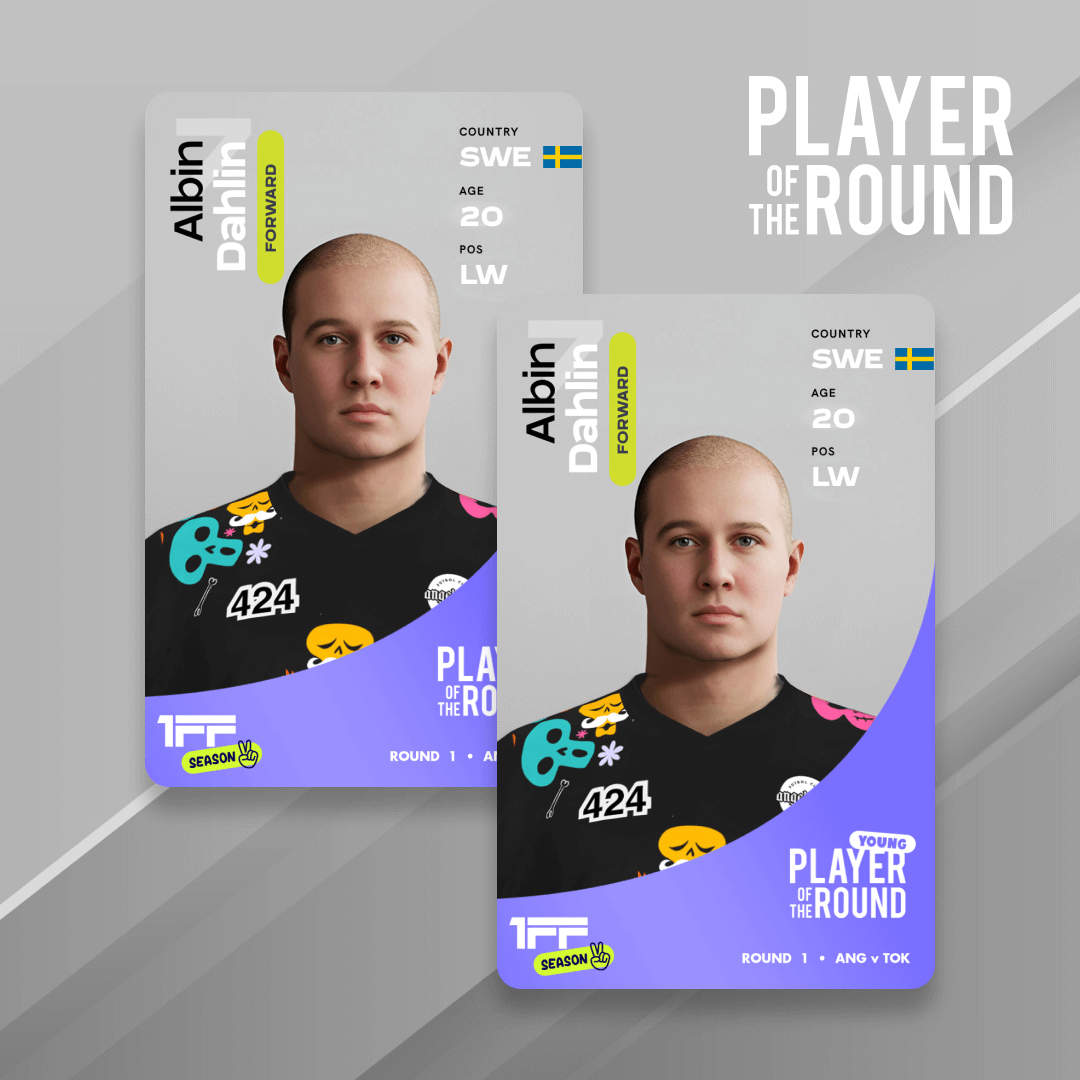 Paris St Denis Academy graduate - defender Jean Luc Duprat was a notable inclusion in the first Team of the Round for Season 2.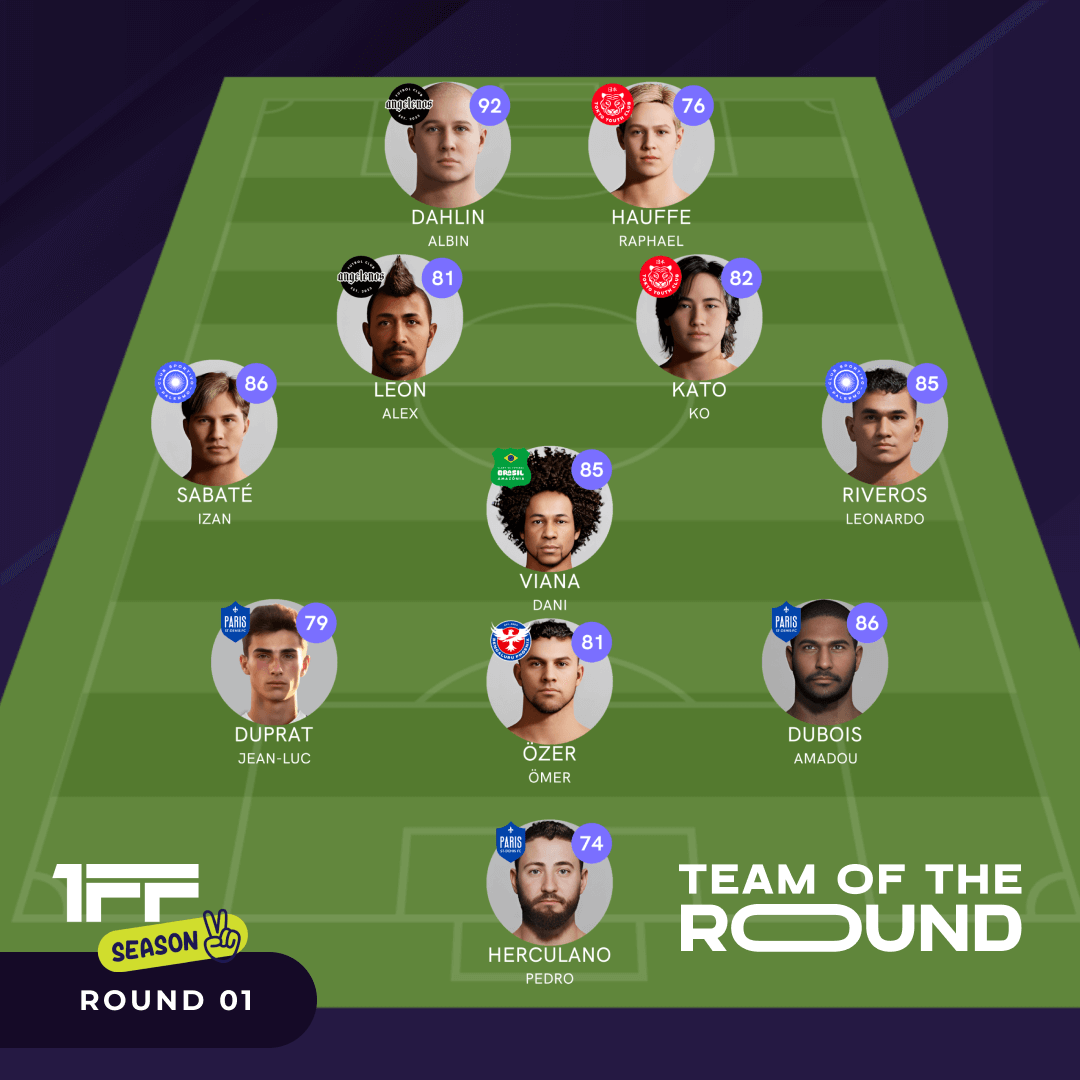 Round 2
Bas Holsink scored both of Inter Nusantara's goals in the 2-1 win over Tokyo Youth Club and scored a 95 rating. Huge for the fans that own the flying Dutchman.
Palermo's 20 year old Uruguayan Midfielder Bernardo De Los Santos was his teams Young Player of the Season in Season One and picked up the first Young Player of the Round award in Season 2. However his 82 didn't see him get into the Team of the Round.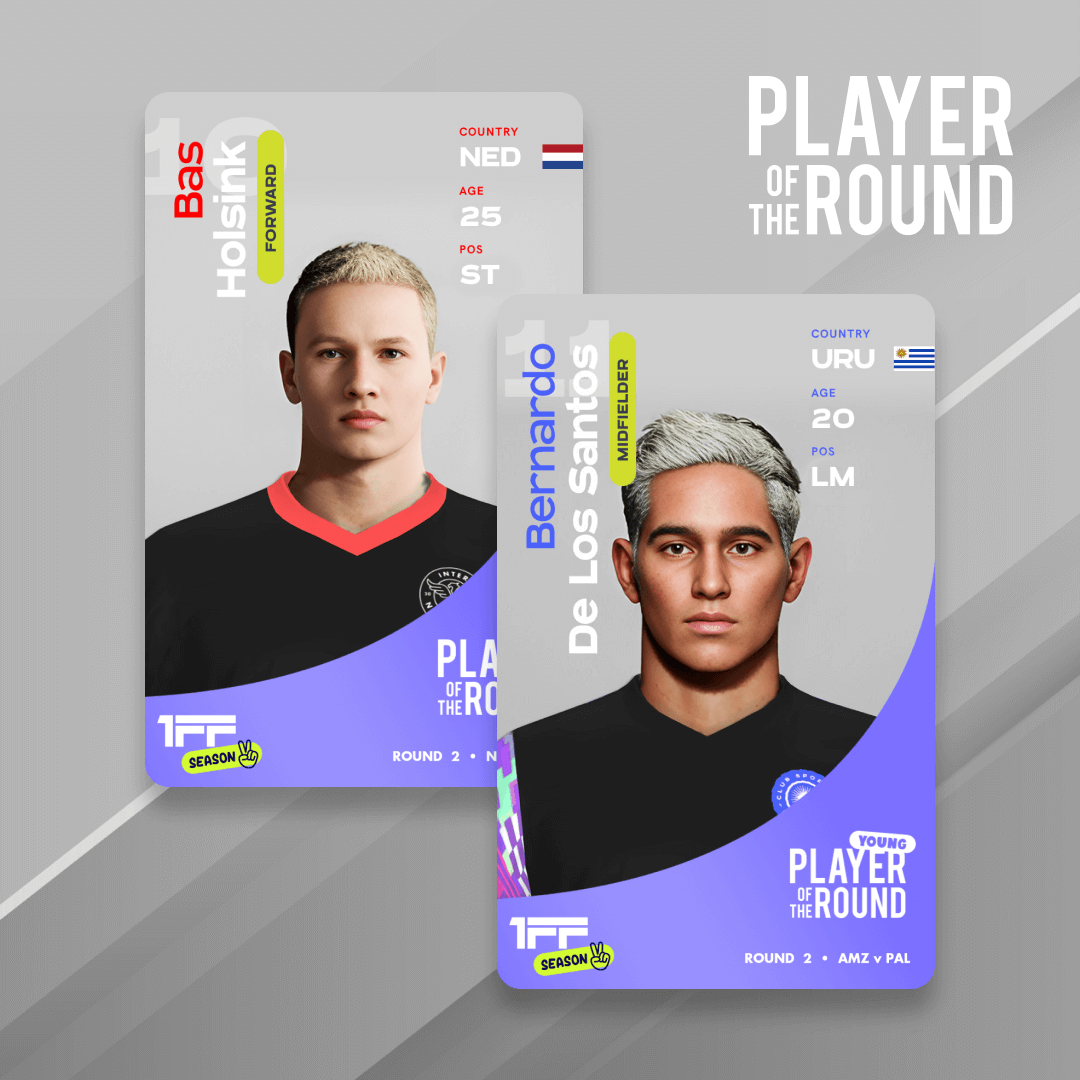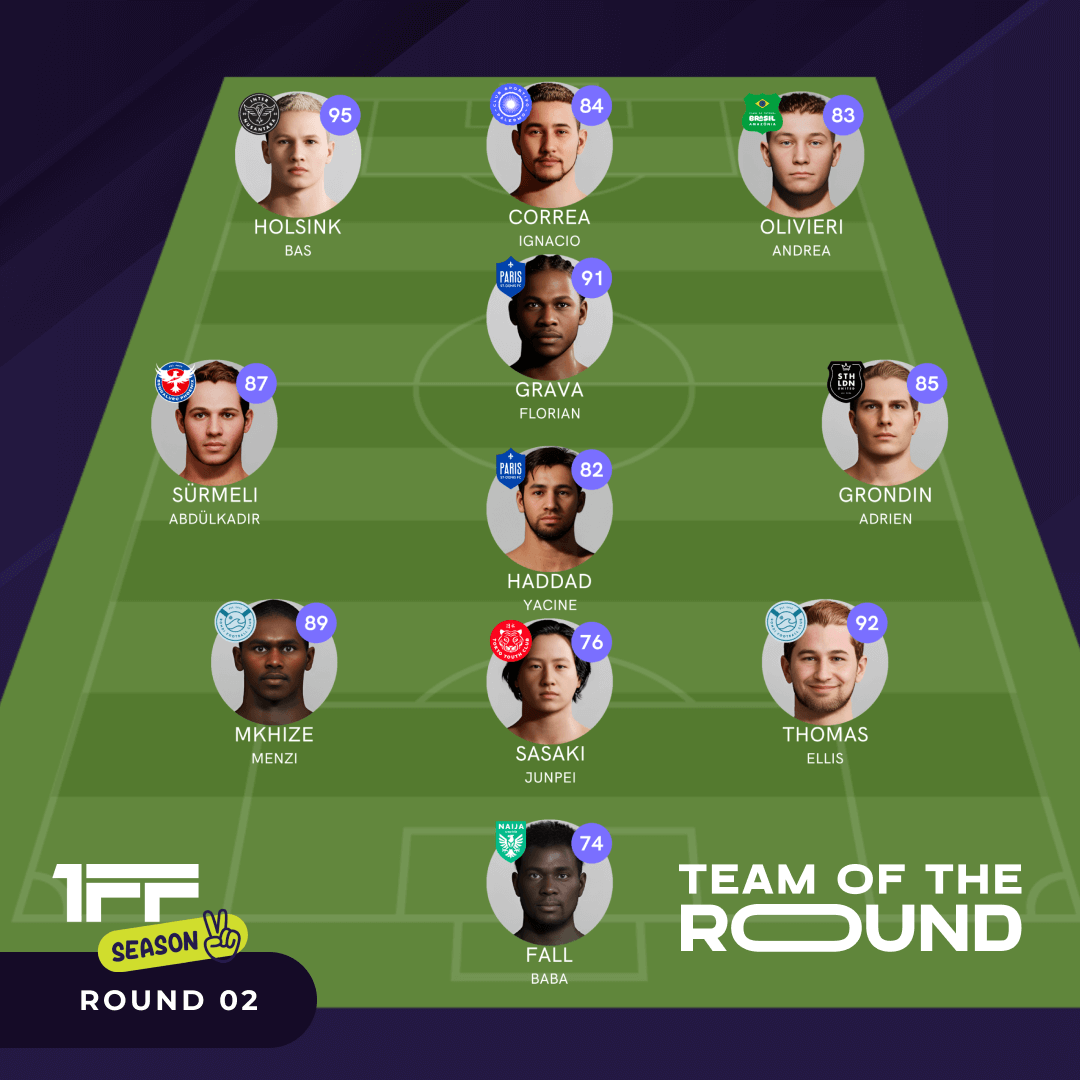 Best Quotes
Tensions are rising in South London already following their two losses to start the season.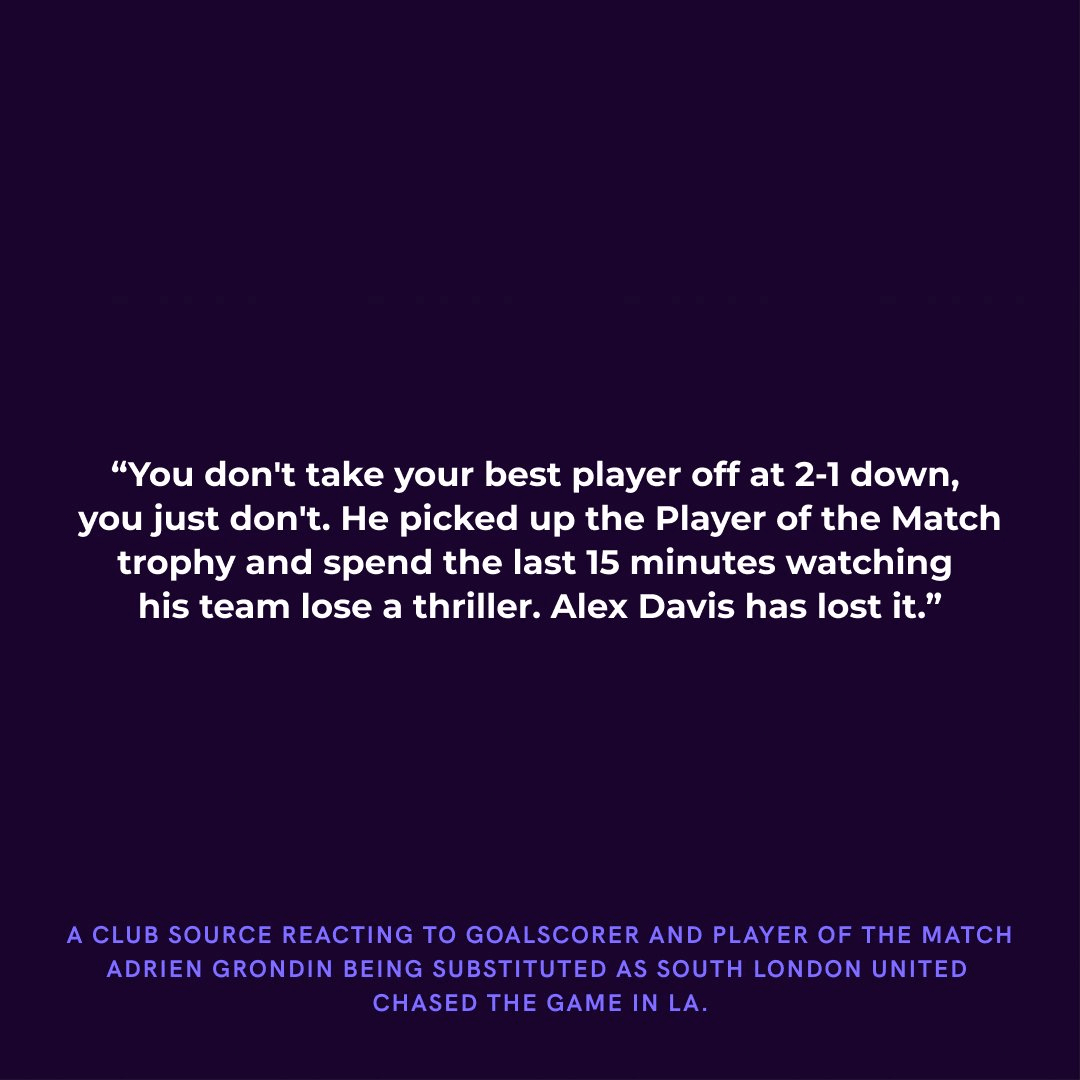 Best Stories
The story of Naija United's Captaincy rolled through the last week of the off-season and ended brutally for Paul Obagbemiro. Who at one stage was certain he'd lead the team out in Round One.
It started with speculation of what Naija's strongest XI may be this season. Journalist Fabio Rossi tweeted this:

Obagbemiro snapped back as the club shared this quote: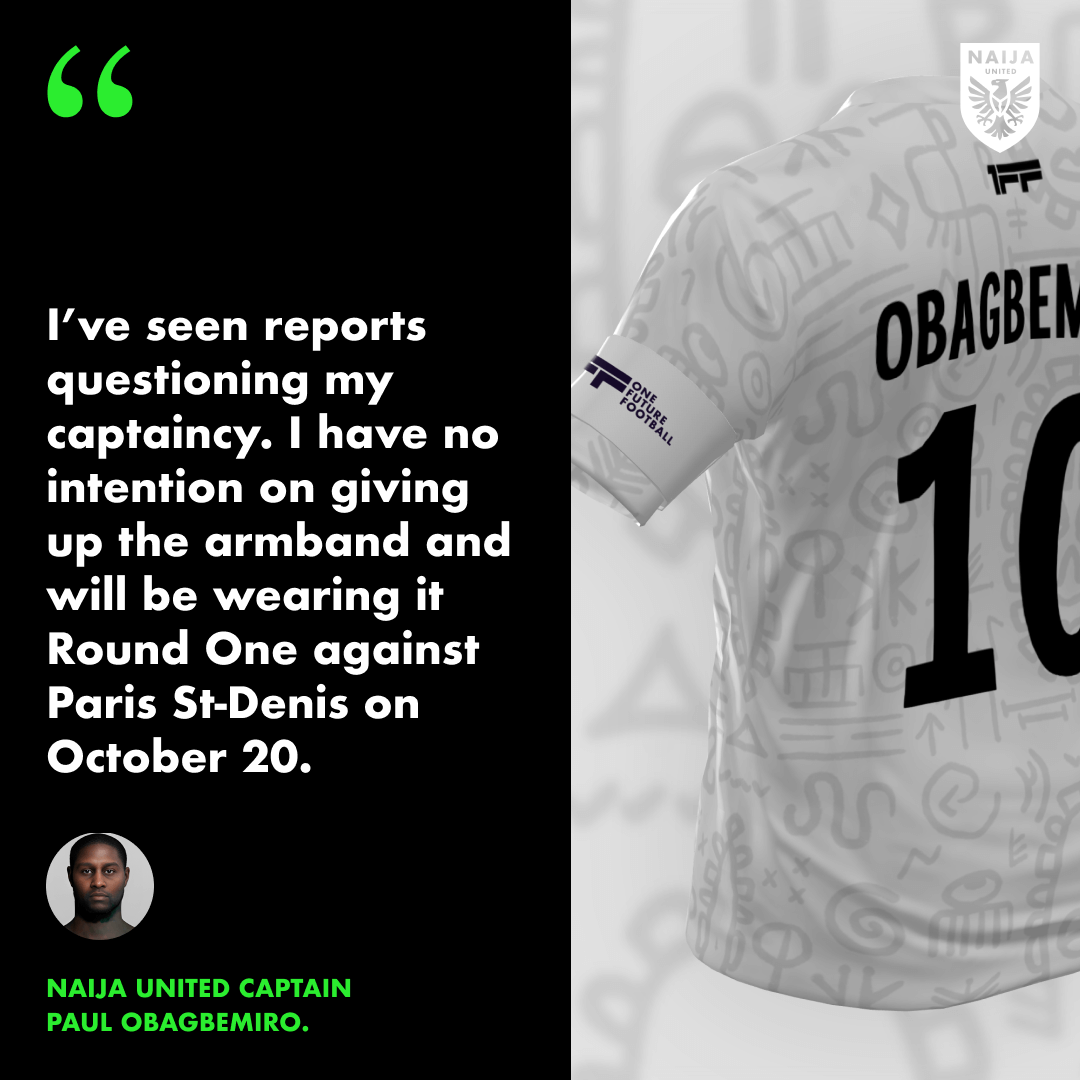 Naija United Head Coach Julius Martins broke his silence on Tuesday saying: "No one is bigger than the team, we have a lot of leaders and I haven't chosen who will wear the armband in Round 1"
Rossi wasn't finished and on Wednesday bagged an interview with Deji Akande.
Fabio: Deji, everyone wants to know who is going to be wearing the armband in Round 1.
Deji: It won't be Paul Obagbemiro. Season 2 is a new chapter for the club. Season 1 fell well below the standards we need to produce, and everything we've done in training points to a different direction.
Fabio: Wow, who do you want to captain the side in Season 2?
Deji: Not me haha, maybe Cristian Venditto but he's doing well enough without it. I'd say Charles Ogude, he's Nigerian, experienced and would love it.


And then the club finally came out with the official statement everyone was waiting for:
We thank Paul Obagbemiro for the time he Captained the Club and welcome our new captain for Season 2 - Charles Ogude.

Ogude said "Naija no dey carry last. Last season was not good enough and I'm here to fix this club."
It'll be fascinating to see how this story plays out over the weeks ahead but Julius Martins won't have a lot of credit with fans after finishing last in Season One, and will hope this new appointment and his new stars will start a change of luck in Lagos.

Best Stats
Bengaluru Phoenix held off Season 1 runners up Manhattan FC in Round 1. The Phoenix's Chinese centre-back Hao Shun tied the 1FF record for Effective Clearances with nine in that game. He also completed 42 of 44 short passes from the back.
Swedish winger Albin Dahlia of FC Angelenos started the year with a bang, notching a hat trick against Tokyo Youth Club in Round 1. He took five shots, and all three on target found the back of the net.
It was a week to forget for South London United's goalkeeper Fodé Diaby. After conceded two goals in the season opener against Inter Nusantara, he faced just nine total shots against FC Angelenos, three of which were on target, and all three got past him. It is the first time a 1FF keeper has failed to make a single save with three or more shots on target faced. Should South London United have let Pieter Cools go to Inter Nusantara?
The Round ahead