One Future Football is the world's first global football league. It features 12 new super clubs with 252 new superstar players from 88 countries. Virtual football, real competition. Pick your team and cheer them on - all matches are free-to-view and fans earn team credits every time they watch their team and points every time their players play in matches. Find out more at
1ff.com
South London United
handed out a 3-0 beating to
Tokyo Youth Club
in a truly brutal encounter. A 2nd minute foul by
Chris Bird
on Tokyo Captain
Junpei Sasaki
forced Sasaki off and set the tone for a match that saw 8 players booked, Bird score twice, and
Ruben Sinclair
once.
Inter Nusantara kept their finals dreams alive with 6 points from two matches; a 2-1 win over table-topping Paris St Denis in Paris, and a thumping 5-2 at home to South London United in round 20. Inter Nusantara now lead Paris St Denis, Manhattan FC and the rest of the competition as the highest scoring team. Bas Holsink scored a hat-trick in the win over South London United and now has 15 goals, just two behind Dale Ramos who went goalless across the week, and three behind Jung Sang-Min who scored twice in the 2-1 win over Naija United.
Paris St Denis and Manhattan FC have now secured their finals places. and at the other end, Club Sportivo Palermo, Naija United and Riyadh Stars now cannot make the top 6 and their season will finish at the end of Round 22. Their attention moves to the draft, the final rounds of matches will decide who gets the first pick.
Player training is now live so you can now impact the skills of any player you own (including the free card every user receives at sign up). Check training out at
1ff.com
now.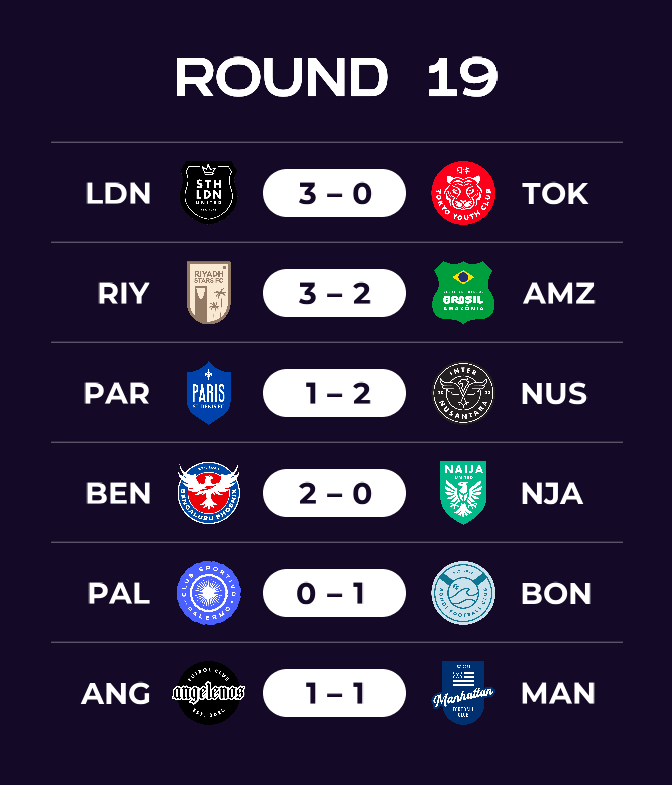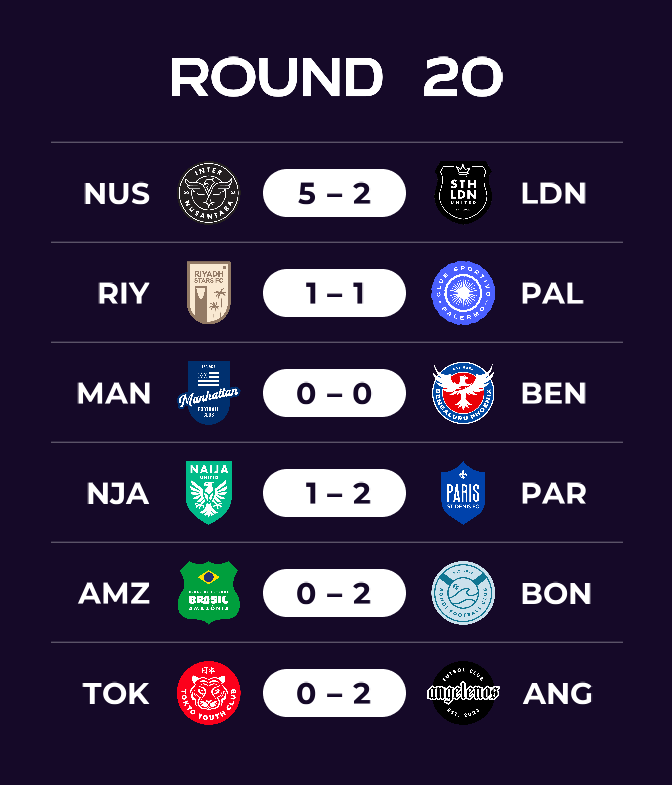 Game of the week
South London United weren't the best hosts for Tokyo Youth Club in their Round 19 clash.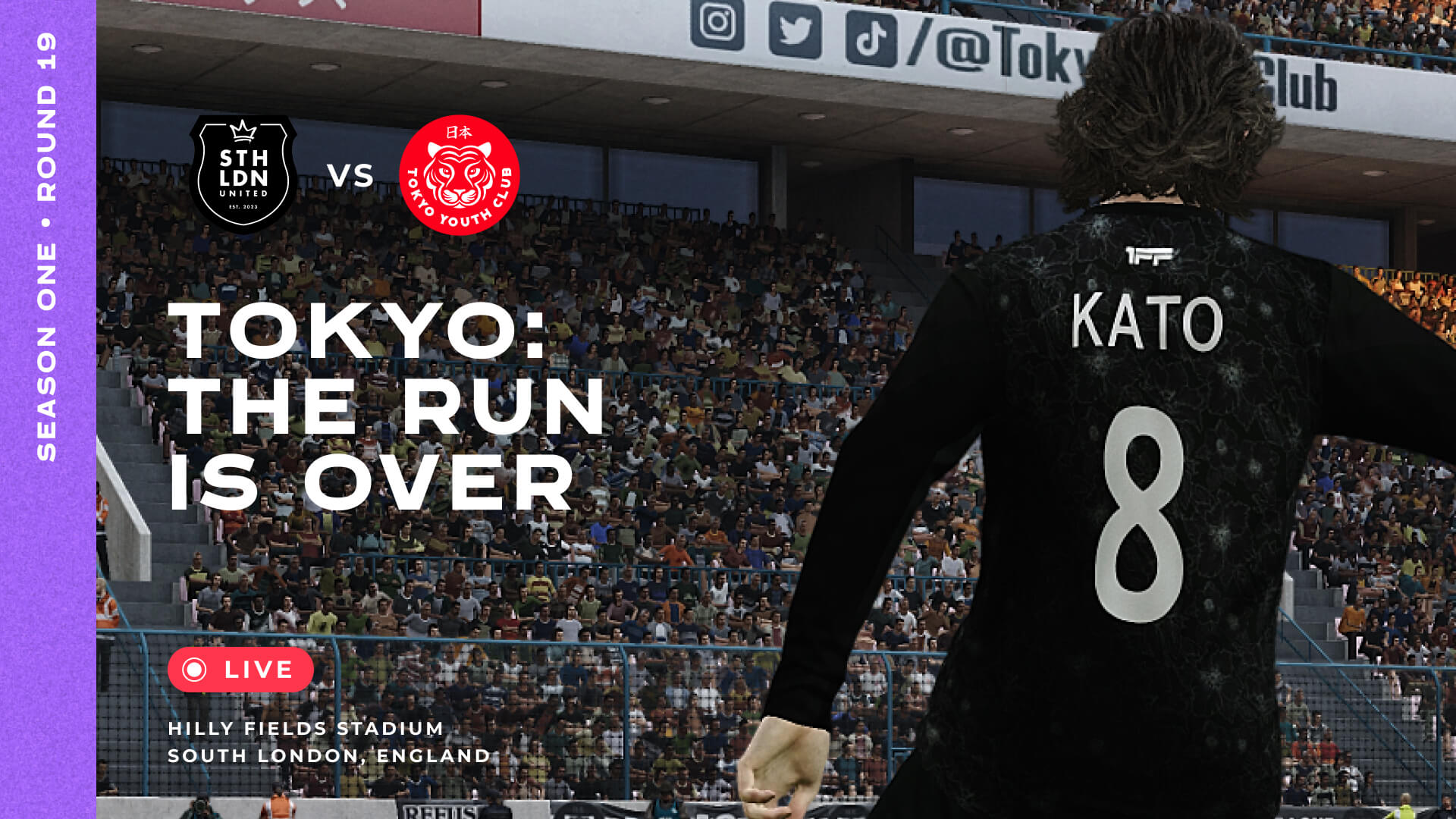 Full length highlights are on GOAL here:
https://www.facebook.com/GOAL/videos/851659909902030
Short match highlights here:
📺 @SouthLondonUtd 3-0 @TokyoYouthClub | Key Moments | Round 19
Goals of the Round
In Round 19, two
Riyadh Stars
players took out Player of the Round and Young Player of the Round.
Kostas Takas
and
Rashid Al Balushi
shone with ratings of 91 and 80 in the 3-2 home win over
Brasil Amazonia
.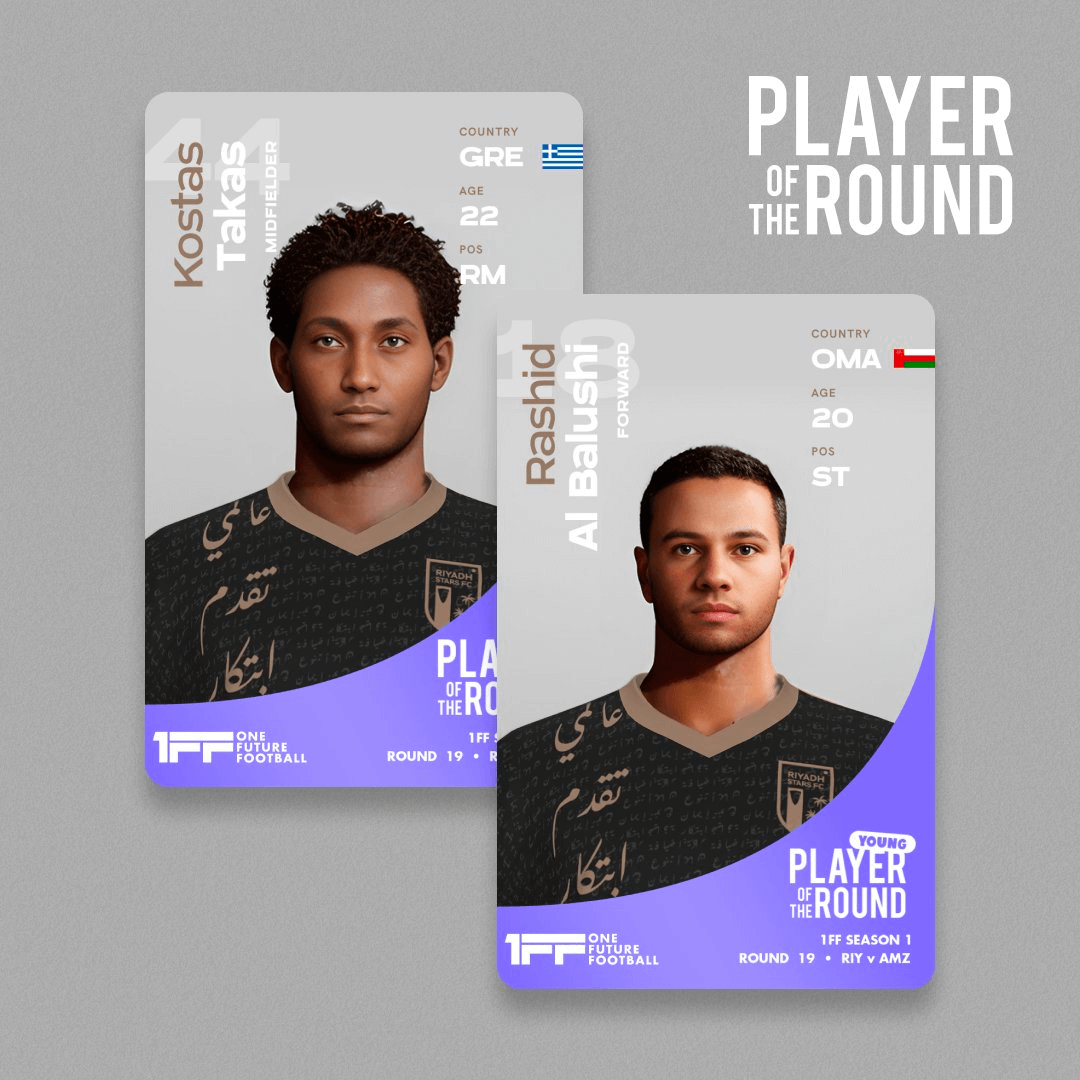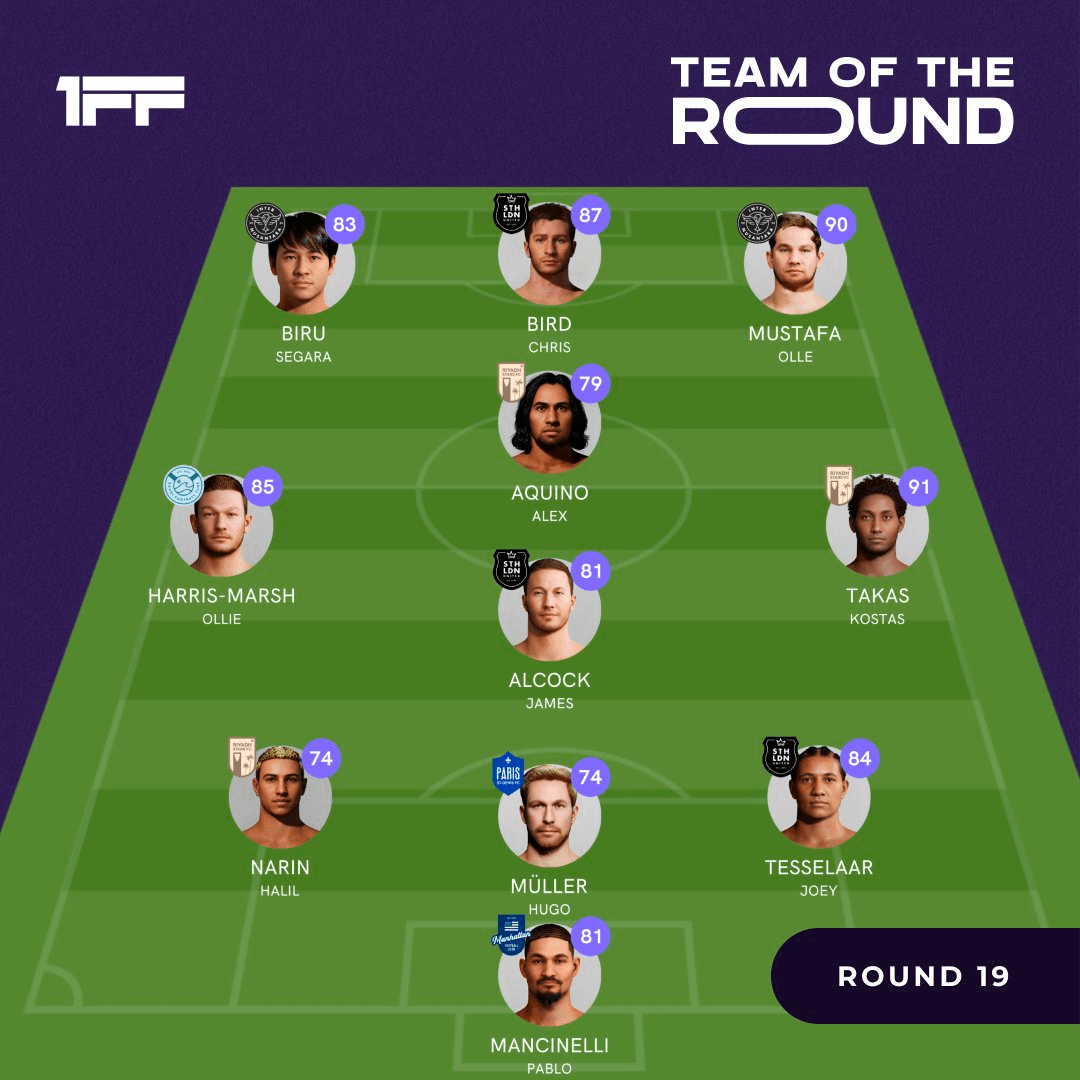 Bas Holsink
's hat-trick was a huge part of a 98-rated performance that earned him Player of the Round for Rnd 20. 980 1FF Points coming to everyone who owns a Bas Holsink card!
Ash Jones
scored twice and was awarded a 97 in Bondi's 2-0 win in Brazil. He takes out the Young Player award.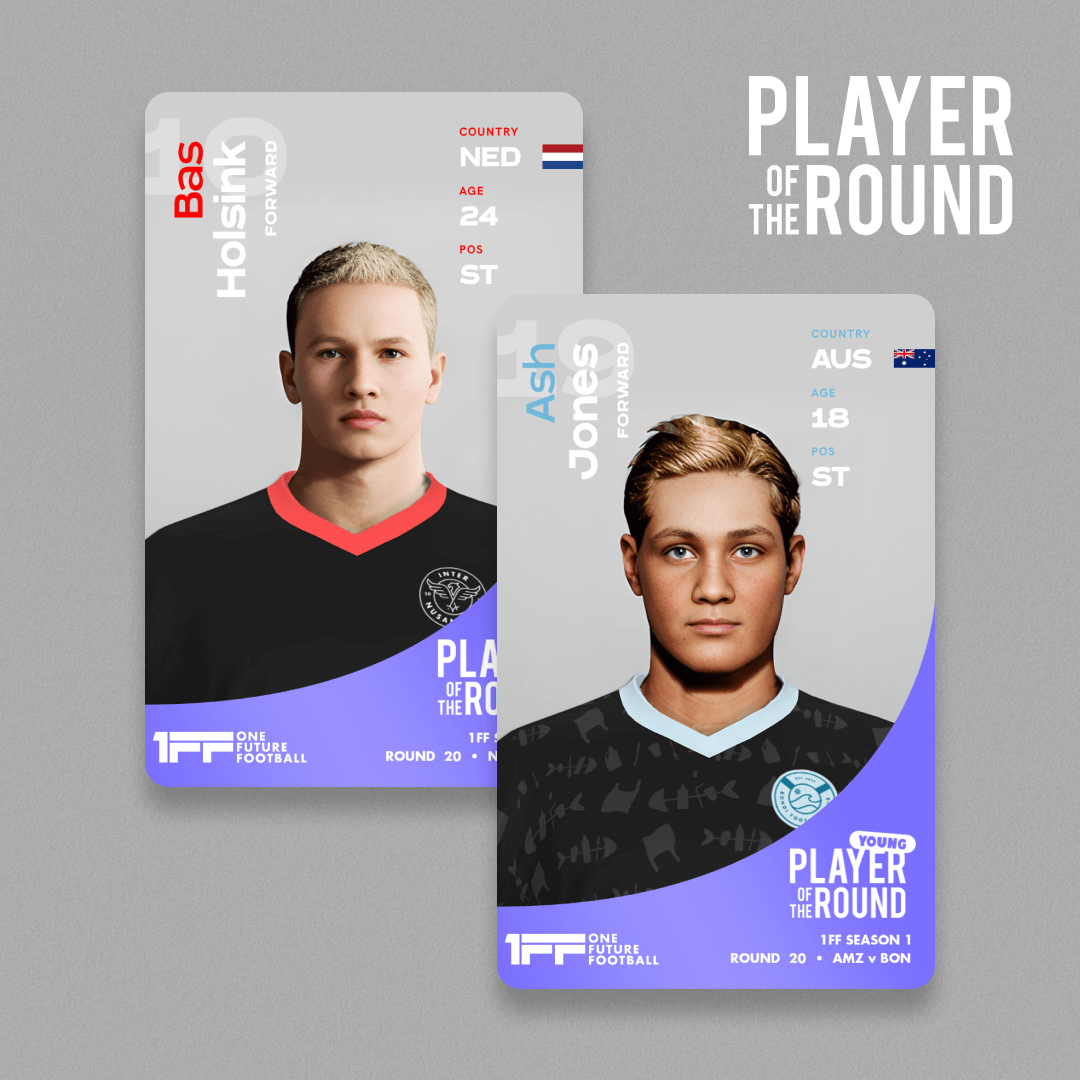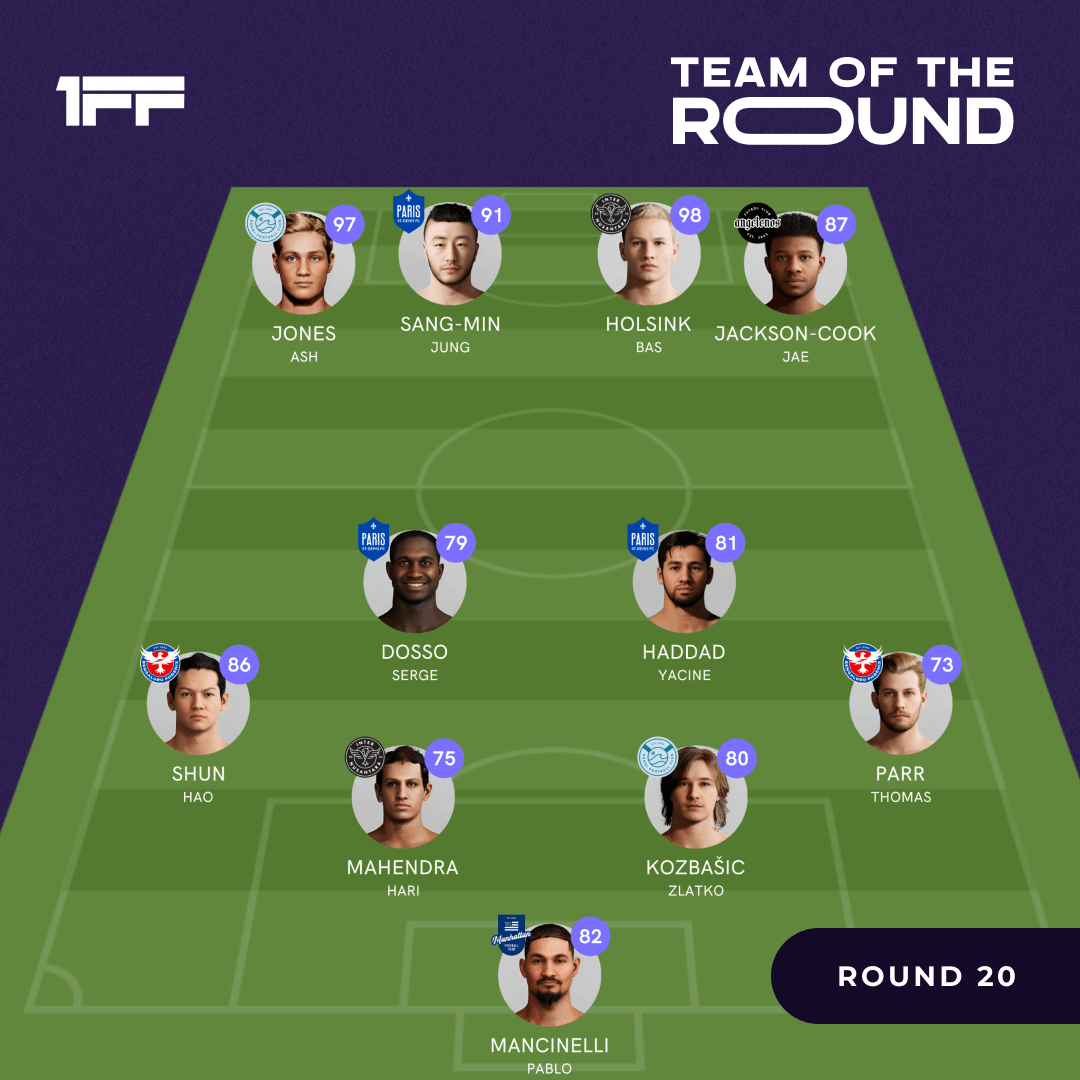 Best Quotes
Manhattan's head Coach Lewis Campbell was typically sensitive with his approach to José Alcantar picking up a knock in training.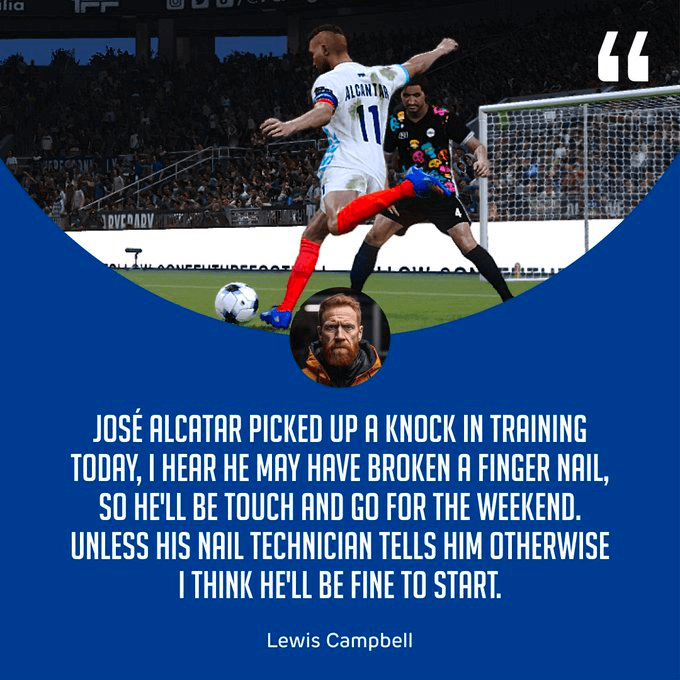 Best Stories
"Anthony and Parfait saw things differently and we let them settle their differences. Read into that however you want."
While Manhattan FC will be disappointed with a return of just two points from the week's two matches, their 'keeper Pablo Mancinelli may have been the difference between that being two points or none at all. He was twice named in Team of the Round. Round 19 away to FC Angelenos he made 9 saves, conceded one goal and was given a ranking of 81. In the goalless draw with Bengaluru in Round 20 he made 9 saves and received a score of 82.
Bas Holsink's hat-trick in Inter Nusantara's Round 20 won over South London was the 6th of the 1FF Season. Ash Jones of Bondi, Noah Drakenburg of Bengaluru and Adrien Grondin each have a hat-trick this season. Golden Boot leader Jung Sang-Min of Paris St Denis has two.
Bengaluru Phoenix and Bondi FC each kept two clean sheets over the week. Bondi are used to it, having only conceded 15 goals all season. Bengaluru have the joint third best defence, having conceded 31 goals in 20 matches so far this season.
Fixtures for the coming 7 days