One Future Football is the world's first global football league. It features 12 new super clubs with 252 new superstar players from 88 countries. Virtual football, real competition. Pick your team and cheer them on - all matches are free-to-view and fans earn team credits every time they watch their team and points every time their players play in matches. Find out more at
1ff.com
This week was the last two rounds of the regular season and all about the race for the finals, with the top 6 teams qualifying for the chance to win the title of
1FF Season One Champions
.
The top two teams skip straight to the Semi Finals and the 3rd and 4th place teams get home Qualifying Finals against 6th and 5th.
Coming into the week, the big question was whether any of 7th-placed Brasil Amazonia, 8th-placed FC Angelenos or 9th-placed Bengaluru Phoenix could fight their way into the top 6.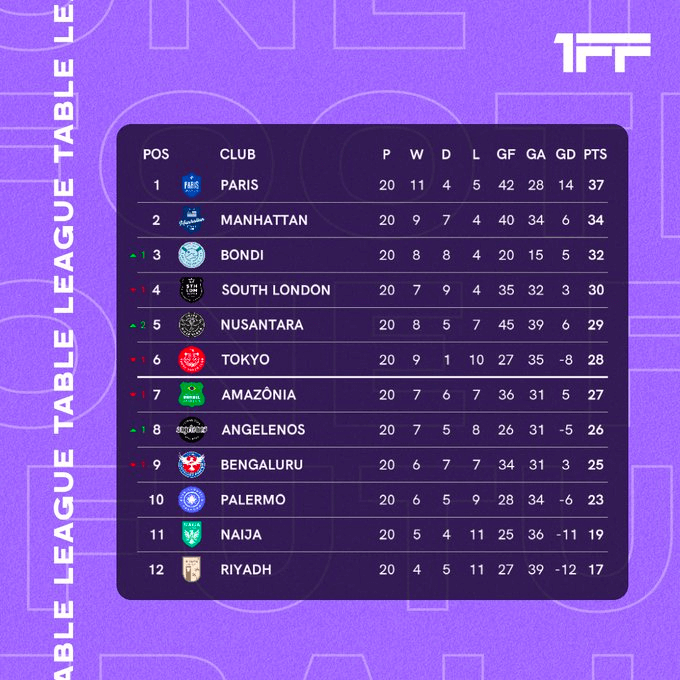 Round 21
Top-two Paris St Denis and Manhattan FC drew with Bottom-two Riyadh Stars and Naija United, while 3rd-place Bondi and 4th-placed South London United also drew, dealing a huge blow to each of their chances of getting into the top two.
Tokyo Youth Club leapt up to 5th with a 1-0 win away in Argentina against Club Sportivo Palermo. Tokyo overtook Inter Nusantara who lost 3-1 away against FC Angelenos, the two teams were then separated only by goal difference, Nusantara just hanging on to 6th and the last finals spot.
Bengaluru Phoenix
and
Brasil Amazonia
also drew 1-1 - not much help to either team's hopes of getting into the top 6.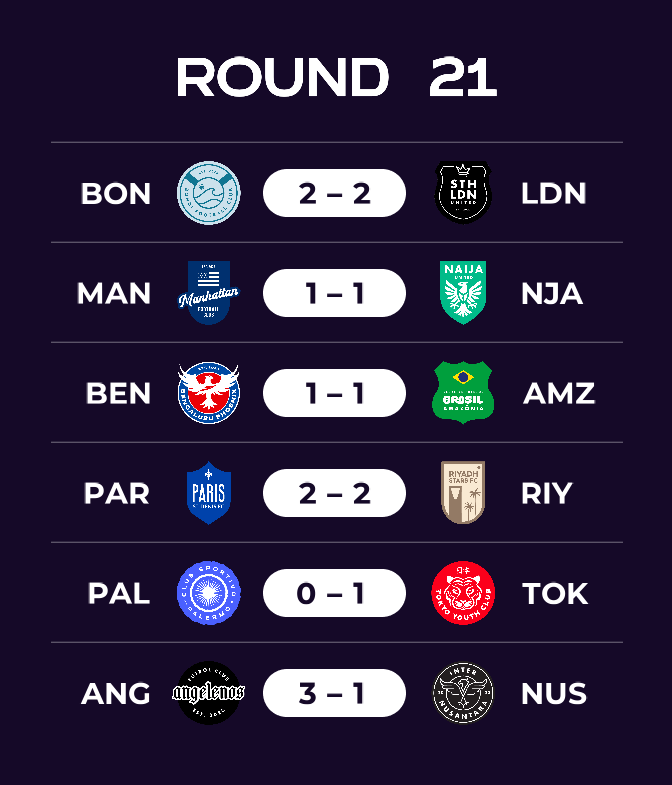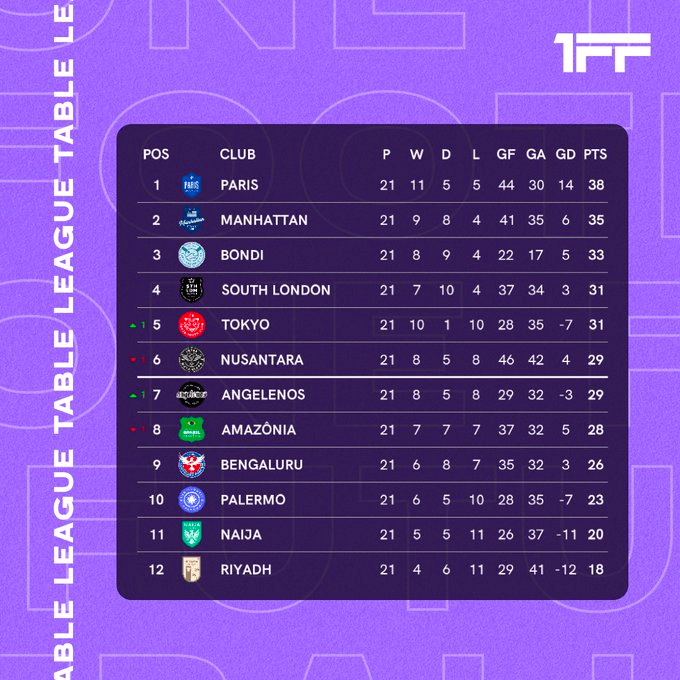 Round 22
Tokyo Youth Club started the round off in the best possible way, securing their finals place, and temporarily jumping up to 3rd with a come-from-behind win away in Nigeria. Naija led 2-1 until Rafael Hauffe scored his 14th goal of the season in the 80th minute. Ko Kato then set up Jorge Morerro for a 91st minute winner.
In the next match, Bondi FC won a 6-goal thriller in Indonesia, ensuring Inter Nusantara were hanging on by a thread in 6th and needed three other results to go their way.
Part one of that three-match miracle came in the next game and Riyadh Stars pulled out one of the performances of the season, winning 4-0 at home against FC Angelenos. This ended La Familia's season, and pulled the Saudi team off the bottom of the table.
Next up, South London United skipped over Tokyo Youth Club into 4th (and a home Qualifying Final) with a 3-1 win over Bengaluru Phoenix. 18-year old Kofi Opoku and Chris Bird both got on the score sheet in that one. That result ended the Phoenix Rising's season, locking in 9th place.
Brazil Amazonia went into their home game against table-topping Paris St Denis knowing that a draw would send them 6th and end Inter Nusantara's season, but lost 2-0; Florian Grava scoring twice to break Brazilian hearts and ensure Paris St Denis finished on top.
Inter Nusantara's fans went wild online, reaching the finals with a near-miracle sequence of results.
Manhattan FC
wrapped up the round, and the regular season, with a 2-1 win over Club Sportivo Palermo. The result had no bearing on either team's final position; Manhattan finished 2nd and Palermo 10th.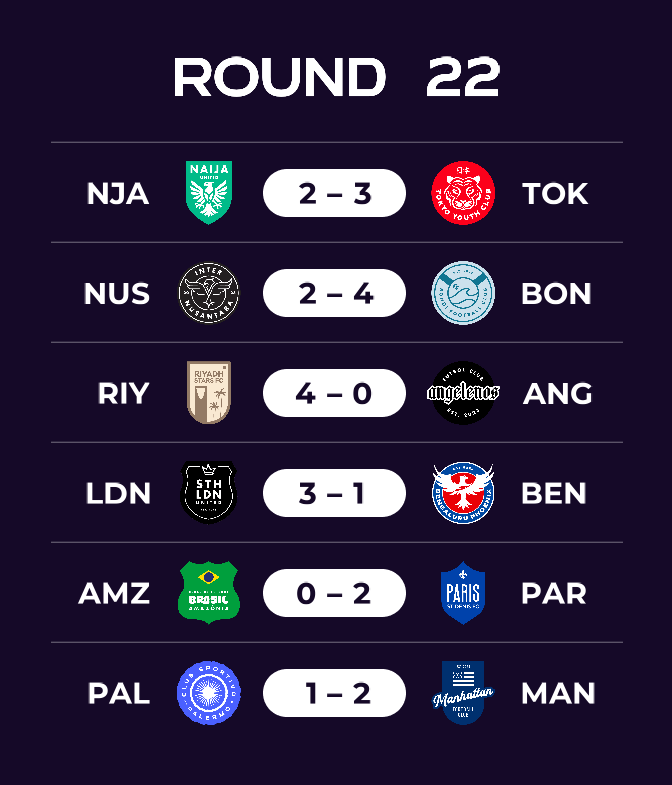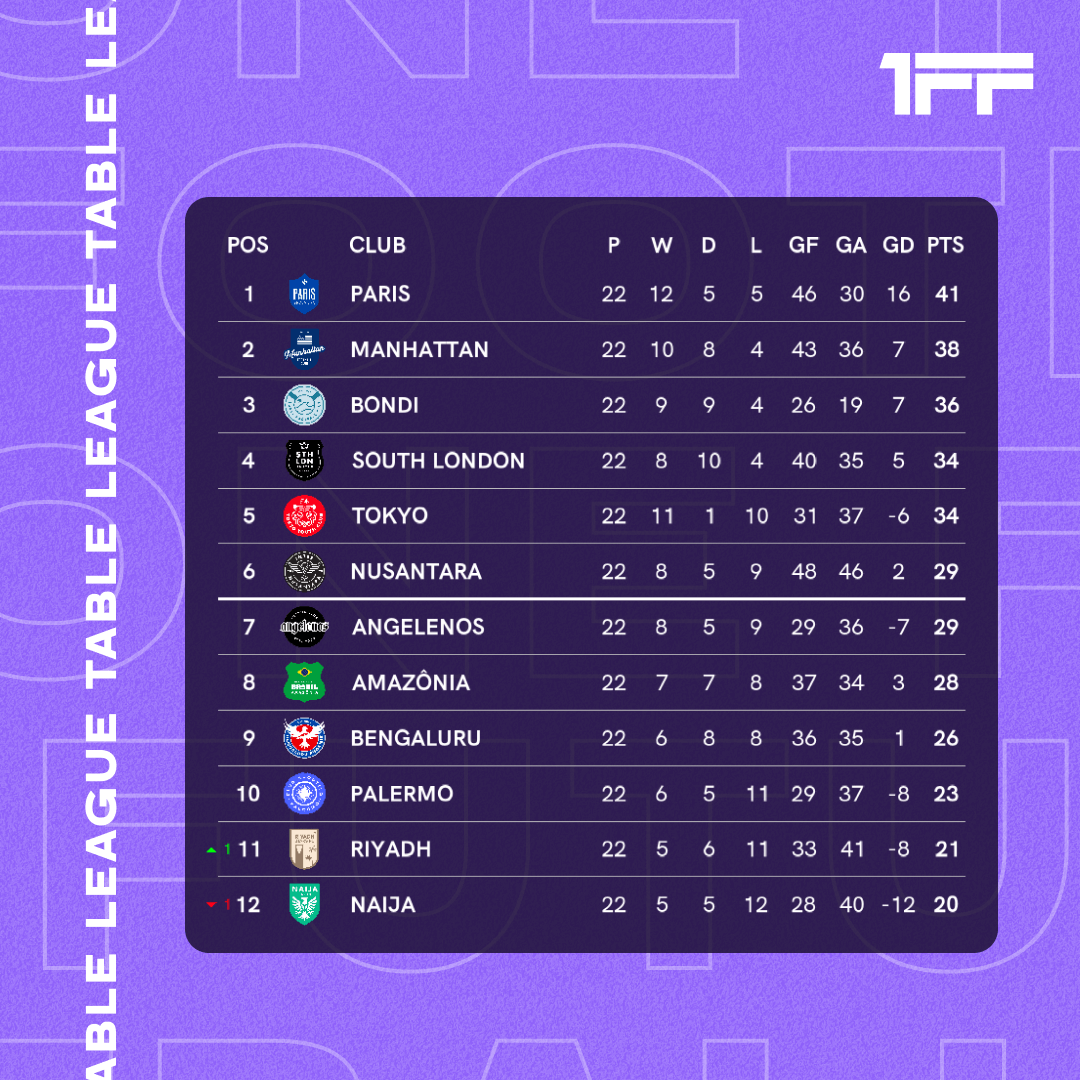 So we move into the finals. Player training is now live so you can now impact the skills of any player you own for the finals. Check training out at
1ff.com
now.
Game of the week
'Nothing to play for' meant nothing to Riyadh Stars who won 4-0 in their last game of the season.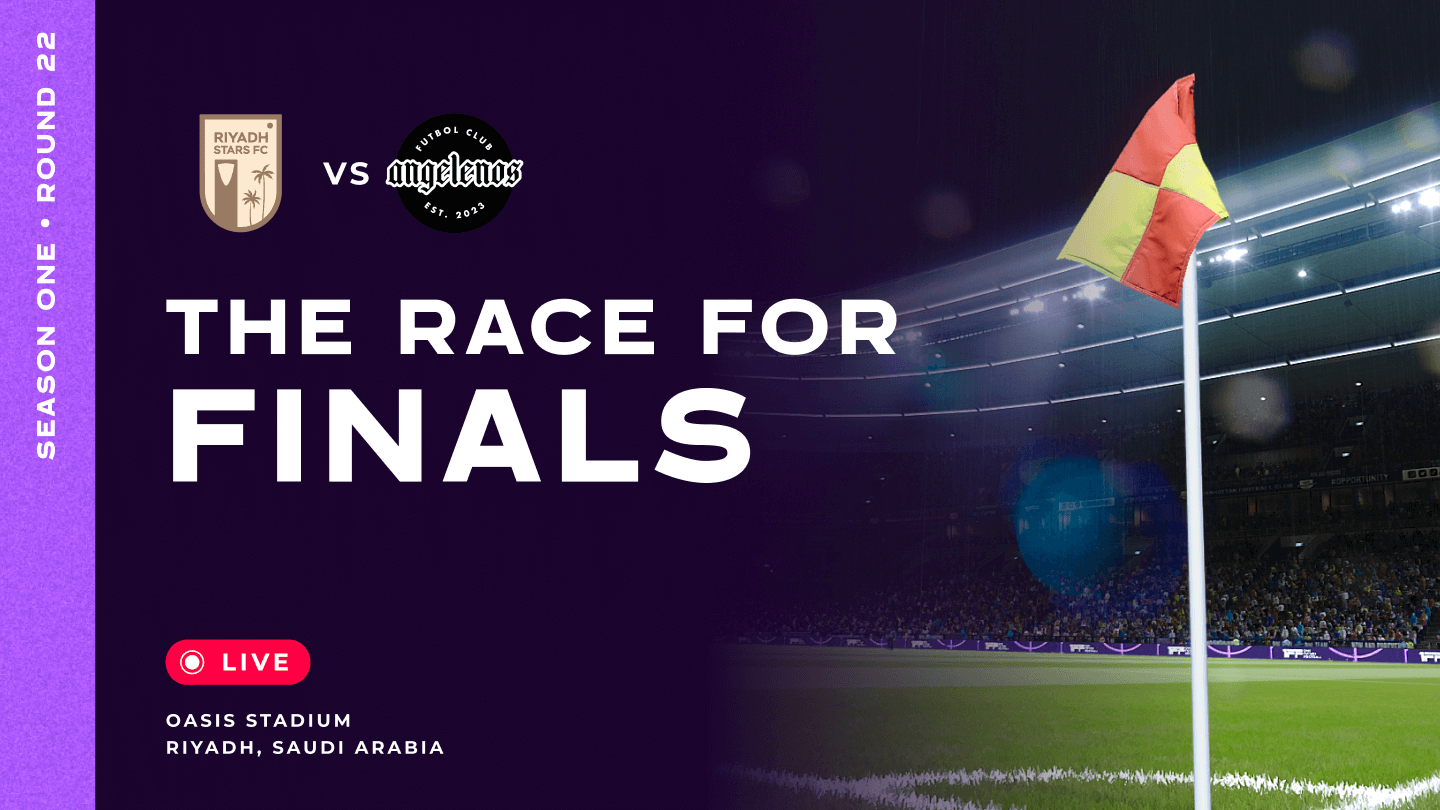 Full length highlights are on GOAL here:
https://www.facebook.com/events/697605225608214
Round 21
Riyadh Stars' Cerqueira was Player of the Round for Round 21. He scored one and set one up as The Stars took a point off table-topping Paris St Denis in Paris. Cerqueira was given a ranking of 91, and 910 1FF Points to everyone who owns a Cerqueira card.
Stijn Janssens
of
Toyko Youth Club
took out the Young Player award with a 79.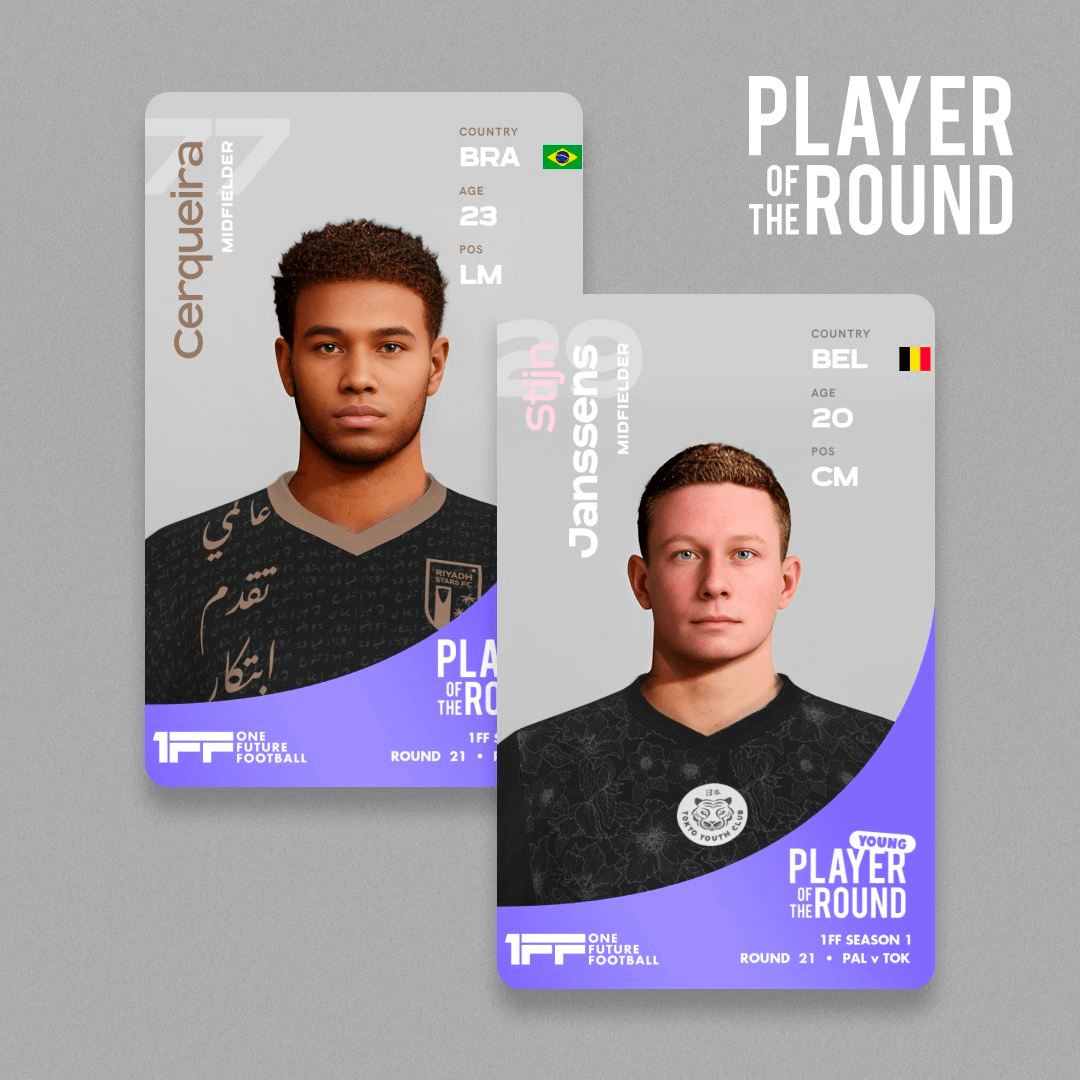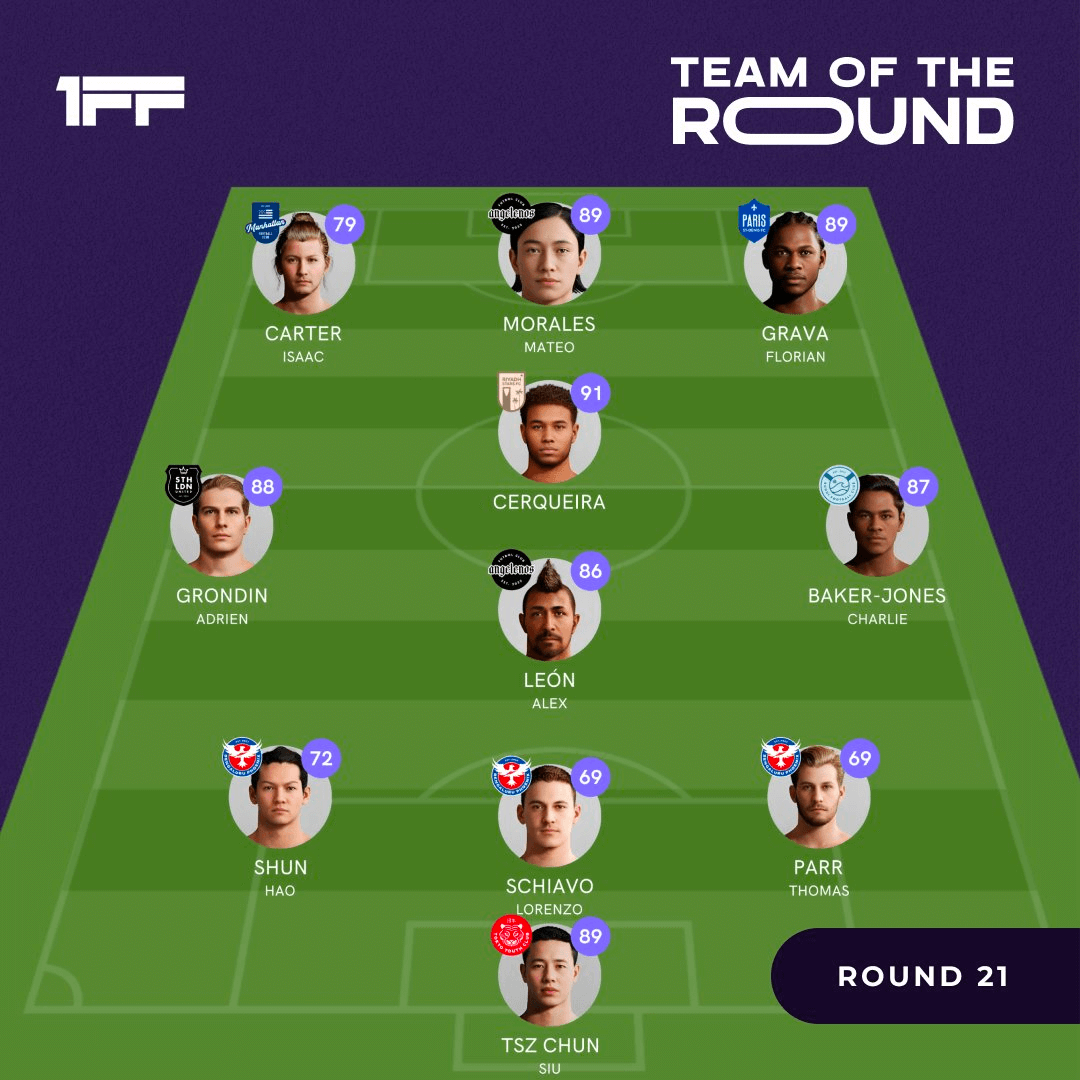 Round 22
A number of teams shuffled their pack and rested players where finals were secured.
Florian Grava played and scored a brace, ranking 94, and 940 1FF Points to everyone who owns a Florian Grava card.
Highly-rated Turkish Centre Back Halil Narin scored an 87 in Riyadh Stars' 4-0 win.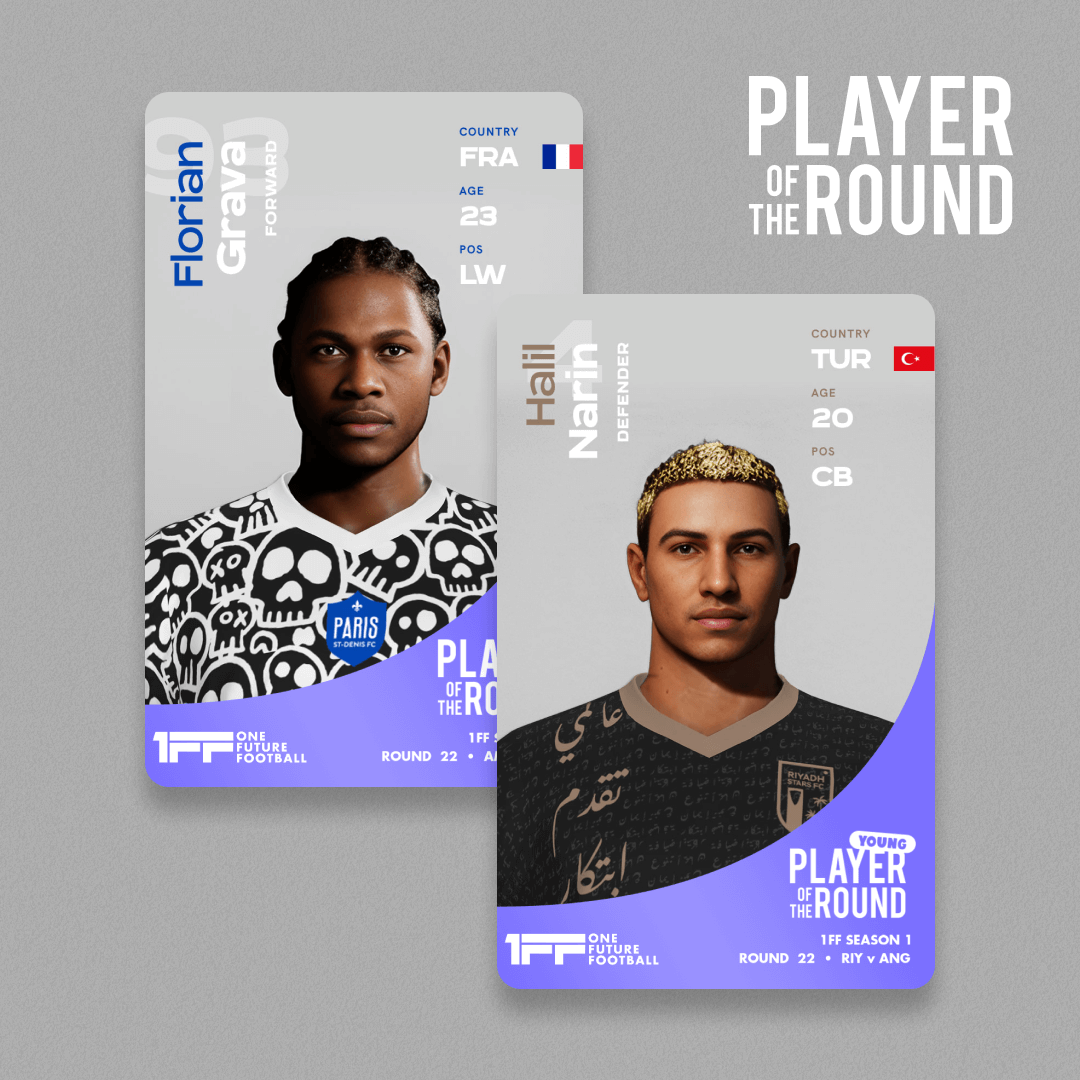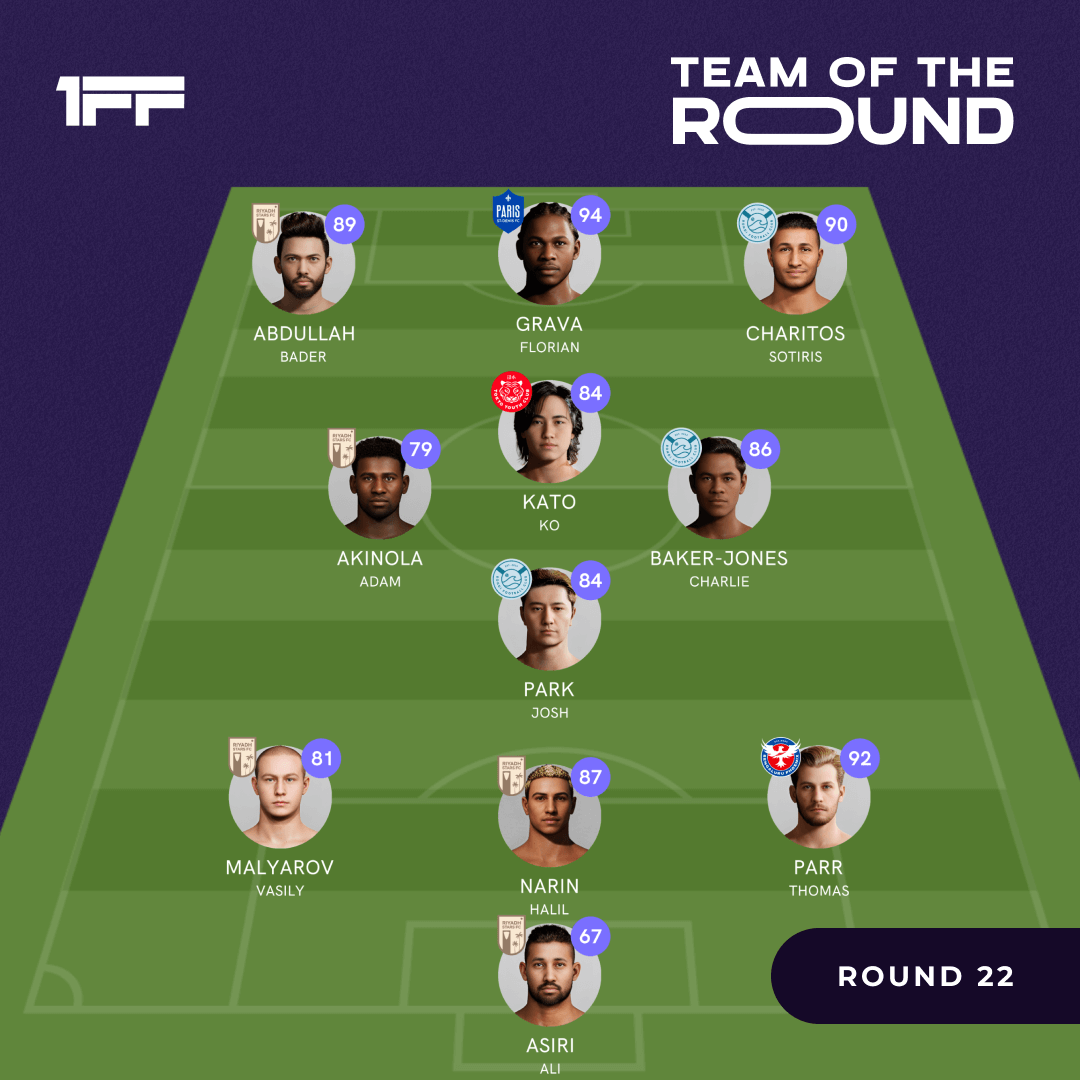 Best Quotes
Jamil Skaik
sees a lot of good in this Riyadh team. Officially the youngest team in the league, a team that will be bolstered by the #2 pick in the upcoming draft.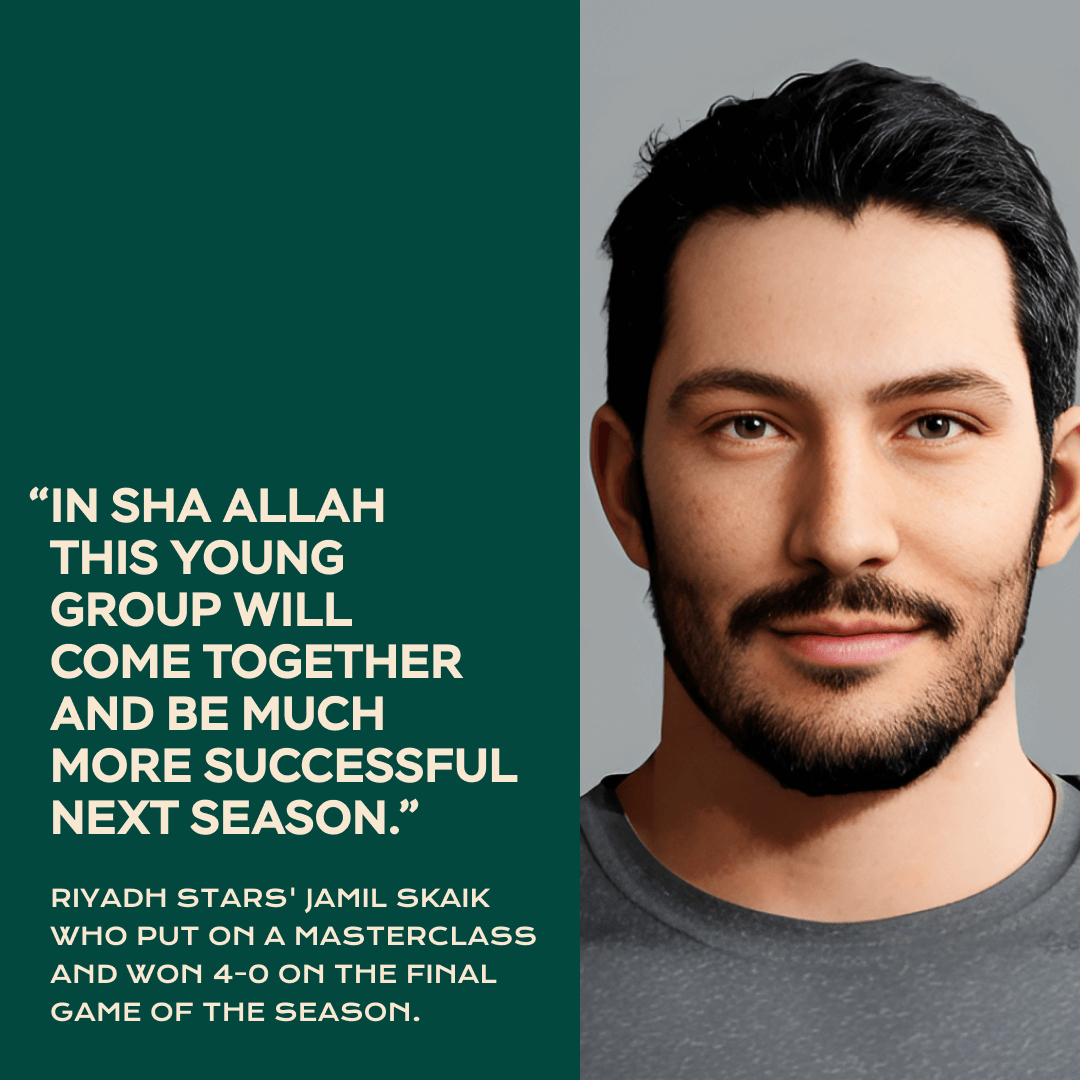 Best Stories
Bas Holsink couldn't resist having a couple of cracks at Ellis Thomas in Inter Nusantara's match against Bondi FC. Including ensuring he clipped Thomas on his unusual path to celebrate his early goal.
📺
Watch the highlights here.
Best Stats
Any hopes from Manhattan FC of an easy run into finals were dashed by Naija United in Round 21, who were in all-out attack mode in the big apple. Naija generated an equal-league-record 51 final third entries, led by Cristian Venditto with 14. They had 22 shots, six more than they had managed in any game this season, but Manhattan FC keeper Pablo Mancinelli kept them in the game, with 12 saves.
CF Brasil Amazônia shared the points with Bengaluru Phoenix in a bruising affair. Amazônia attempted 37 and completed 24 tackles for the game - both league records. Defensive midfielder Ruben Santos led from the front with five completed tackles to go with 45 completed passes and five final third entries.
It was a quiet week in the Golden Boot race with just one goal from the reigning top-three players combined. Top-two Jung Sang-Min (18) from Paris St-Denis FC and Dale Ramos (17) from Manhattan FC were both scoreless, while Inter Nusantara FC's Bas Holsink scored once to go to 16 goals at the end of the regular season.
The Finals Bracket