One Future Football is the world's first global football league. It features 12 new super clubs with 264 new superstar players from 88 countries. Virtual football, real competition. Pick your team and cheer them on - all matches are free-to-view and fans earn team credits every time they watch their team and points every time their players play in matches. Find out more at
1ff.com


The last week saw top-of-the-table clashes, big upsets, and some more clarity of who are teams to beat in 1FF Season 2.


Round 5
All the pressure was on South London United's head coach Alex Davis coming into round 5, as the team headed down under to meet Bondi FC. In Season One Bondi FC built their game on defence, they conceded less goals than any other team but also scored less. This season has been a different story, to quote Lisa Arnoldy, Bondi FC's head coach "It took us until Round 7 to have conceded 2 goals last season, we're already there in Round 2, but it took us until Round 6 to have scored 4".


South London played the bulk of the game against 10 men after Ellis Thomas's second yellow card just 29 minutes into the match and they played with a freedom that has been lacking this season. They won 4-0 with much credit going to Chris Bird who scored twice and was given a rating of 90.


Club Sportivo Palermo kept up winning ways with a 1-0 win over Tokyo Youth Club thanks to an Izan Sabaté goal. Palermo played the last half hour with ten men following a second yellow card for one of their young stars; Leonardo Riveros.


FC Angelenos and Inter Nusantara came into the game second and fourth and shared the points in a cracking 2-2 draw that included a brace for Nusantara's Juozas Butkus and an uncharacteristic penalty miss for Bas Holsink.


Manhattan FC
won in Naija and
Riyadh Stars
secured a hugely impressive 1-0 win over defending champions
Paris St Denis
. The French team offered up very little and The Stars' approach shut them down in every way. The top 5 rated players in this match were all Riyadh players.
Cerquiera's
strike in the 31st minute was the difference. The Brazilian is now the second-highest-ranked player in 1FF this season.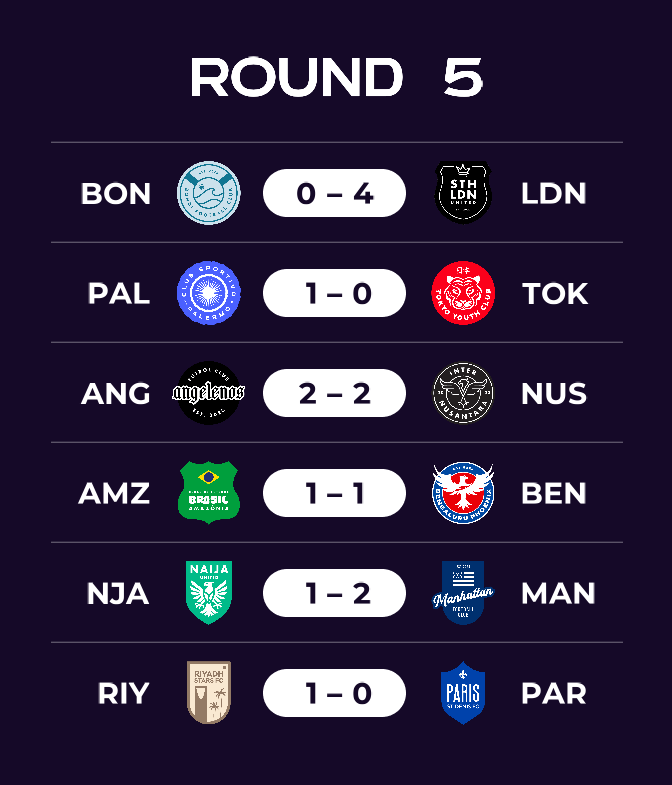 Round 6
Brasil Amazonia, Paris St Denis, Manhattan FC, and FC Angelenos were all winners in Round 6. All will be confident of being a part of the finals series come the end of the season. Each winning team had forwards scoring twice as the round saw an incredible 27 goals in 6 matches.


Jose Alcantar scored twice as Manhattan made it four wins in a row. Jung Sang-Min and Florian Grava also got two each in St Denis' 4-2 win over Bengaluru Phoenix. Andrea Olivieri scored 2 in Amazonia's win over Tokyo and Mateo Morales scored 2 in LA's 3-2 win over Bondi.


The big game was in Indonesia as top-of-the-table
CS Palermo
made their way to second-placed
Inter Nusantara
and were humbled 4-1. only a 97th-minute consolation goal for
Pepe Muniz
put any positive spin on the drubbing.
Butkus
got two more following two goals in Round 5, and
Segara Biru
and
Bas Holsink
got the others. All three Nusantara players sit in the top 5 of the golden boot race, behind only
Albin Dahlin
of
FC Angelenos
and
Florian Grava
of
Paris St Denis
.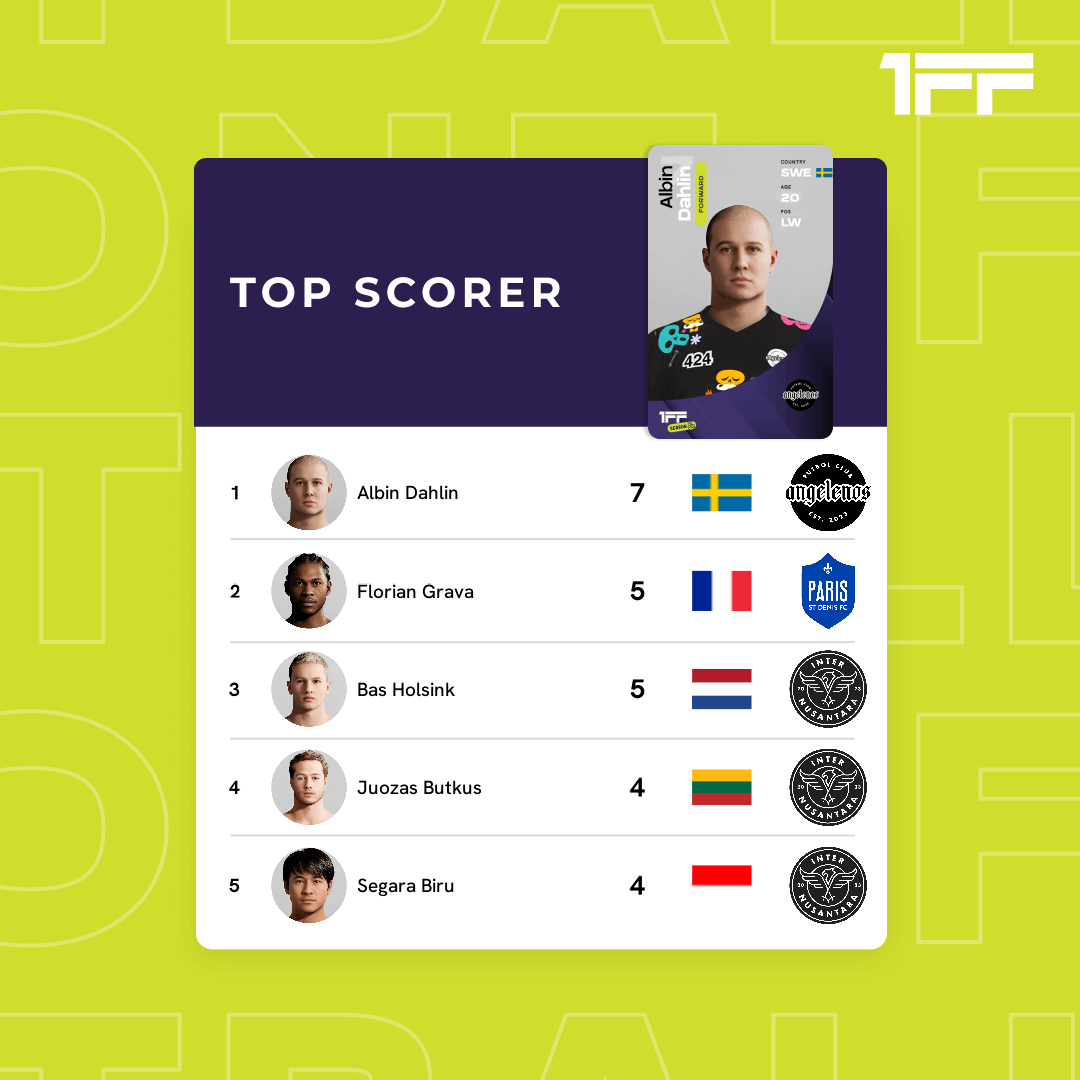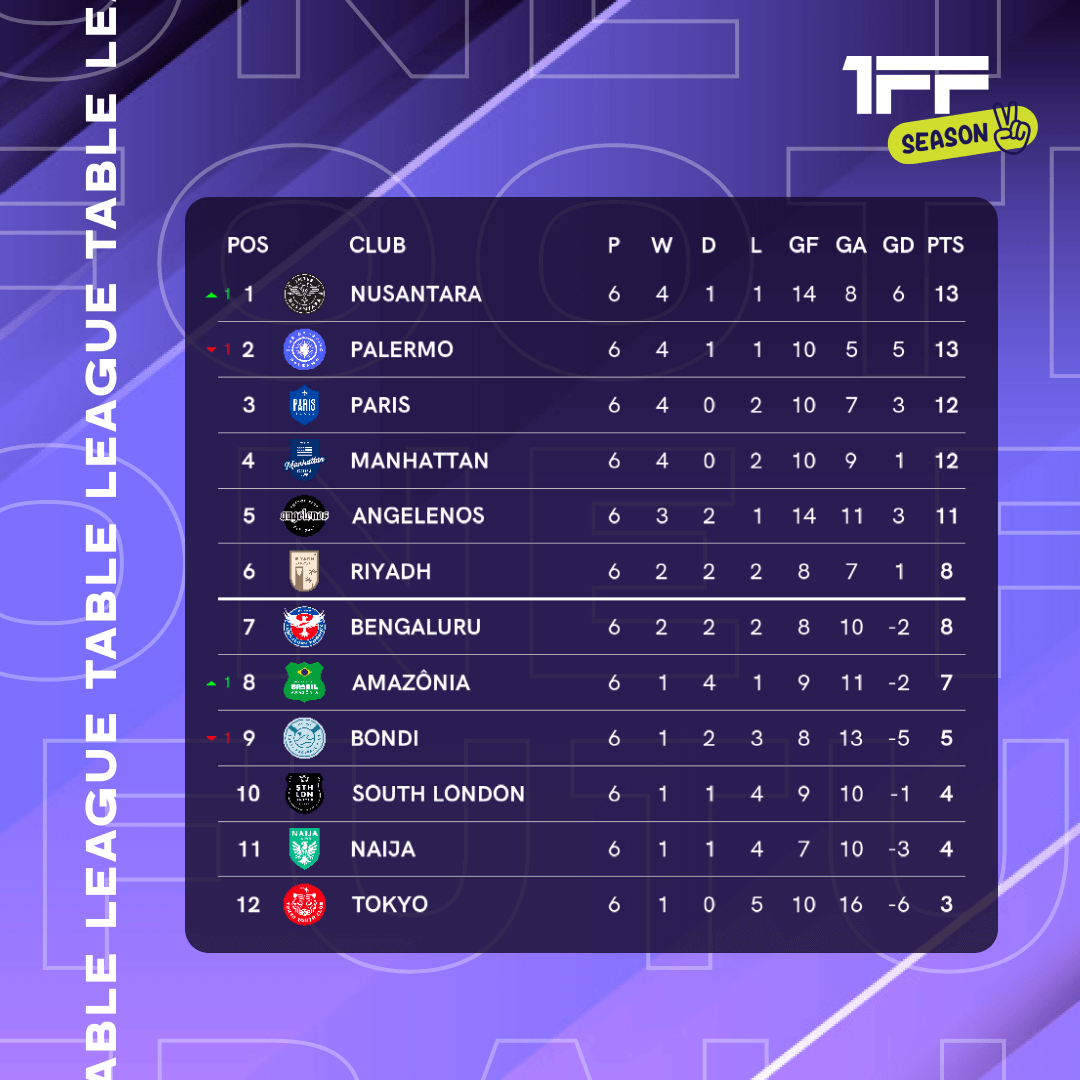 Game of the week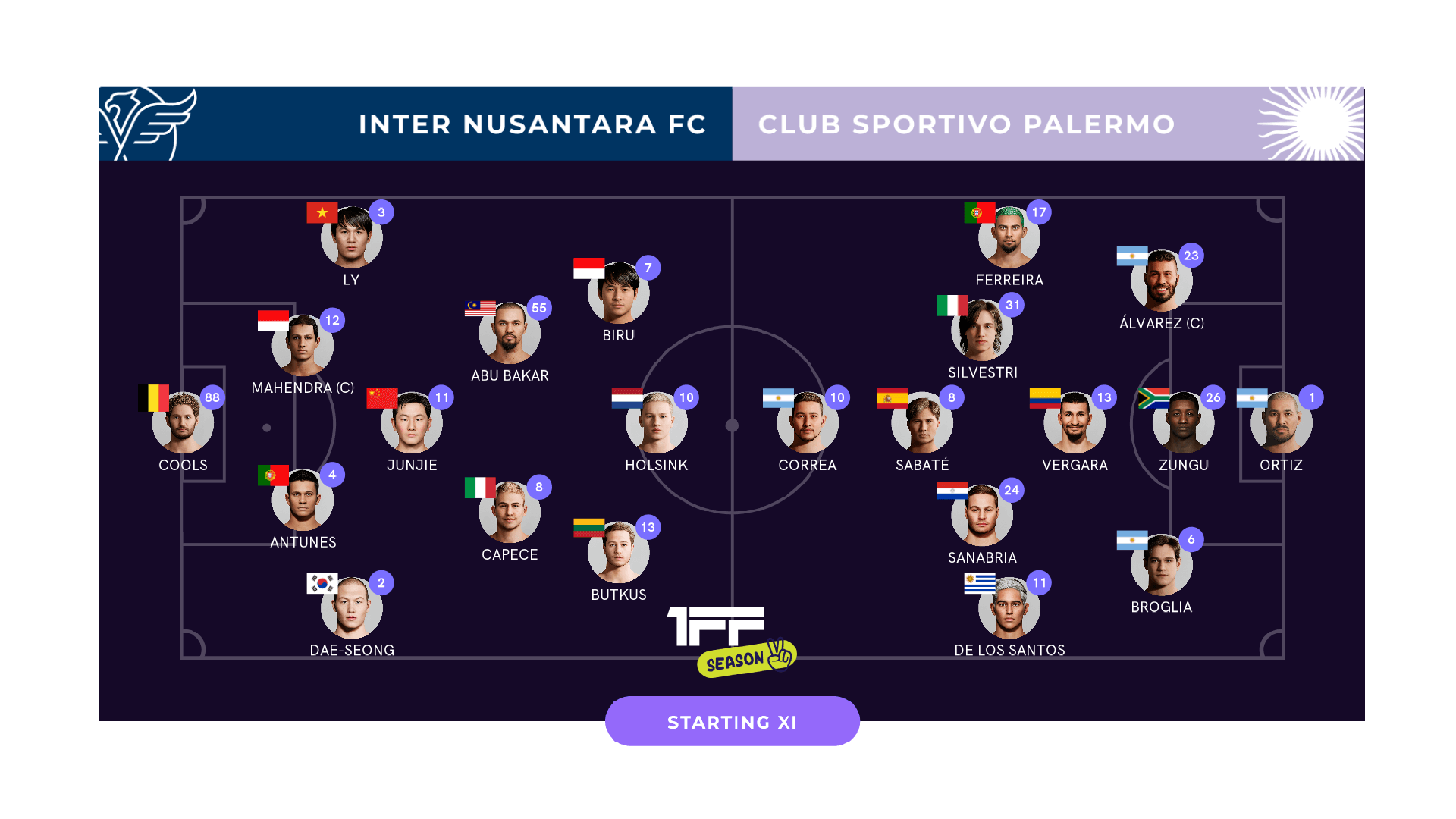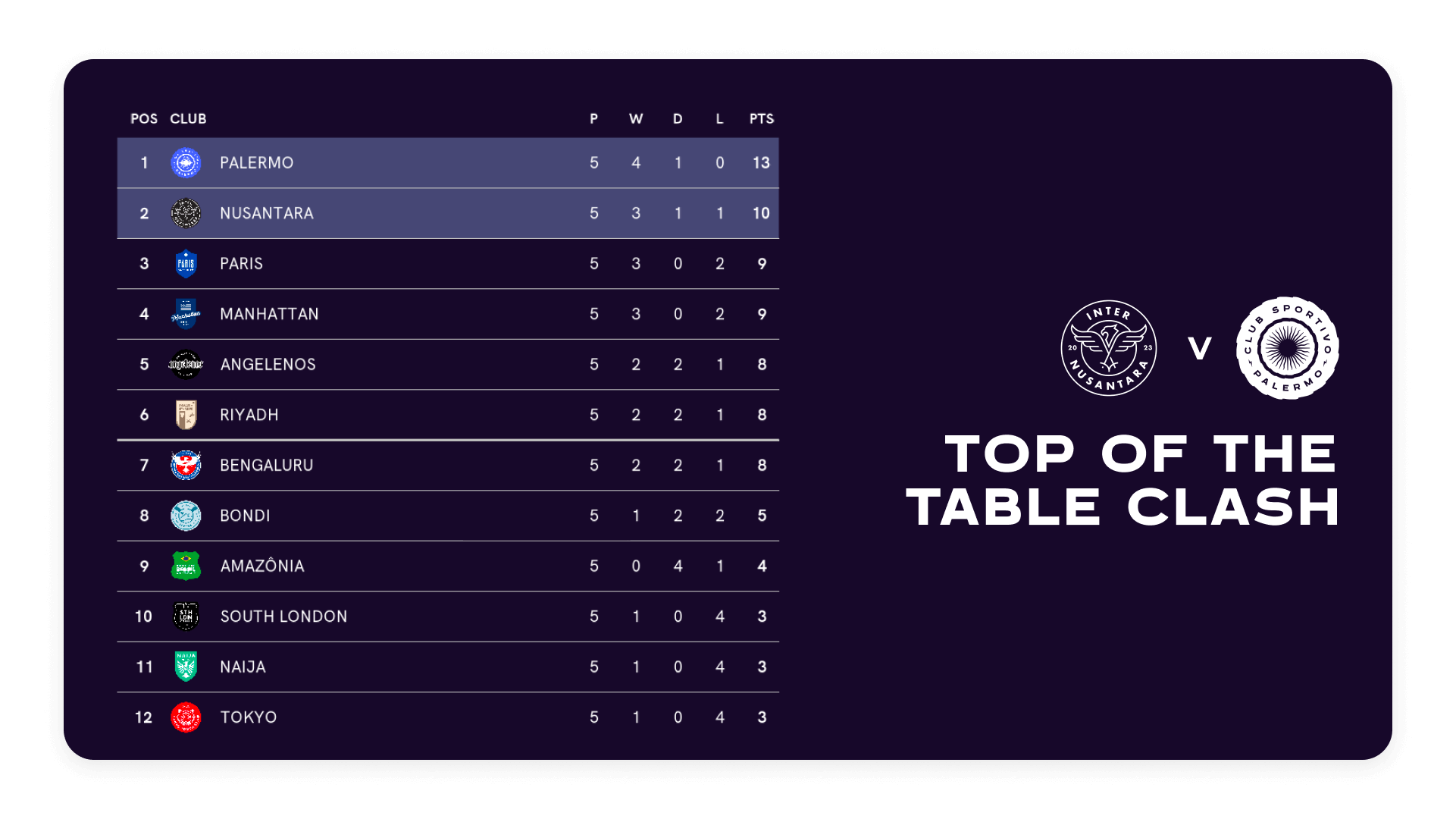 It's already looking like a possible Final in a couple of months time. Two youthful, passionately supported clubs.
Watch the 8-minute highlights here
.
Goals of the Round

Mexican striker Mateo Morales of FC Angelenos scored the best goal of Round 6.

Highest-Rated Players
Round 5
A Manhattan double, English left-sided forward Isaac Carter who was given a 93 rating, and Uruguayan Midfielder Mathias Ramíres.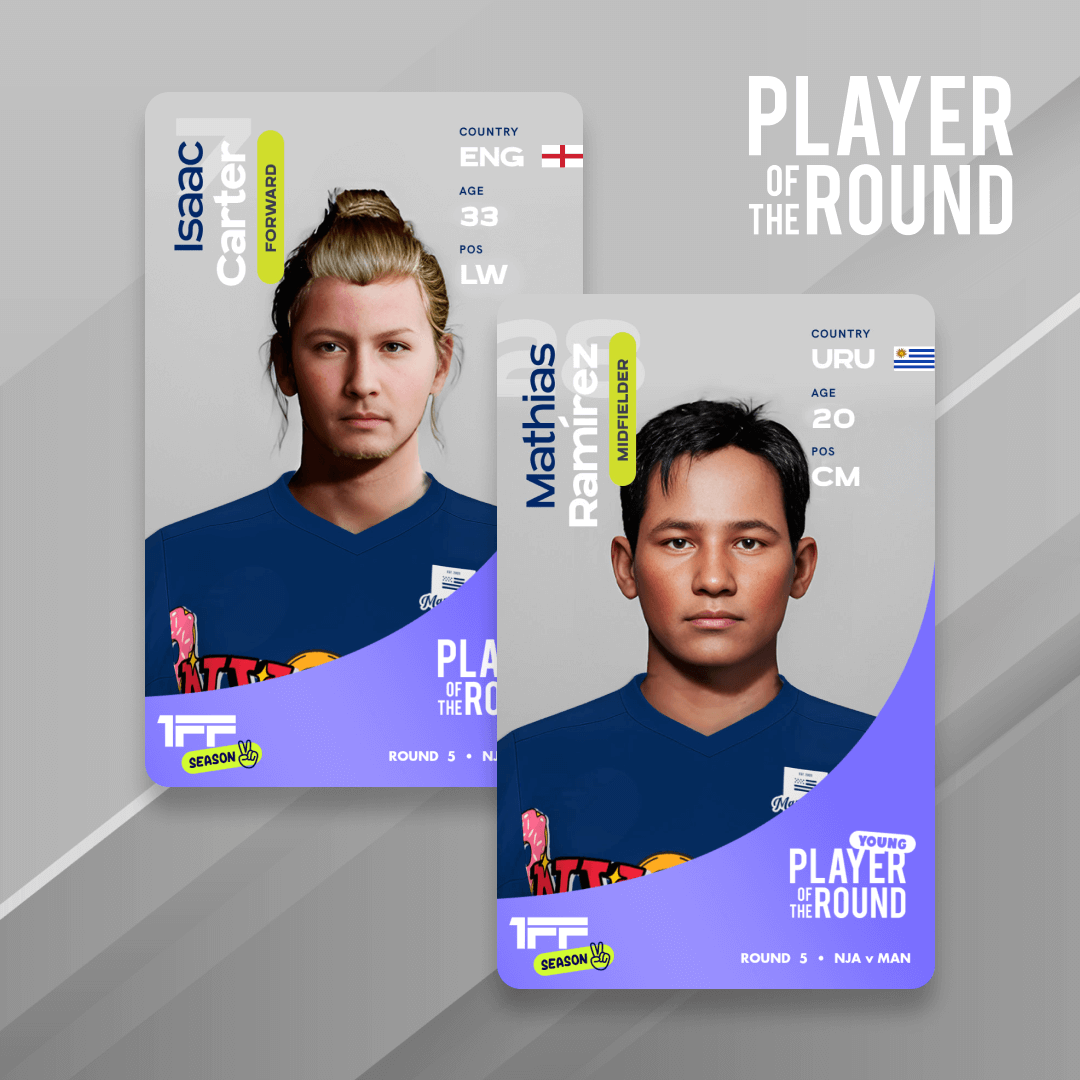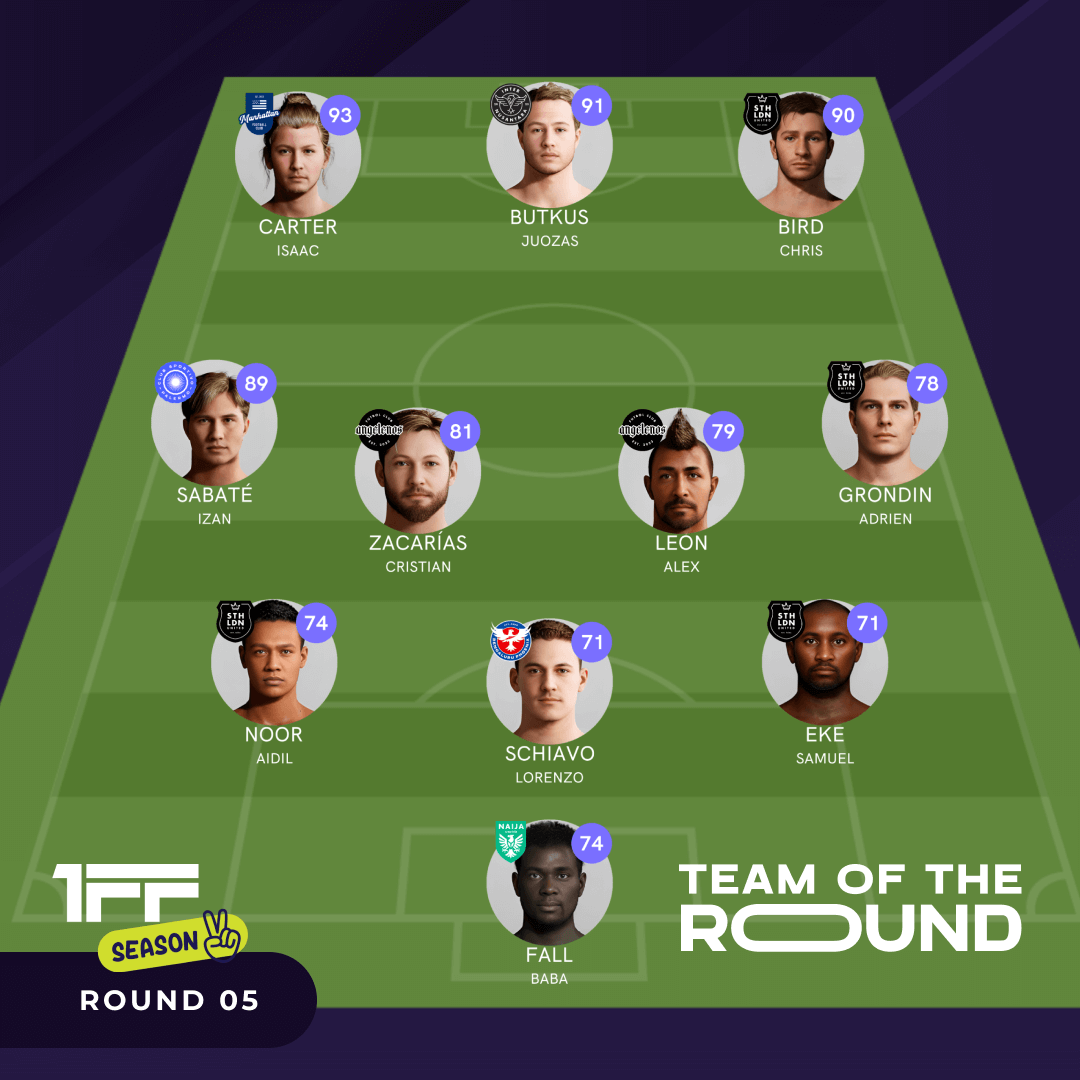 Round 6
A 95 for Andrea Olivieri and Ichira Oba is in the team of the week with an 88. Incredible for the rookie.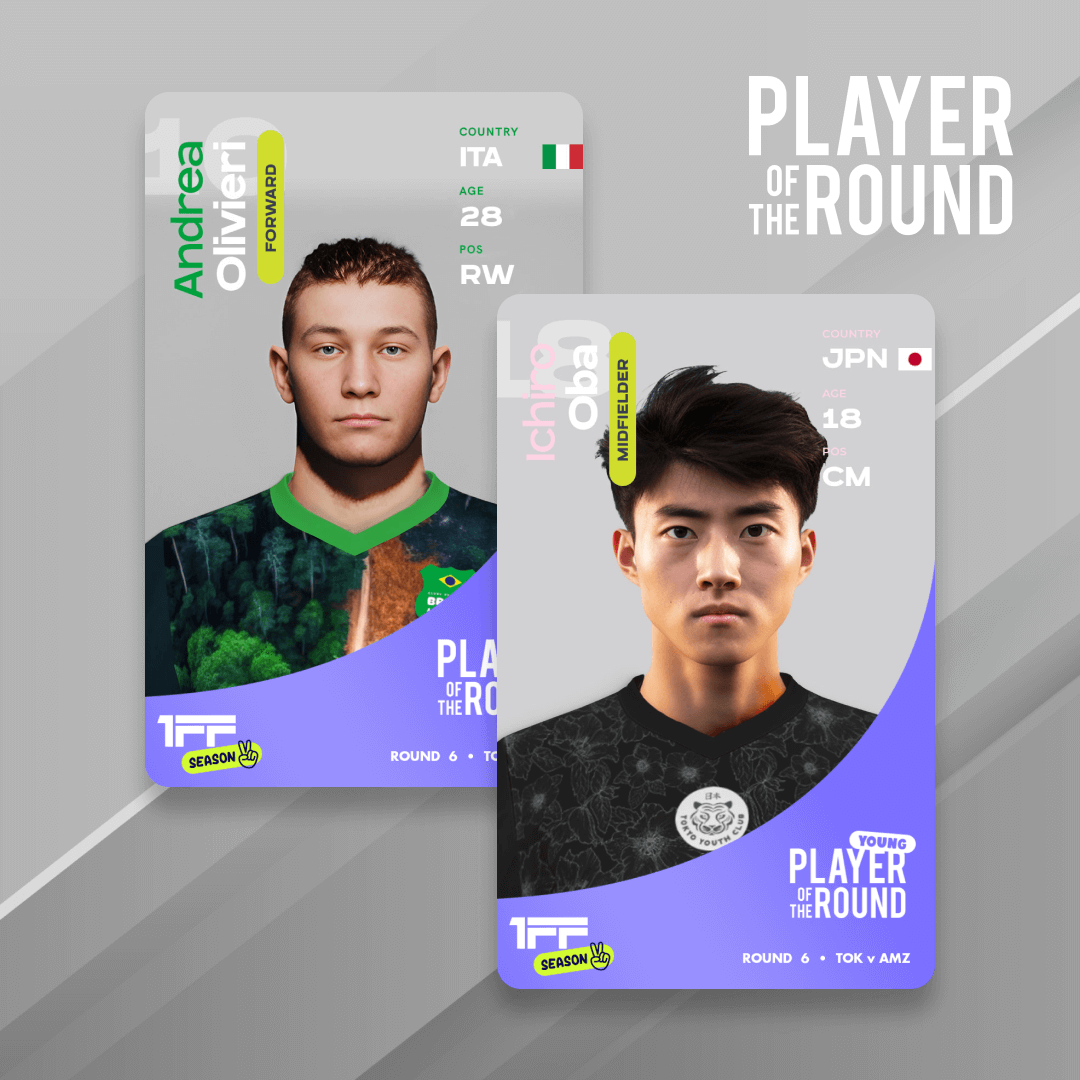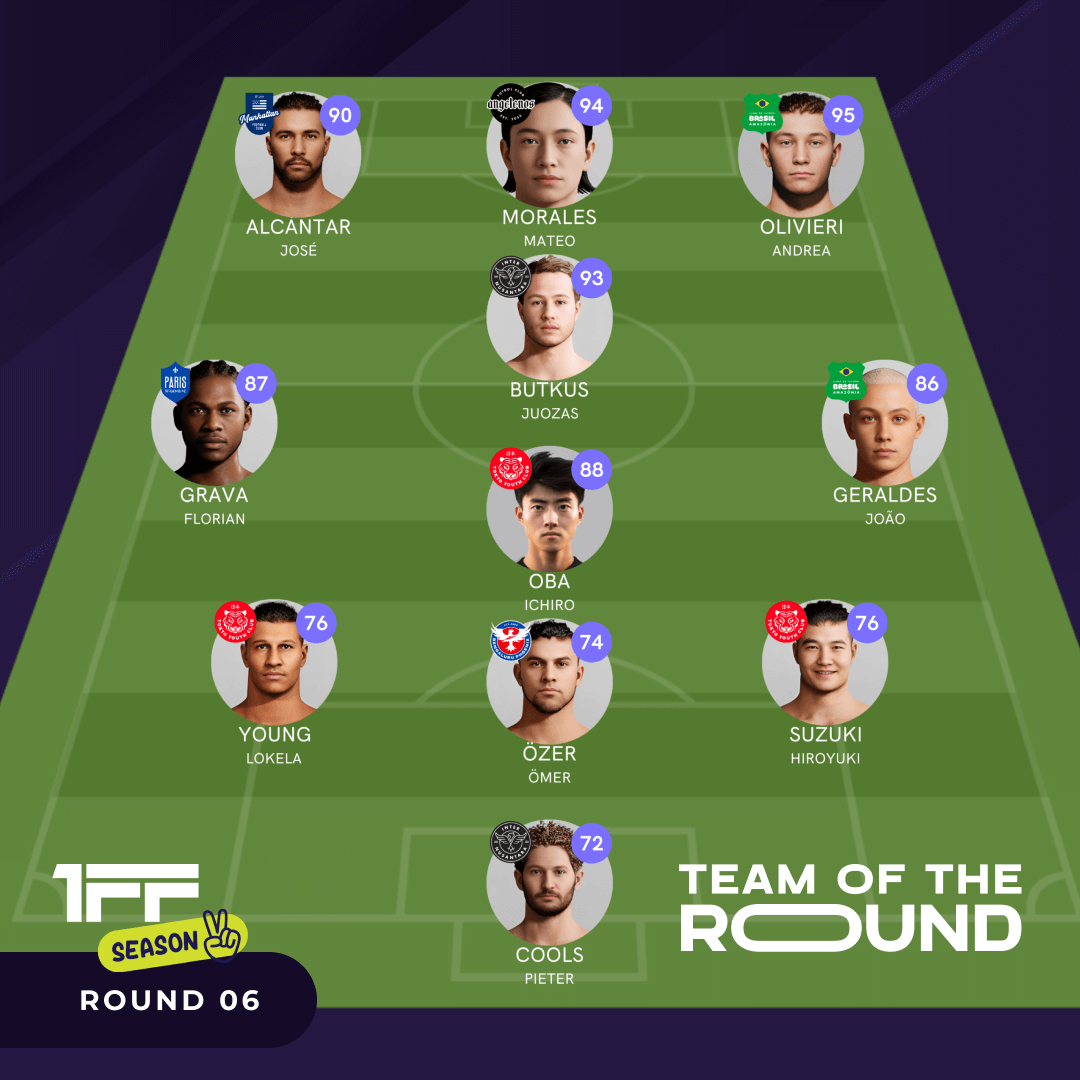 Best Quotes
Bas Holsink enjoyed the win over Palermo and reclaimed some status.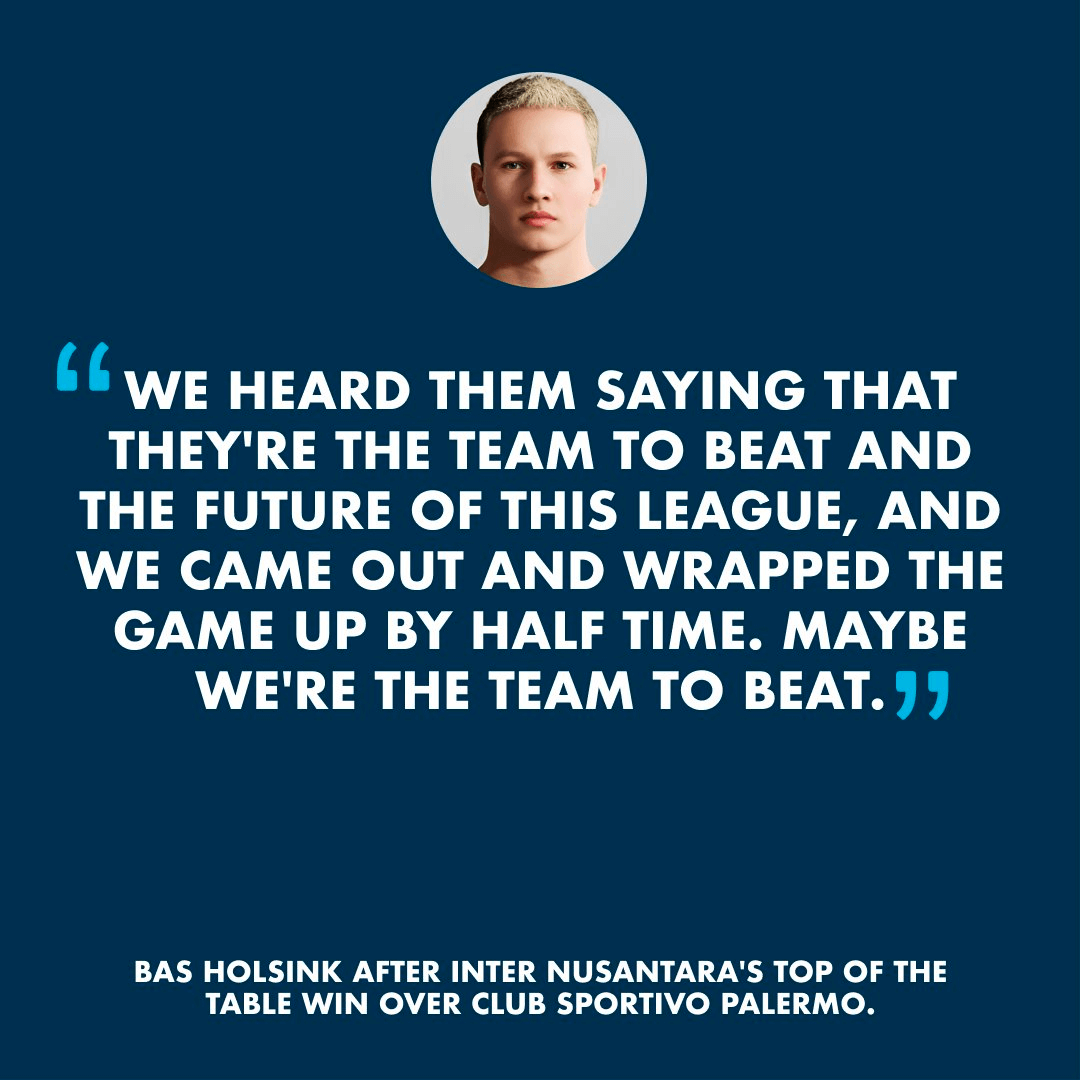 Best Stories
An interesting week for Jose Alcantar. Firstly rumours of a row with Head Coach Lewis Campbell.
Campbell goes on the record to say that he's suffered a knock in training and is a doubt.

Then Campbell tackles it a little more head-on.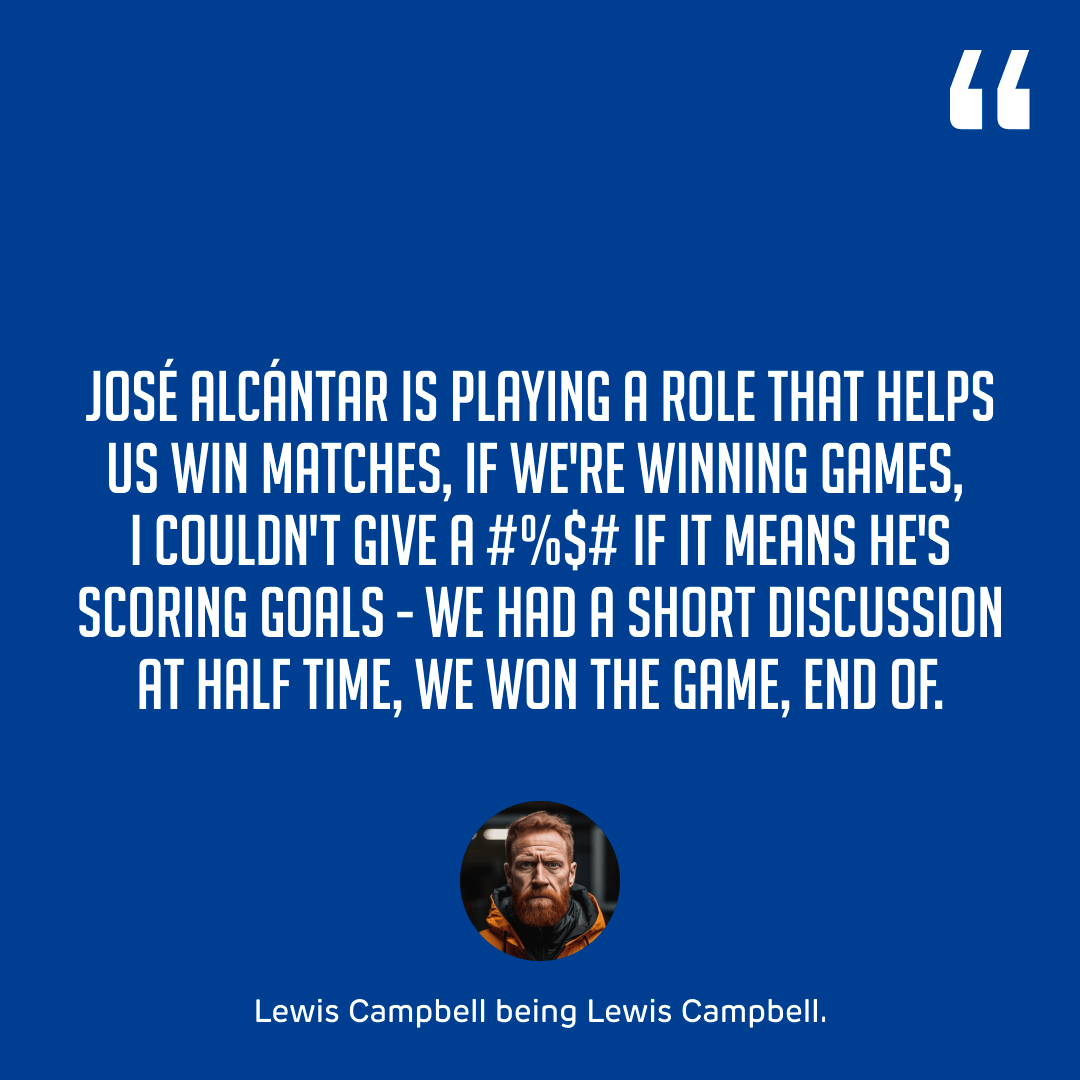 And then in Round 6, Jose finds his groove and scores an impressive double, is given a 90 rating, and gets into Team of the Week.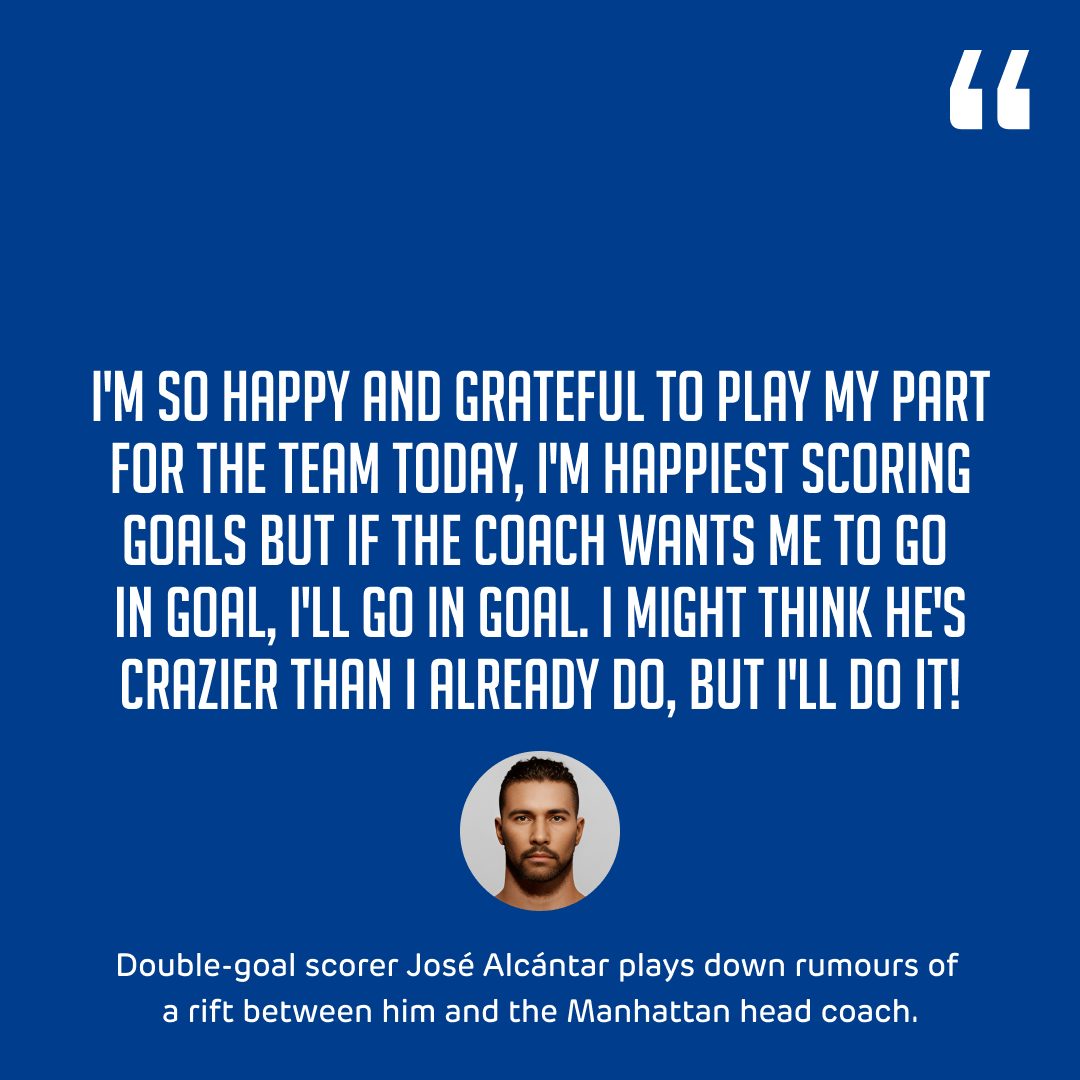 Best Stats
Siu Tsz Chun the Tokyo Youth Club's keeper scored more rating points than any other Goalkeeper in Season One and had a per90 rating of 65.4. This season he is last of all, with a per90 rating of just 45.5.
Round 6 saw 27 goals scored. This is the highest-ever goal tally for a round, tied with Round 4 of Season One. Round 7 last season saw just 14 goals, the lowest on record.
Albin Dahlin's goal in Round 6 was vital in a 3-2 win, it was his 7th goal of the season, from an xG of just 3.1.

Fantasy
1FF Fantasy is live and free to play.
The best possible team in Round 5 - what a performance from Isaac Carter of Manhattan FC.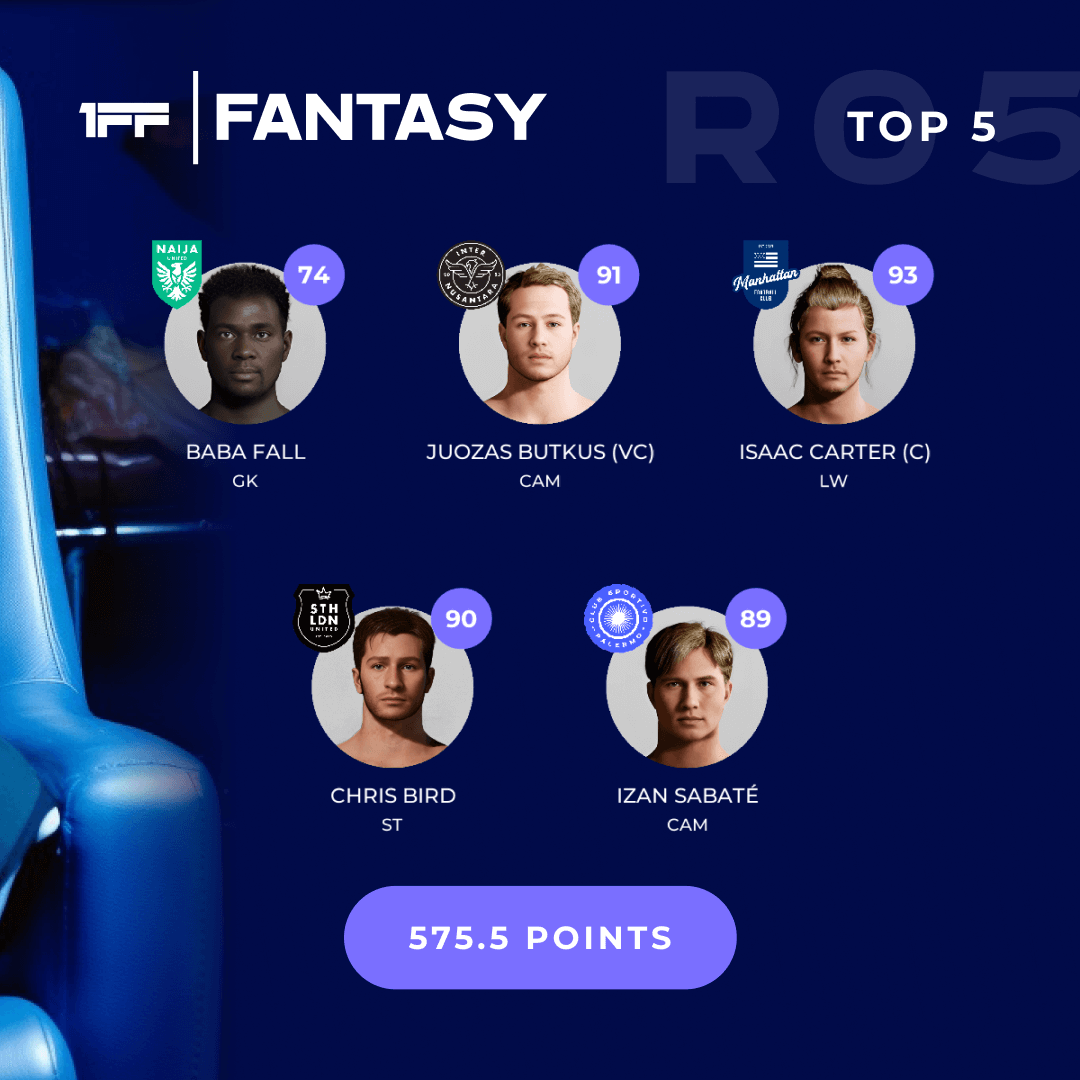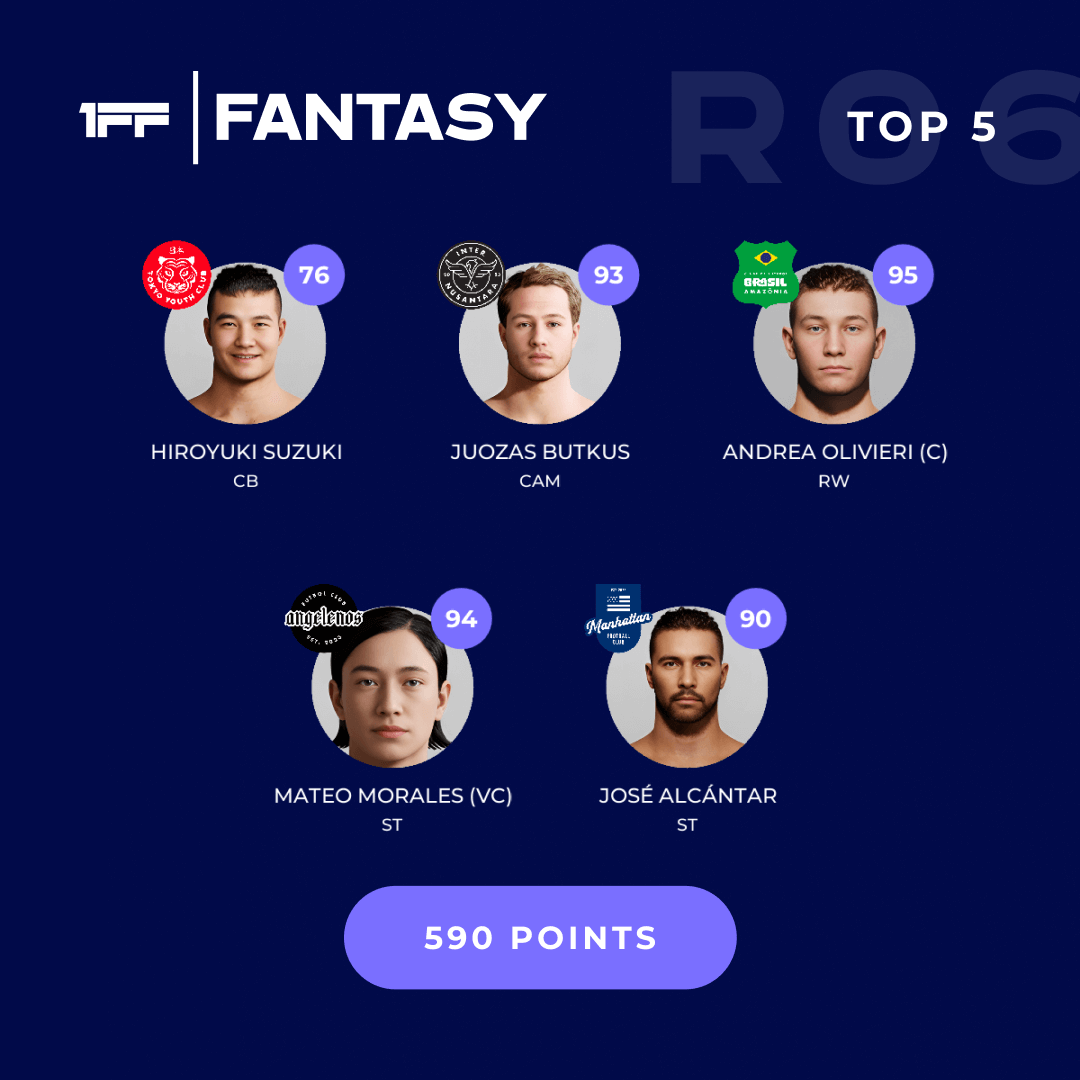 The Round ahead