One Future Football is the world's first global football league. It features 12 new super clubs with 264 new superstar players from 88 countries. Virtual football, real competition. Pick your team and cheer them on - all matches are free-to-view and fans earn team credits every time they watch their team and points every time their players play in matches. Find out more at
1ff.com


The last week saw top-of-the-table clashes, big upsets, and some more clarity of who are teams to beat in 1FF Season 2.


Round 7
Round 7 saw one huge upset, some expected wins, a classic between two of the most exciting sides in 1FF, and a bore draw.
Brazil Amazônia and South London United played out a match that was almost brought alive in the 97th minute as Amazônia broke and looked to be in on goal. In the most professional way Joey Tesselaar, Centre Back for South London stopped the attack and saw red. The game ended 0-0.
Table-topping Inter Nusantara won 2-1 in Riyadh, FC Angelenos won 3-0 in Naija and Manhattan FC won 1-0 in Bondi.
Bengaluru Phoenix and Club Sportivo Palermo played out a classic in India, the young visitors going 2-0 up early thanks to goals from Bernardo De Los Santos and Pablo Burgeuño. Bengaluru hit back late in the first half through So Sung-Chul but couldn't break through again and Palermo boosted their reputation as the most exciting team in the competition with a 2-1 win.
Which leaves a big shock. Ko Kato missed an extra-time penalty in the Season One Semi-Finals that
Tokyo Youth Club
eventually lost to
Paris St Denis,
but this time made no mistake from the spot, slotting home the opener for the visitors in the 35th minute. St Denis pushed but had no answer and eventually conceded a second in the 95th minute, from substitute
Kôsuke Maeda
. Tokyo climbed off the bottom of the table with the 2-0 win.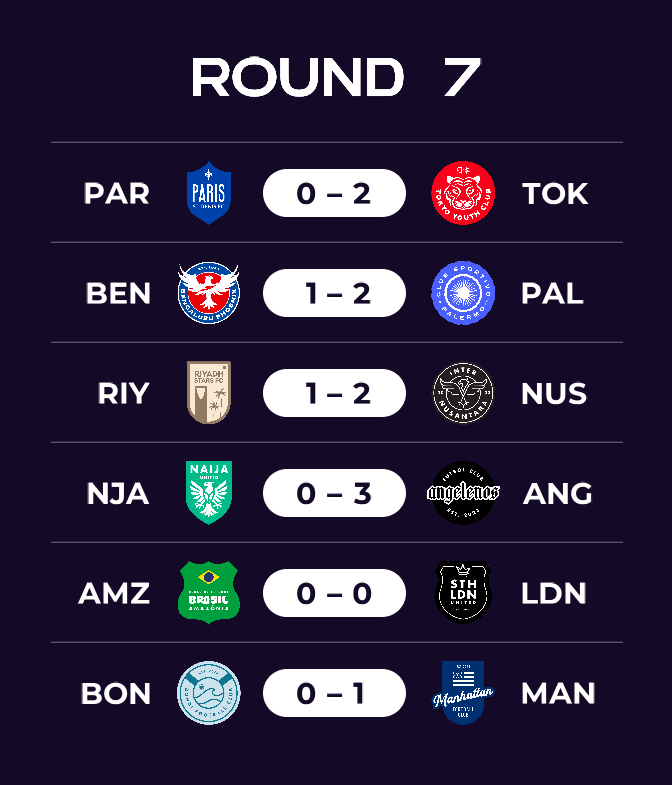 Round 8
Tokyo's joy was short-lived, going down 5-1 at home to a rampant Riyadh Stars. Alex Aquino was given a ranking of 98, the highest of the season so far. Riyadh is starting to click.
Manhattan FC secured their 6th straight win, all by a single goal thanks to José Alcantar's first half goal. The Empire is playing well and faces high-flying Club Sportivo Palermo next. Palermo themselves went down in a 1-0 shock home loss against South London United. Ruben Sinclair set up Chris Bird for his fourth goal of the season.
Paris St Denis got back to winning ways in LA, 1-0 over FC Angelenos. Bengaluru Phoenix beat Bondi FC 2-1 thanks to a 93rd minute winner from Emmanuel Fargues who had been on the pitch for less than 5 minutes.
And finally, league leaders
Inter Nusantara
went 2-0 up early at home to the struggling
Naija United
before
Charles Ogude
scored twice to level it.
Segara Biru
then popped up in the 96th minute to break Naija's heart.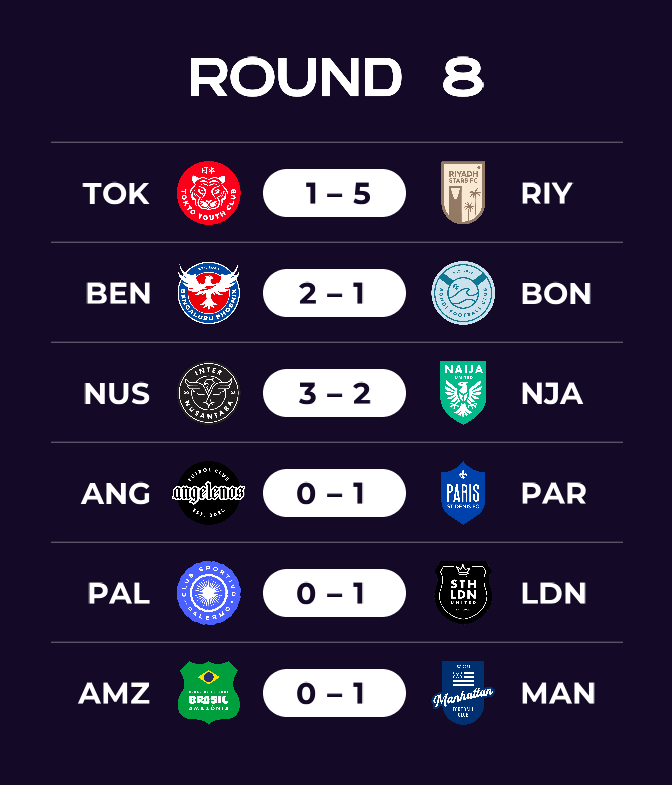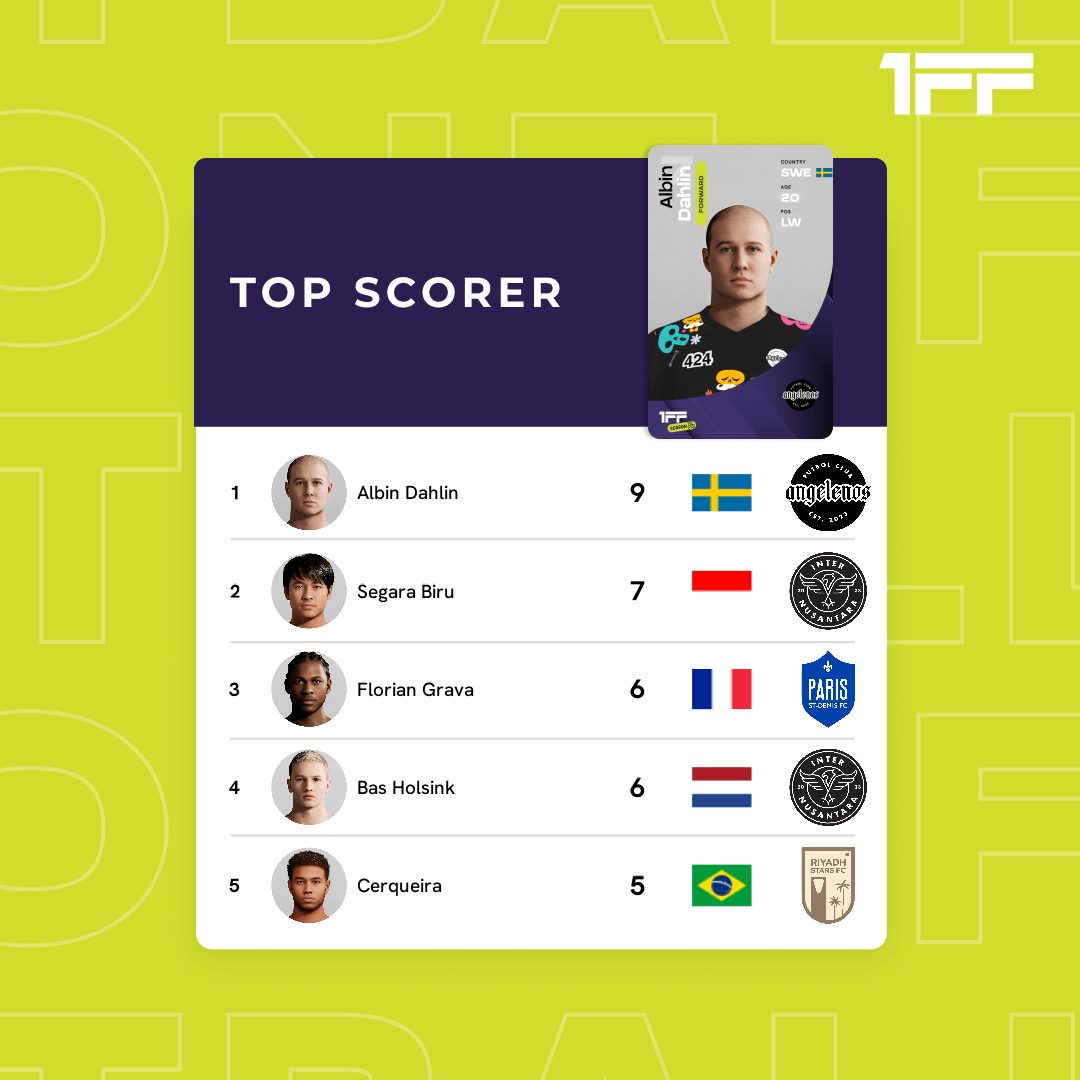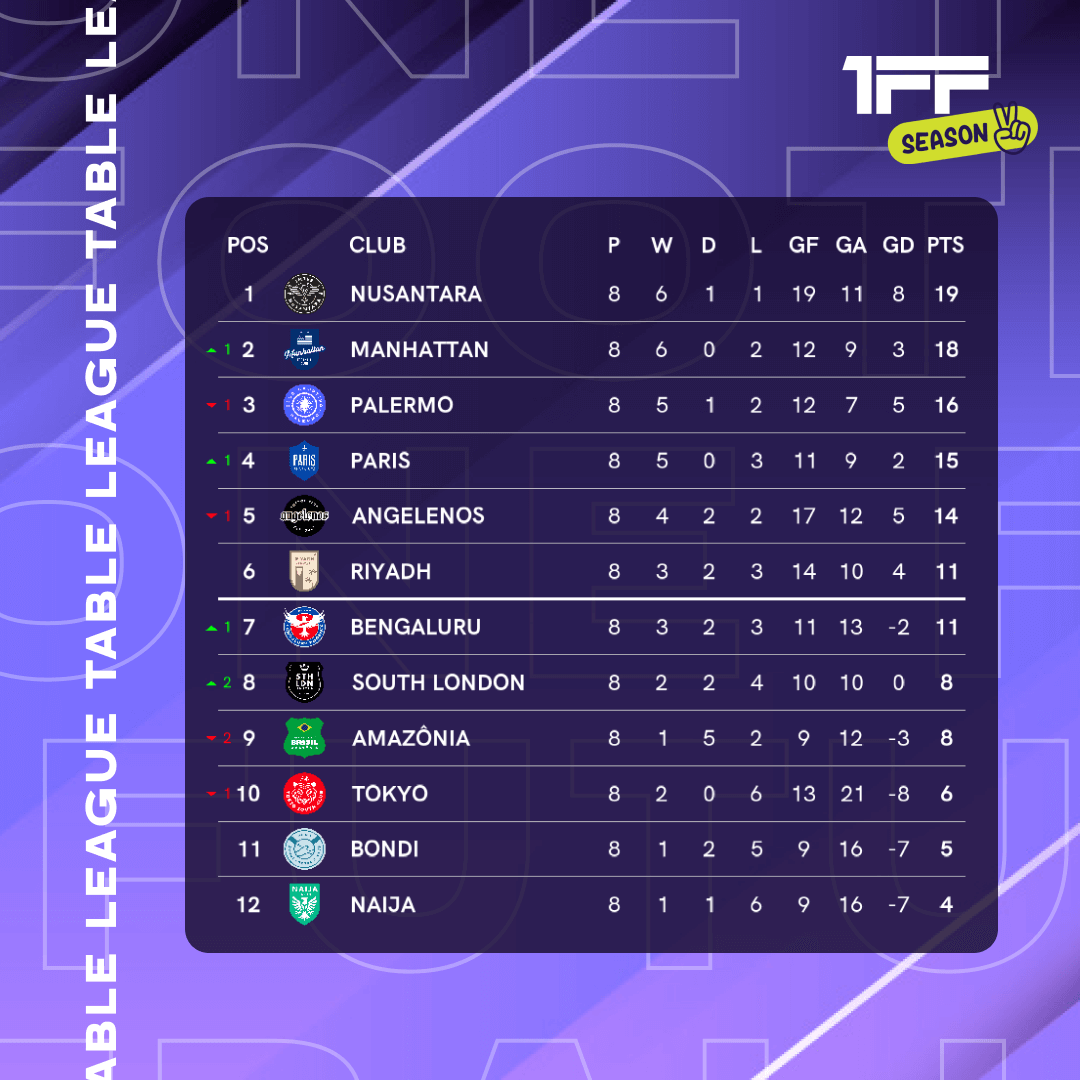 Game of the week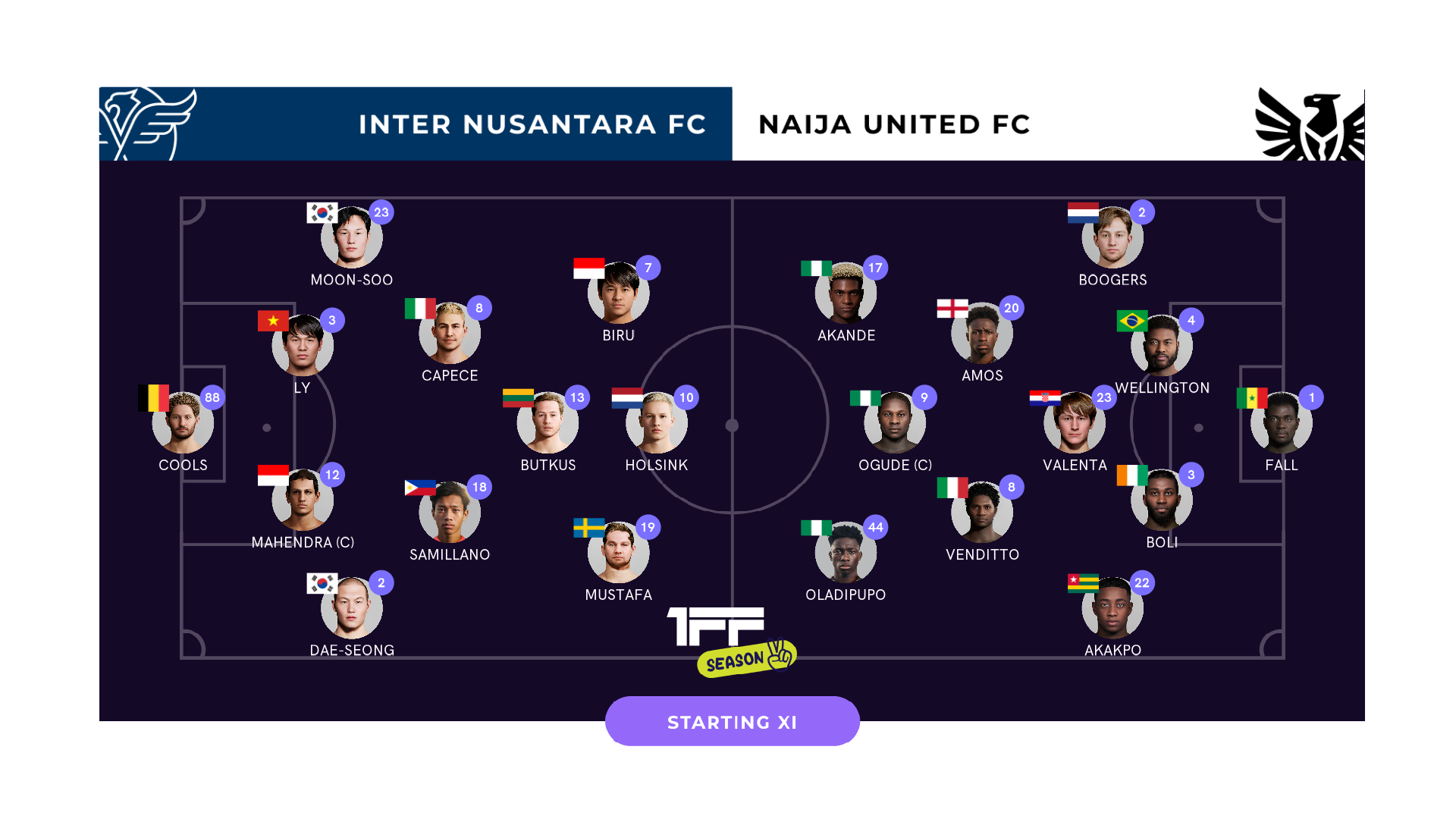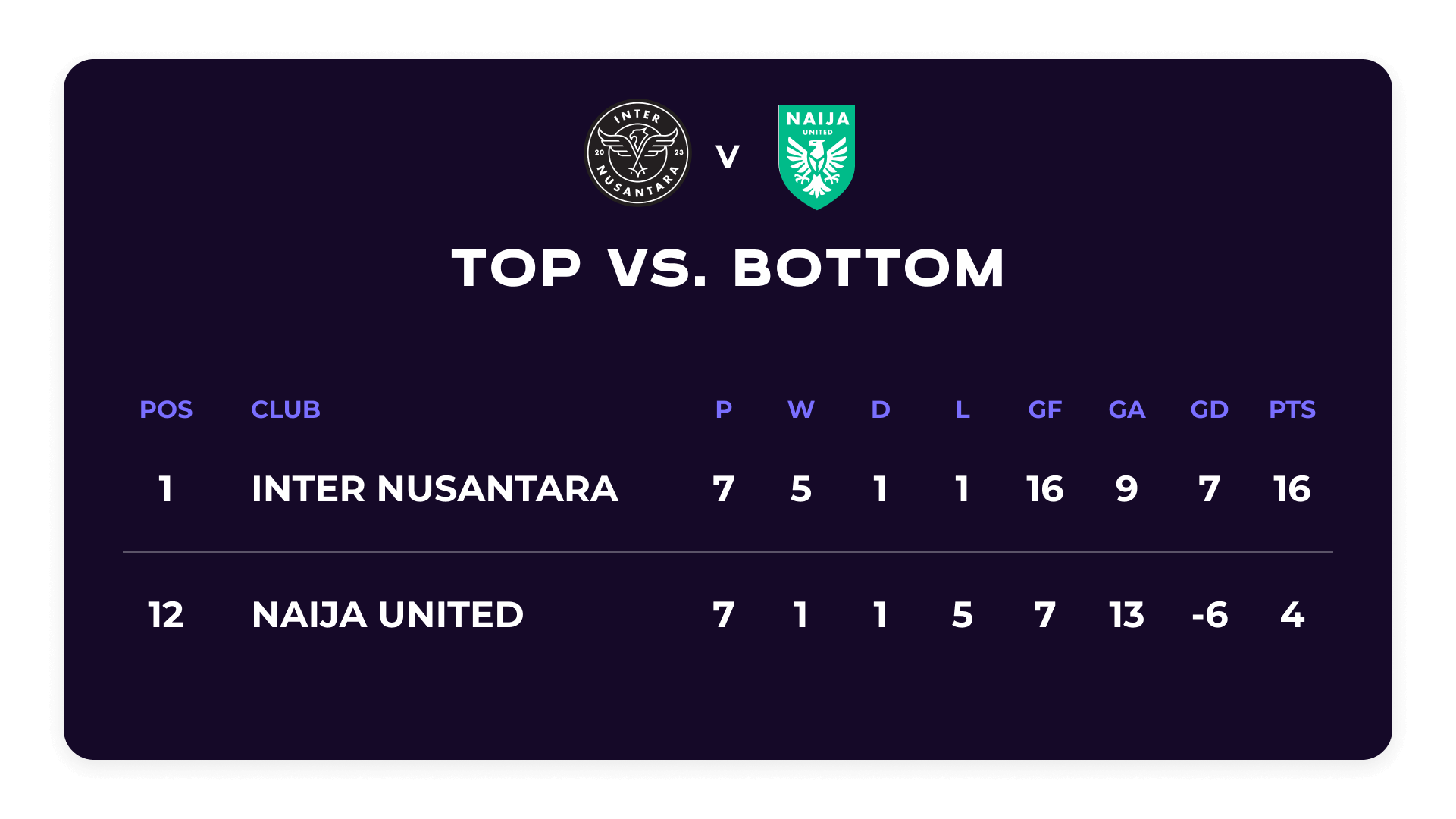 An unexpected classic between top and bottom.
Watch the action here
.
Goal of the Week
Round 7
Albin Dahlin
scored another two goals, his 8th and 9th of the season in a win over Naija United, and the 20-year-old was given a ranking score of 92.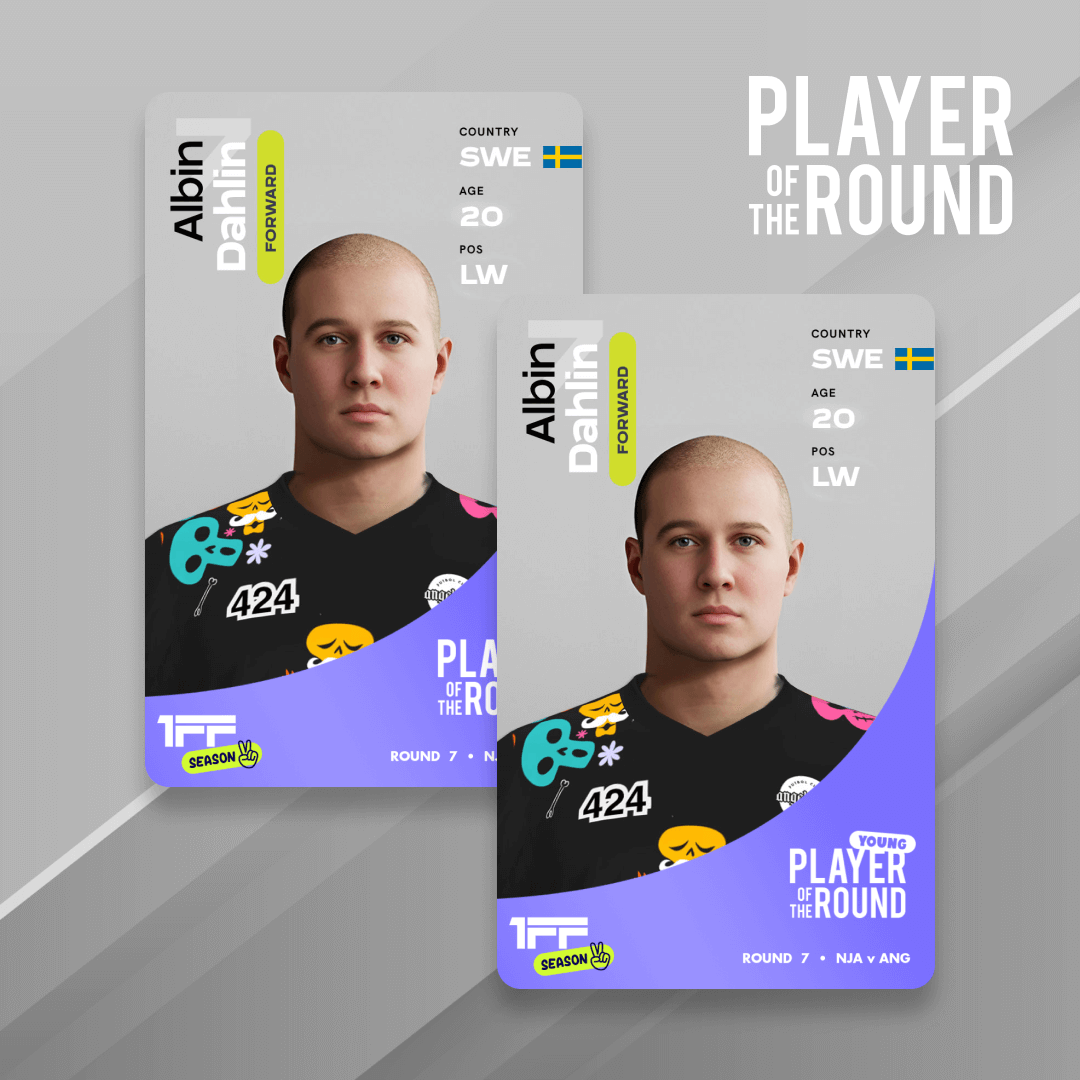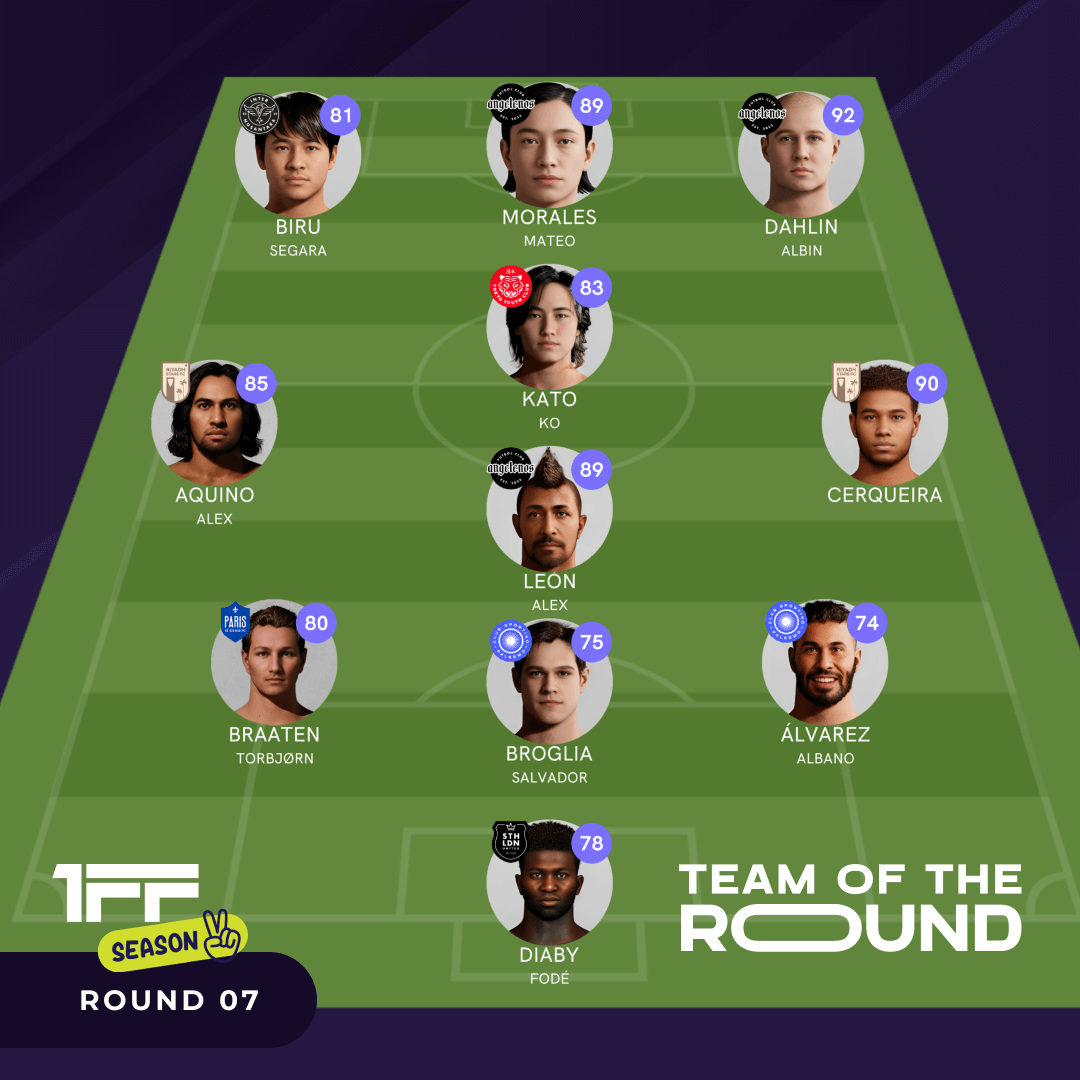 Round 8
Alex Aquino
put in one of the best performances of the season so far, scoring a 98 in Riyadh Star's 5-1 win. They beat Tokyo Youth Club for whom goalsocrer
Ko Kato
picks up the Young player of the Round award.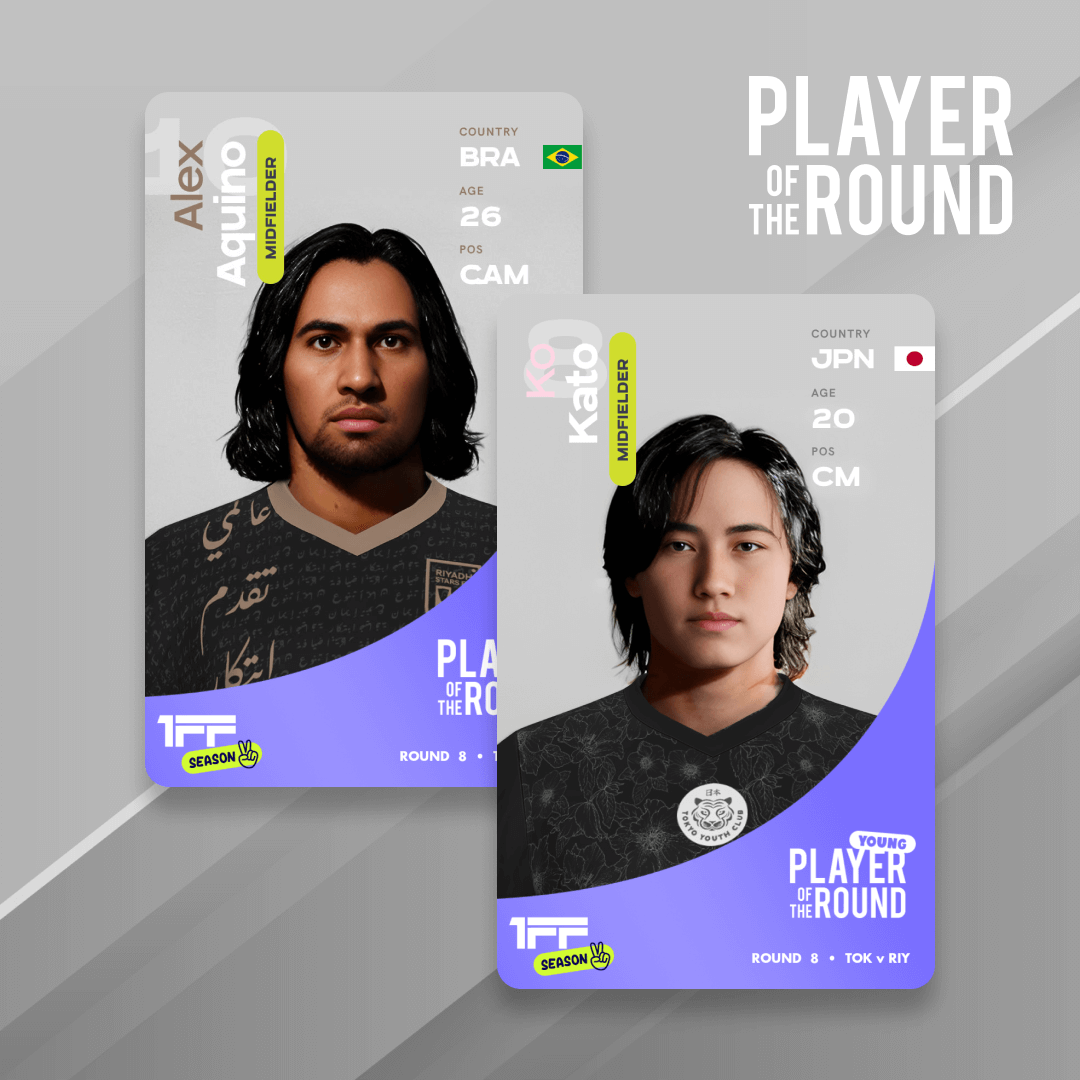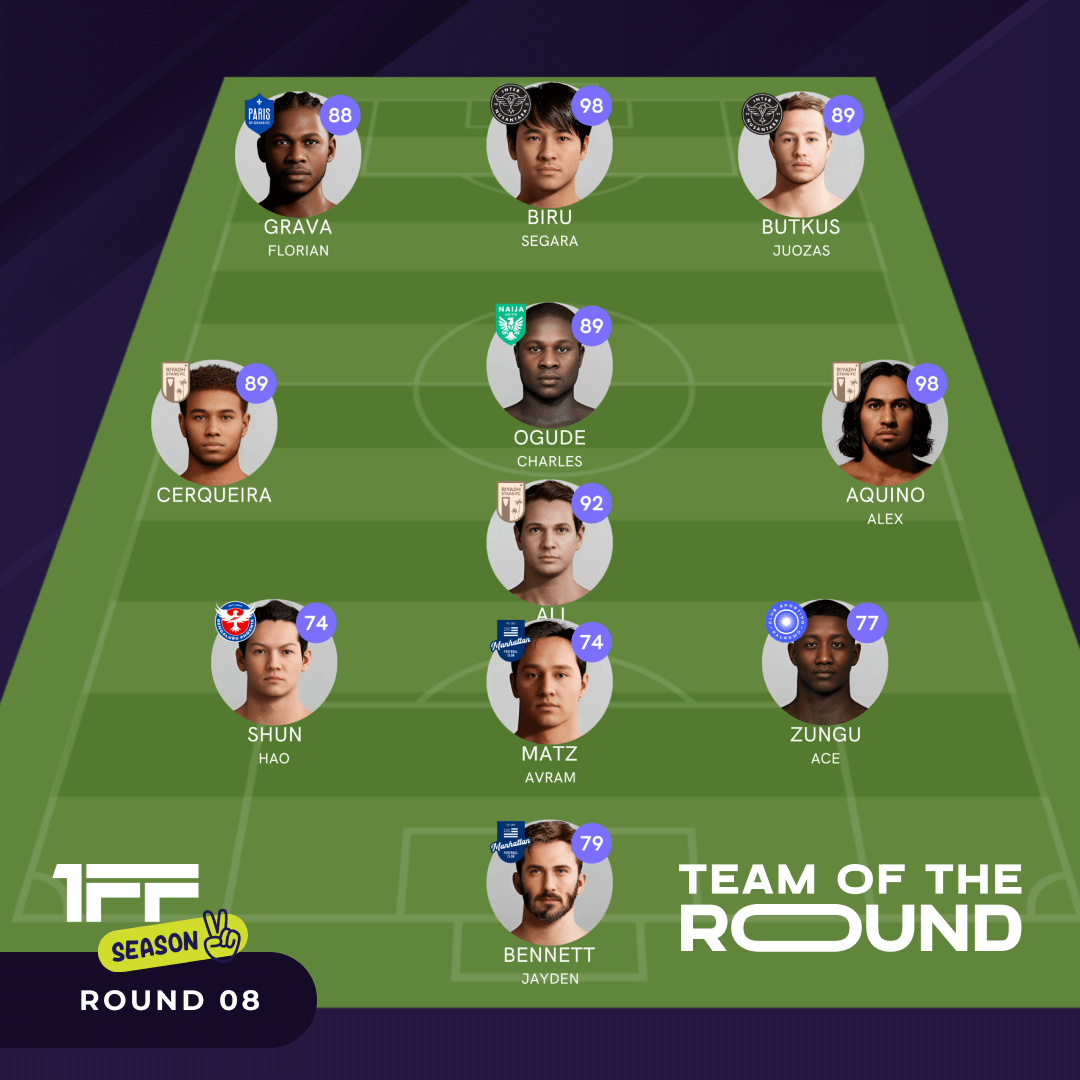 Best Quotes
Dani Viana reacting to Joey Tesselaar's professional foul that prevented Brasil Amazônia having a goalscoring opportunity in the 96th minute.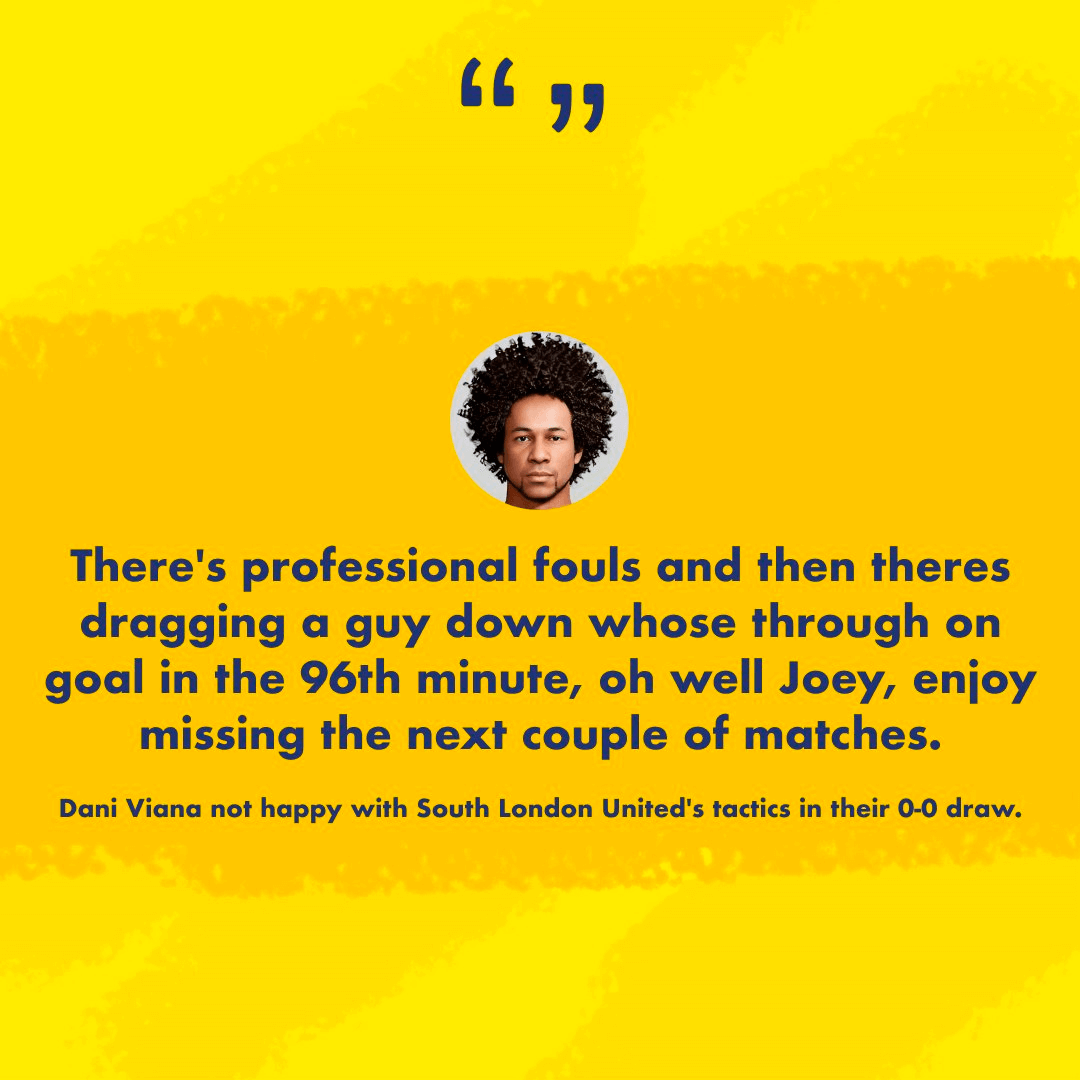 Best Stories
Ko Kato is growing tired of the approach at Tokyo Youth Club, will this lead to change in Japan?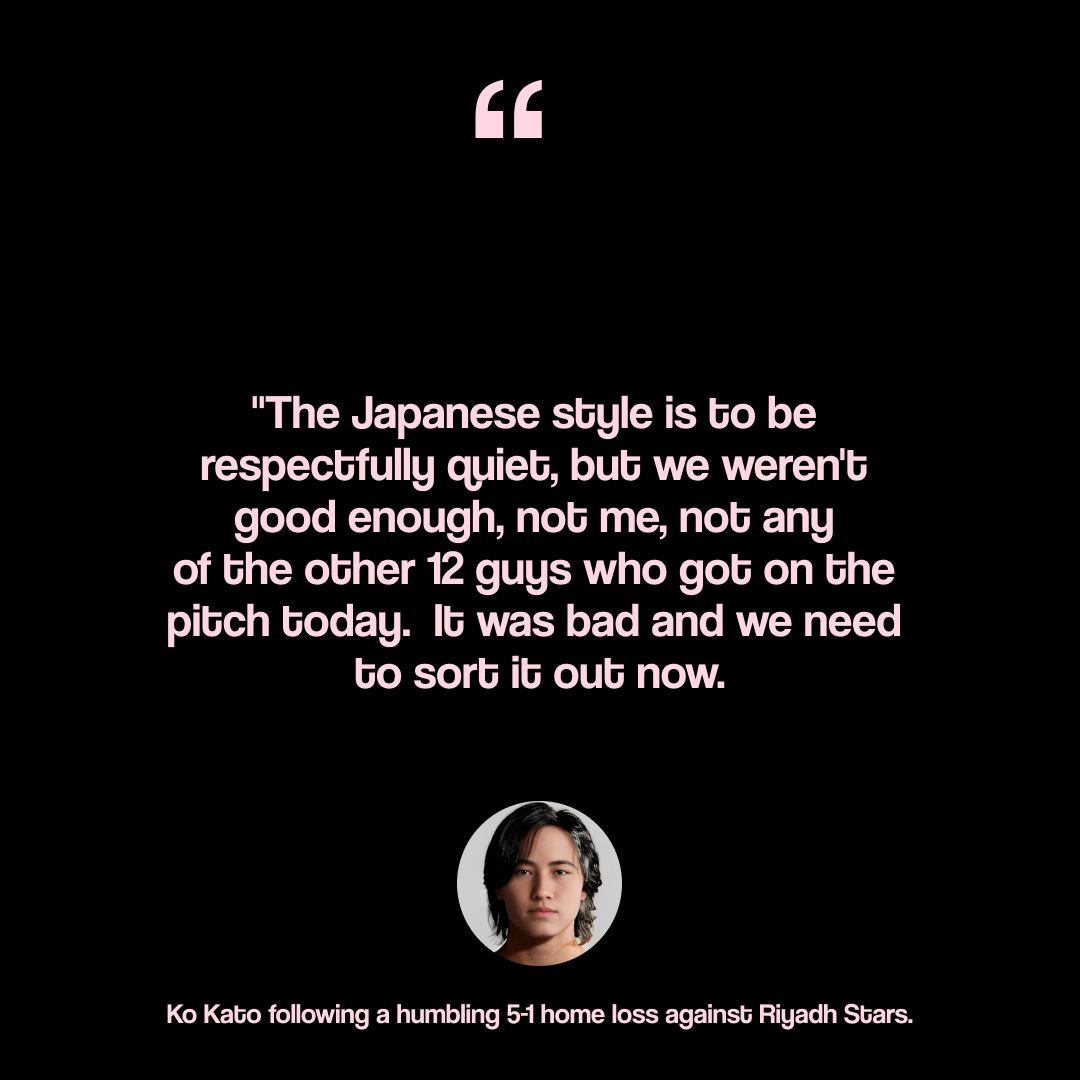 Best Stats
Manhattan have won their last 6 matches, and all by a margin of one goal.
After losing their first four matches of the season South London United are now unbeaten in four games, taking 8 points from those fixtures. South London however have taken the least shots on goal this season - 101; Nusantara have the most with 136 and South London have the lowest xG this season - 8.92; FC Angelenos have the highest, 15.65.
Bas Holsink, Inter Nusantara's Dutch Striker won the Golden Boot in 1FF Season One and is proving to be the triple threat this season, he's currently ranked 3rd for goals, 1st for through-balls and 5th for key passes.

Fantasy
1FF Fantasy is live and free to play.
The best possible team in Round 7 and Round 8.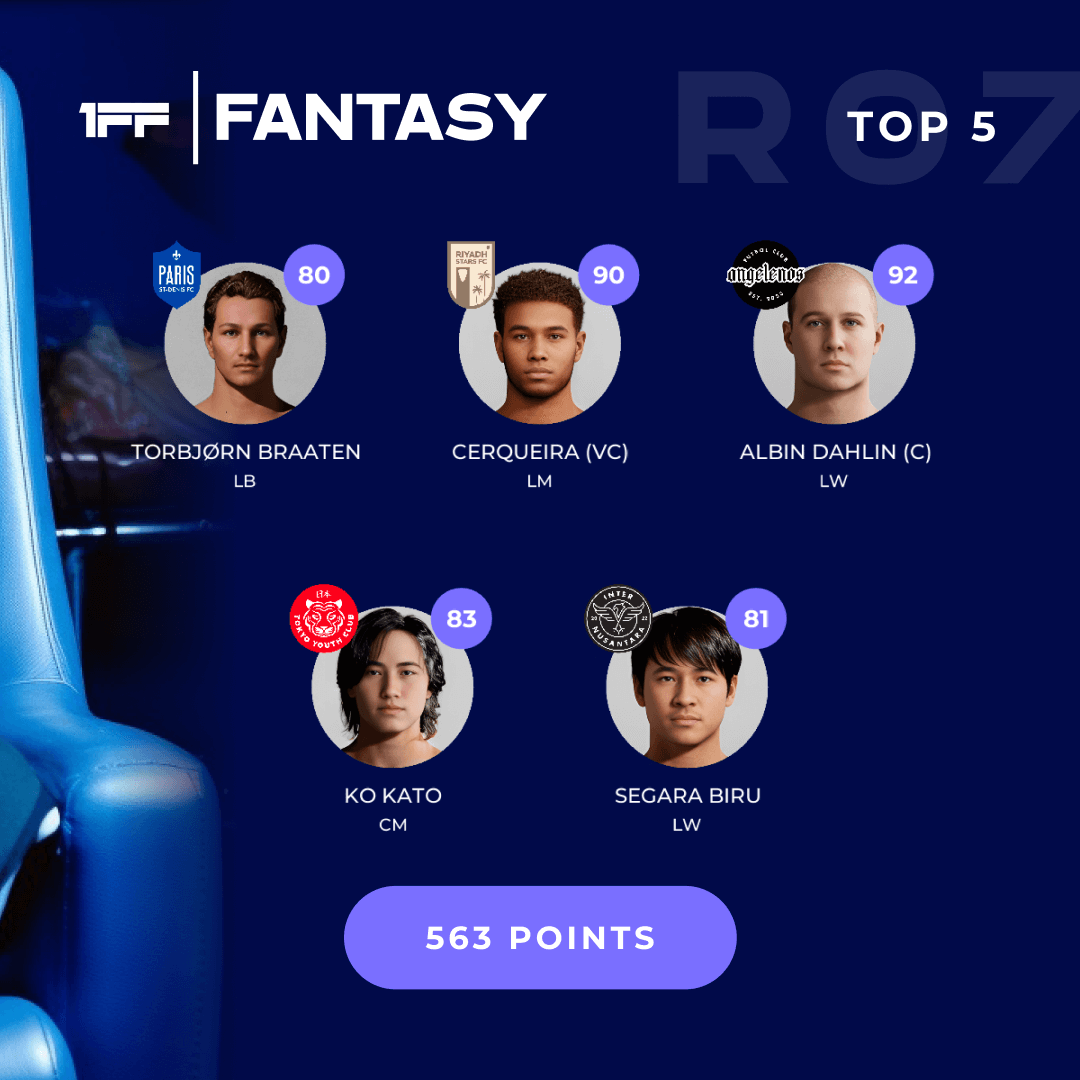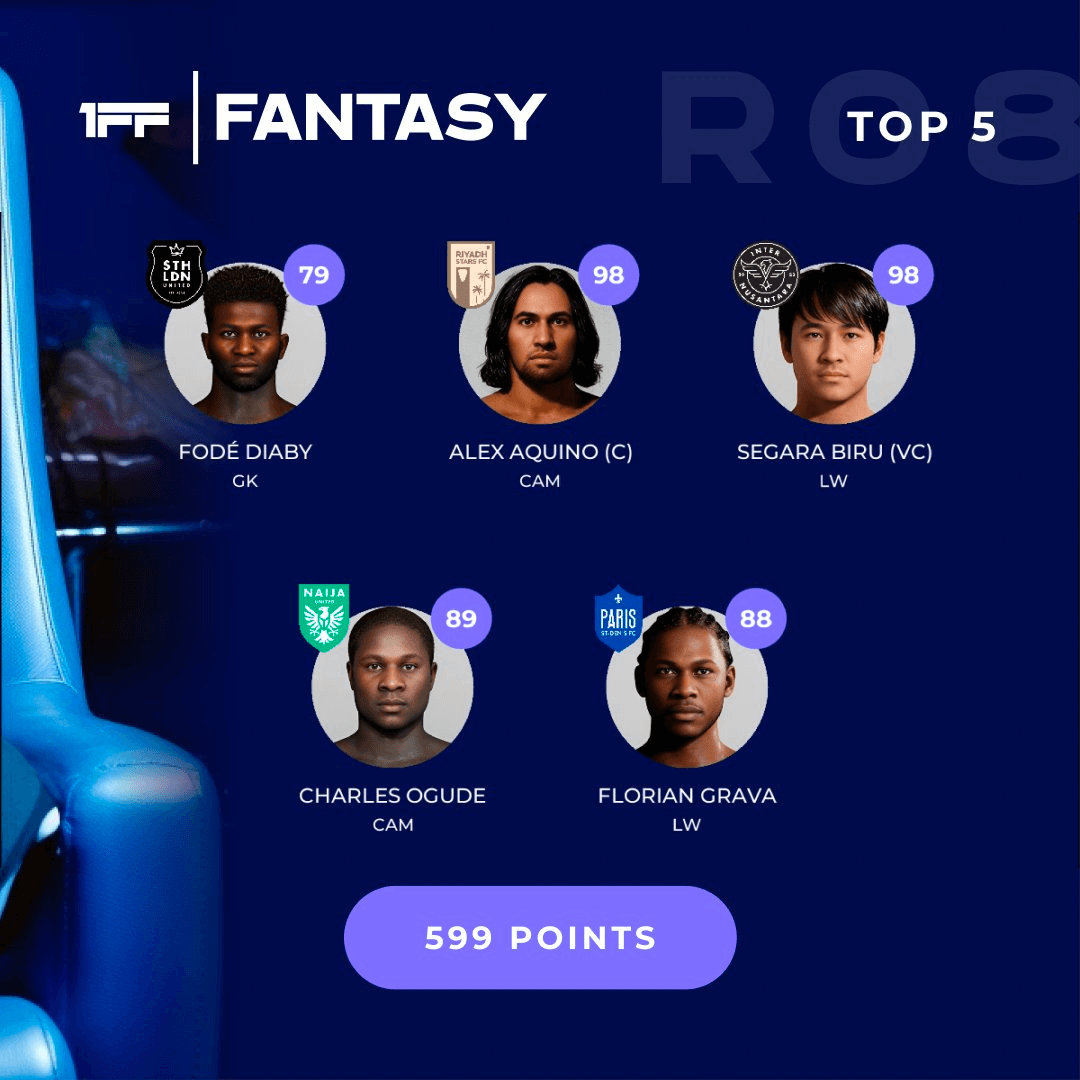 The Round ahead