Inter Nusantara are hoping to kickstart their season with a huge 4-1 win over table-topping Manhattan. Not only did they keep Dale Ramos goalless, which has only happened twice before this season, but they put in four of their own through four different goalscorers.

Bernhard Schmid's goal in the fifth minute set the tone and Juozas Butkus's goal 30 mins later essentially sealed the result in a dominant display. Luca Johnson pulled one back for Manhattan before second half goals to Dominic Wallace and Bas Holsink were reward for an excellent display.
Tokyo Youth Club
won twice again this week and move third, but the 1-0 win over
Bengaluru Phoenix
was one-way traffic and only a 90-rated performance by
Siu Tsz Chun
in goal for Tokyo kept Bengaluru from getting a point, if not three.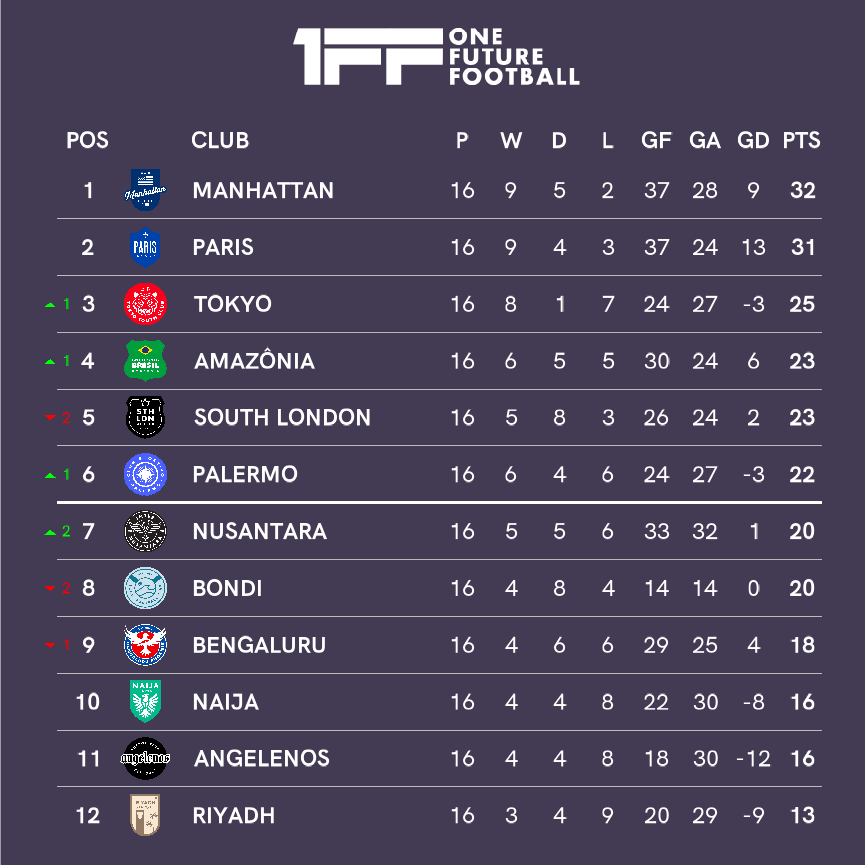 Game of the week
Goals of the Round
A fantastic goal from Charles Ogude straight from the training ground to give Naija United a 4-2 win in London won Round 15 Goal of the Round.
Highest-Rated Players
Ash Jones's hattrick in Round 15 earned him a huge 98 rating and 980 points to everyone who owns his card in 1FF. He picked up Player of the Match, Player of the Round, Young Player of the Round and was named in Team of the Round. Bondi will be hoping for more goals from the young Australian who has only scored one other goal this season.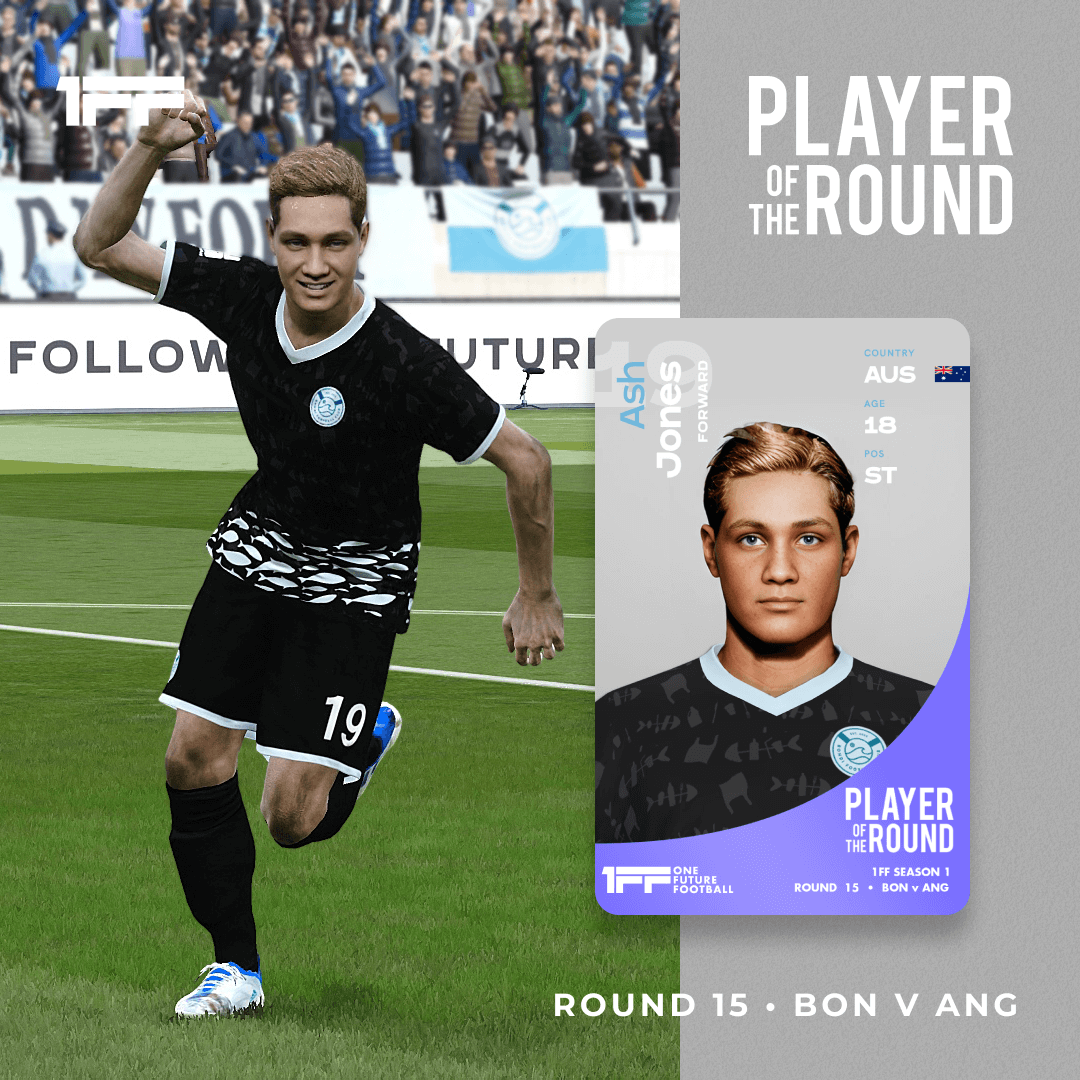 South London United's Adrian Grondin was the standout player in the 3-2 loss in Paris. His 97 rating sat clear of everyone else on the pitch, leading to some major storylines after the full time whistle. More on that below.
Salvador Broglia's penalty-scoring display earned him the Young Player award for Round 16.
Best Quotes
In an interview with Fabio Rossi, Bondi FC's Ash Jones thanked the journalist for the criticism that pushed him on to score a hat-trick in the 3-1 win over FC Angelenos.
Best Stories
South London United's French Superstar Adrian Grondin has been hugely impressive this season with more key passes, balls into the penalty area and crosses per 90 than any other player in 1FF.
The issue is that his teammates aren't reaching the same levels.
South London United players ranking by player rating per 90 min (min 8 games started).
#1 Adrian Grondin
#30 Isaac Diez
#75 Emeka Ezeh
#81 James Alcock
#94 Joey Tesselaar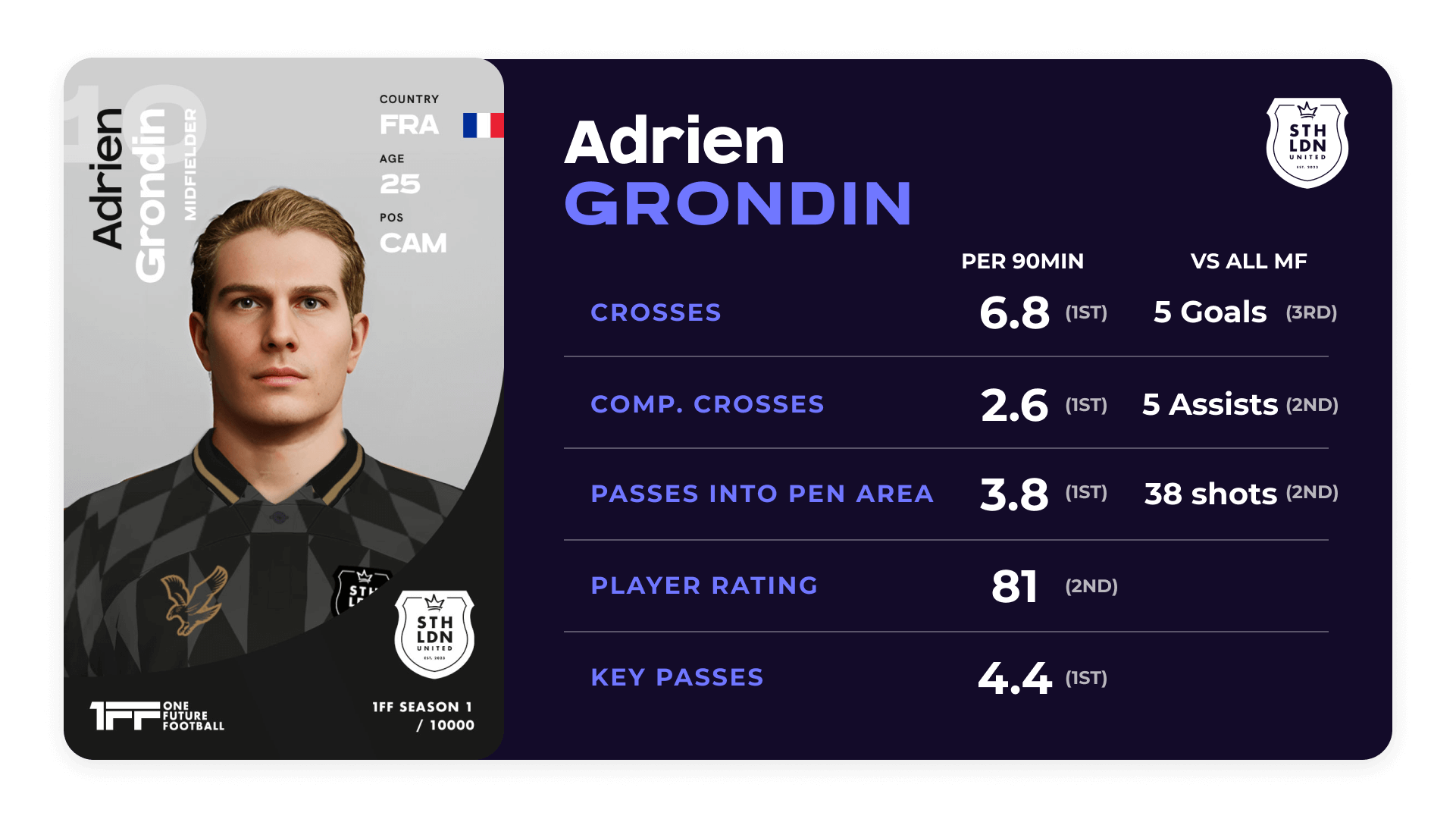 Grondin was then overheard having a heated discussion with the South London United coaching team after the 3-2 loss in Paris. "I can't do this by myself, where is my support?" he was heard saying.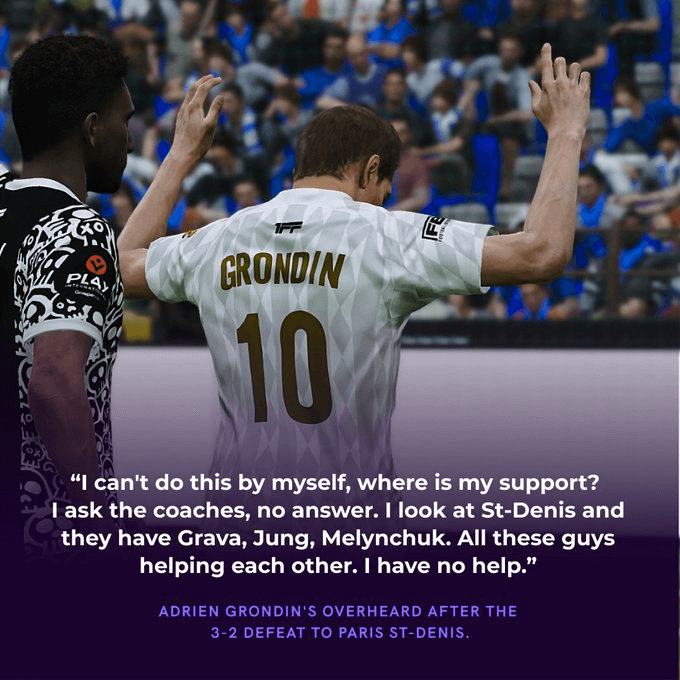 Journalist Fabio Rossi shared that Patrick Mendy is a big fan of the #10.
In a heated exchange
with coaching staff following the 3-2 loss in Paris, South London United's French star Adrian Grondin made it clear he's unhappy with the support he's getting on the pitch. St Denis coach Patrick Mendy is a big fan of the #10.
Grondin's teammate Ruben Sinclair weighed into the issue and believes Grondin can achieve his dreams in England.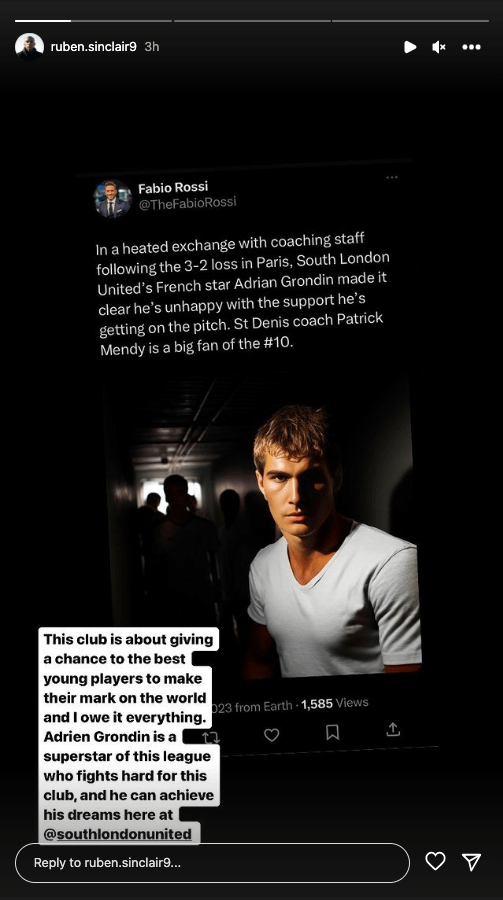 Best Stats
Tokyo Youth Club won again and again this week and now have a record that reads LLLLLLLWWWWWWWW. They face a trip to table-topping Manhattan next.
In the race for the Golden Boot, Manhattan FC's Dale Ramos (17 goals) and Paris St Denis' Jung Sang-Min (15 goals) each scored once this week. The chasing pack of Bengaluru Phoenix's Noah Drakenburg (10 goals) and Inter Nusantara's Bas Holsink (10) also each scored once and Tokyo Youth Club's Rafael Hauffe (11 goals) jumped into third place with two goals.
Ash Jones's Hat-trick for Bondi was only his 2nd, 3rd and 4th goals of a season where Bondi remain the lowest scoring club with just 14 goals. Their best-in-the-league defence (14 goals conceded) is keeping them in the race for the playoffs.
Fixtures for the coming 7 days